By John Cobley
13th February 2011
---
---
---
BRIAN HEWSON: PROFILE
1933 - 2022
This highly talented English runner emerged in the early 1950s as a world-class 880-Mile runner. Throughout his running career, which ended in 1960, he worked full-time. Nevertheless, he won 17 national titles, a European title and two silver Empire Games medals. He was also one the earliest four-minute milers. Beyond his undeniable athletic gifts, Hewson showed an early maturity that enabled him to dedicate himself to running while developing a career in tailoring.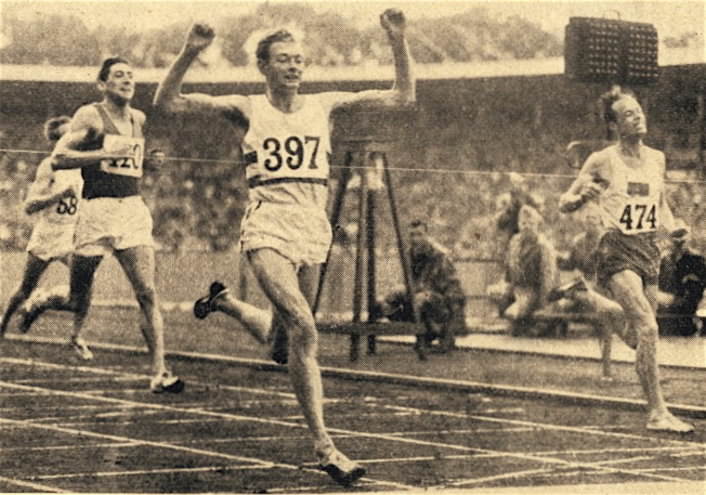 The highlight of Hewson's career: Victory in
the 1958 European
1,500.
Waern was
second and Delany third.
Early Days
Hewson discovered running in an unusual way. While attending Mitcham Grammar School he had to eat lunch at another school half a mile away. He and a friend would race over there to be first in the queue. Thus he claimed he ran five half-mile races each week! He also ran "quite successfully" over 440 in school, winning a local schools event that led to a scholarship with Mitcham Athletic Club. Working with Frank Drew, his first coach, he won the Surrey Schools 440 at 14. His idol for many years was Arthur Wint, and this was partly why he moved up to the 880 in 1948.
Leaving school at 16, he went straight to the Polytechnic to learn tailoring. In his last year as a Youth he ran the 880 in 1:59.4. Drew wanted him to train only three days a week, but he often did five without telling his coach. He earned the AAA Junior 880 title in his first Junior year with a 1:55.3.
Army Life
A big change in his life came when he was called up for National Service in December 1952. For practical reasons, he signed on for an extra year. By doing this he got into a regiment that favored athletics and was placed on permanent staff. This meant he could still live at home. He was also lucky to meet up with 880-runner Mike Rawson and to get special leave to accommodate extended training sessions. Thus he was able to continue to improve in 1953. After winning the Army 880, he became British champion just three months past his 20th birthday when he won the AAA 880 in 1:54.2. After this race, national coach Geoff Dyson told him he had the potential to run 1:49. That same year, in his first international against France, he was second behind Bannister in 1:51.9.
Hewson won the AAA 880 again the next year with 1:52.2. But in the Empire Games 880 he was up against the talented Derek Johnson, who was expected to beat him. His relative experience in big meets caused him to get boxed in on the second lap and to lose contact with Johnson. But Hewson gained back a lot of ground down the home straight and was only 0.7 behind Johnson at the tape with a 1:51.2. The silver medal was his. In the European Championships he ran 1:50.2 in his heat but ran two seconds slower in the semi and was eliminated. Still, he was now an established 880 runner of international class.
Four-Minute Mile
He had a major setback in April of 1955 when his longtime coach Frank Drew died. However, he was introduced to Austrian-born coach Franz Stampfl and soon joined him to train with Chris Chataway. At this time, Hewson decided to move up to the Mile. That summer he and Chataway both broke the 4-minute mile barrier in a famous race with Hungarian Laszlo Tabori. In this race, Alan Gordon helped them with the pace, running 59.9 and 2:00.8. When Gordon weakened at 1000, Hewson was second; he hesitated and then moved in to lead to reach the bell in 3:02. Hewson went for it at this point, with Chataway and Tabori in tow. Chataway tried to take the lead into the last bend, but Hewson held him off. In the straight Tabori "went by like a rocket" to victory. (Flying Feet, p.62) And Chataway just got by Hewson to take second. Both Englishmen were timed at 3:59.8. It was the first time three runners had broken four minutes in the same race. Later in the season Hewson broke the British 880 record against Hungary with 1:48.6.
By 1956 his three-year army duty was over, and he went to work at Simpson's Piccadilly. He lost several races in the early season—not intending to be in top form with the Olympics in Australia at the very end of the year. Training harder than ever, he began to peak in September, running 1:47.5 for 800, 2:19.9 for 1,000 and 3:43.2 for 1,500. With the blessing of his new employers, he went to Australia seven weeks early to train under Stampfl.
Hewson leads the Olympic 1,500 field
into the final straight.
Melbourne Olympics
After some excellent training and a promising race over 880 in Australia, Hewson was full of confidence: "I really had every hope that the gold medal would come to me," he wrote later. ( FF, p.83) He made the 1500 final comfortably. Following his pre-race plan for the final, he stayed near the front and went into lead at the bell. But he didn't manage to jump the field: "My opening gambit on that all-important last lap had failed and I was at their mercy." (FF, p.85) His only option now was to run as hard as he could over the last lap and hope that he could outlast the field. But the field kept close on his heels. Nevertheless, he was still leading round the last bend. Then Richtzenhain of Germany past him, after which "the whole field seemed to stream past me, one after another." (FF, p.85) Actually only four runners passed him, Tabori doing so on the finish line. Hewson was "utterly disappointed." He wrote in his book, "A disappointment of this magnitude comes only when you think you are capable of everything…and gain nothing. It is not a disappointment that can be felt by those who are only hopeful." (FF, p.86)
His Best Year
He had a quiet year in 1957, but did run 3:42.6. The next year, however, was to be his best. He decided to turn his focus back to the 880. He started well with a win over the new Aussie star Herb Elliott (1:47.8). This augured well for the Empire Games 880, where he would again meet Elliott: "I thought I was a cert for the gold medal." (FF, p.89) The final was unusually slow, with a first lap of 58.8. At the bell Elliott jumped the field and opened a five-yard lead. Hewson went after him and caught him before last bend. But the stronger Elliott held on right to the tape. Elliott ran 50.5 for the second lap, while Hewson did 49.9. "The defeat absolutely shattered me," he recalled. (FF, 90) Still stunned by this defeat, Hewson ran badly in the Empire Games Mile to finish only eighth.
A big victory over Herb Elliott before

the

1958 Empire Games.

Hewson wearsan S for Stampfl, and while Elliott's Cwas thought by many to stand forCerutty, he is in fact wearing his Cunliffclub vest.
Since he was focusing now on the 880 and had disappointed over the Mile in the Empire Games, it was a surprise to everyone, including himself, that he was selected only for the 1500 at the European Championships. "I was hopping mad when I first heard the news," he wrote. (FF, p.91) Nevertheless, that decision turned out to be the right one. He ran a "ridiculously easy" (FF, p.95) 3:41.1 in his heat. This gave him the confidence he needed. He stayed out of trouble at the rear in the final and was sixth at the bell. Then he waited till the back straight to move up to the leaders. Unfortunately, he was bumped by Delany who took lead going into the last bend. Coming into the straight Hewson was still only seventh. Then he found a miraculous burst of speed and passed everyone, catching Delany in the middle of the final straight. He was in the lead for only the last 5m, his last lap taking only 55.5. Brian Hewson was European champion. "My kick was so fast and so furious that after a few paces I was in the fourth lane. I was really up on my toes and everyone was coming back pretty fast.... It was a wonderful feeling," he told Alastair Aitken many years later. (Athletics Weekly, Jan. 14, 1984)
Clearly in his best form, Hewson next took on the daunting task of racing a Mile against the new world-record-holder, Herb Elliott. All he could do was to hang on to the Australian as long as possible, for Elliott was over five seconds faster on paper: 3:54.5 to 3:59.8. And he was still with Elliott at the bell (2:59.6). But he had no answer to the surges that began soon into the last lap. These surges took Elliott into a 15-yard lead with 200 to go. 1. Elliott 3:55.4; 2. Hewson 3:58.9. This race confirmed Hewson's belief that his best chance in the Rome Olympics was over 800: "I knew that as long as Elliott was on the scene I would be wise to concentrate on the shorter distance…. Elliott had the strength and power for the longer distance that I had always lacked." (FF, p. 99)
Two weeks later, Hewson did his bit for England in a two-day match against France, winning the 1,500 in 3:41.5 and the 800 in 1:47.0. In the first race he left a young Michel Jazy back in third place; in the second race he had a huge battle with European 800 champion Mike Rawson, both finishing in the same time and both establishing PBs of 1:47.0, which ranked them sixth in the world for 1958.
Build-up to Rome
This late-season, tight 800 race was a foreshadowing of what was to come in 1959, for the slightly younger Mike Rawson was continually challenging Hewson for the position of England's #1 over 880. The 1959 AAA 880 was typical of their many encounters; Hewson always just beat Rawson: 1. Hewson 1:52.0; 2. Rawson 1:52.3. Against East Germany, Poland, Russian, Finland and Stockholm, Hewson always headed his rival by fractions of a second. The two made a daunting pair in the frequent two-per-event international matches that were held back then; the pair were unbeaten in 1959. But perhaps the highlight of Hewson's season was a double victory in Moscow (3:47.2 and 1:49.6). Only very late in the season did he lose twice to Lewandowski of Poland. He was now widely regarded as a favorite for the 800 in the Rome Olympics.
Alas, his Rome experience was to prove a nightmare. Not only did he struggle with an injury in the weeks before the Games, but he was also denied the chance to adapt to the August heat in Rome. His season began well enough with low-key races. But in July he damaged a calf while racing on a bumpy track in Bournemouth. He had just six weeks before the Olympics to recover. Despite the best treatment he could get, the calf kept breaking down. The selectors, concerned about his fitness, insisted he run an 800 to show publicly that he was fit enough for Rome. He managed to get through with a third place 1:50.1 and was on his way to Rome.
But he arrived only four days before his first race and like many of his British team-mates was unable to adapt to the stifling August heat in Rome. He led for 700m in his qualifying heat before being passed by three runners: "As we came into the final straight the leg gave way completely. It had started knotting up after 300 yards." (FF, p. 22) His fourth place meant he had been eliminated.
His career was now over. He had wanted to "go out with a bang." We can only surmise how he would have coped with Snell's late rush in the final—had he been 100% fit. Nevertheless, Hewson could look back on one of the most successful careers in British athletics. For much of the 1950s he had been one of the best British half-milers, his best 880 performances being silver medals in the 1954 and 1958 Empire Games. He had also been world-class in the 1,500 and Mile. He had led the 1956 Olympic final into the final straight, ultimately finishing fifth and had finally won a major title in the 1958 European 1,500 final. Further he was the fifth person ever to run a four-minute Mile.
Training
After taking off October, Hewson would start preparation with four and then five weekly interval sessions on the track. The interval ranged between 220 and 1320 yards. The number of repetitions varied from 15 for 220 reps to five for 880 reps and three for 1320 reps. Once a week, he would run 6-7 miles easy on grass. His training was not unlike Bannister's—not surprising since he was coached by Stampfl after 1954.
Book
Hewson published his book in 1962, Flying Feet. It is a well-written book that gives a lot of insight into his competitive successes. A focus on running is maintained, and although there is some anecdotal and travel material, it is kept well under control. There are some good insights into other leading runners of his day. Hewson also includes some harsh criticism of the way British athletics was run. Overall, the is one of the better runners' autobiographies.
---