By John Cobley
8th September 2011
---
---
---
PROFILE: BASIL HEATLEY
1933-2019
From 1948 through to the 1960s, English runner Basil Heatley improved steadily, winning countless titles on the road, track and country. Among his most notable achievements were a World-Record 10 Miles, an International Cross-Country title and three National Cross-Country titles. As he approached retirement, the one achievement he lacked was participation in a major games. He had come close, narrowly missing selection for the 1958 Empire Games and for the 1960 Olympics, and then being injured during the build-up to the 1962 Empire and European games.
It was after the 1962 disappointment that he decided that due to his relative lack of speed on the track, his only hope was to move up to the marathon. He had run a couple earlier in his career, but they had been unpleasant experiences: "I can honestly say I didn't like the marathon," he confesses. It's just a bit too far for me." With the Tokyo Olympics as his goal, he upped his mileage and ran two good marathons in 1963. Then in the 1964 AAA Marathon he ran a world-best time of 2:13:55. No one had ever run a faster marathon. Basil was then selected for the Tokyo Olympics. He had achieved his goal, but he wasn't finished. He ran a brilliant Olympic race, using the track speed he thought he lacked to sprint past Japan's Kokichi Tsuburaya for the silver medal behind Abebe Bikila.
EARLY DAYS
So the 15-year-old was hooked on running. He trained on the driveway of the family farm and got extra conditioning from working on the farm and from cycling. "I was getting my bus fare from my parents but not using it," he recalls. "I was cycling to school and back–8 miles each way. When doing that I used to race the corporation buses. So I was putting in some work, one way or another." Basil Heatley grew up on a farm not far from Coventry in the Midlands of England. At grammar school, he was considered "not brawny enough" to play rugby, so with the other rugby rejects he was sent on a run. After finishing in the top six, he developed an interest in running. He began reading athletics magazines: "I remember reading Athletics Monthly of March 1948. It recounted Wooderson's winning of the National Cross-Country. I couldn't wait to get the next issue, which would tell how Wooderson did in the International. Unfortunately I think the little man was that worn out after the ten miles at Sheffield." Heatley also bought a book that was to have a great influence on him: Guy Butler's Athletics and Training. This was 1948, the year of the London Olympics, where Emil Zatopek made such an impact: "That really got my interest," he remembers.
Basil soon found success in cross-country competition: "My first national was the Youths, where I was third. The first time I put on a [Coventry] Godiva vest, I won the Warwickshire. And the next time I put it on I won the Midland. The next year I was third in the English Youths again. So it was a good start. At that time I might have been training more than many other youths. But then came an up-and-down period when it depended on what work I was doing at home on the farm."
NATIONAL SERVICE
As a Junior, he continued to excel in cross-country, placing 3rd ,10th 4th and 9th in the English Junior Nationals. By this time, he was overdue for his national military service, which had been deferred as he was doing agricultural work. In October 1954, at age 20, he signed on for three years in order to join the Royal Army Veterinary Corps, where he would be working with horses and dogs. But military life made training difficult: "Come the next May I wasn't nearly so fit and wasn't running well. I remember thinking that I would have to train regular. Because of the hours of duty I had to start training before breakfast. After that I built up the mileage and results started to come. That was a pivotal point in my career."
With more mileage under his belt, Cpl. Heatley decided to enter the 1956 Midlands Marathon: "There was a little man called Tommy Crook who was badgering me into running marathons. Ever such a nice guy. He gave me the Zatopek book [Zatopek: The Marathon Victor by Frantisek Kozik], which was my Bible for all those years." In his Marathon debut Heatley won in the modest time of 2:36:55; "I ran with the reigning champion at 6-minute-mile pace spot-on all the way to 20 miles. Then he fell off the pace. I really felt it in the last 3-4 miles. Afterwards, when I looked round the dressing room and saw everyone in an awful state, I remember saying that if we were four-legged, the RSPCA (Royal Society for Prevention of Cruelty to Animals) would ban the Marathon. We just didn't do the mileage those days."
FIRST MARATHONS
His hard work during National Service eventually earned him an invitation to race on the continent in December 1956. His career really took off in 1957. In the cross-country season he won the Warwickshire and Midlands titles and then ran brilliantly in the Nationals. He was up with the leaders for most of the race and finished a surprising 5th, just 24 seconds behind winner Sando: "I was a young man full of go and almost with a one-tracked mind." This run was no flash in the pan, for he ran even better to finish second just eleven seconds behind Sando in the International race: "The Belgian race suited me because there were a number of obstacles—ditches and fences. I won't go so far as to say I should have won, but I should have been much closer to Frank. I was that overawed at being up there. I did lead for a considerable time, Then Frank came up to me and by me, which I think was due to his greater experience. He was a very intelligent runner." Then, building on his country fitness, he ran his second marathon, winning the Midlands title again with 2:32:01. Despite this success, Heatley decided that the Marathon was not for him: "I was nearly as tired as the previous year," he recalls. "I said, bugger this."
CROSS-COUNTRY SUCCESSES
The 1958 cross-country season, after his brilliant breakthrough the previous year, was a consolidation year. He was 9th in the Intercounties, first in the Midlands, fourth in the Nationals and 9th in the Internationals. At this stage of his career, Heatley was primarily a harrier, rather than a track runner. "I was gradually bringing my track times down," he explains, "but cross-country suited my temperament better; I was always struggling for speed on the track." Still, he was working on his track speed, and his times were coming down to the point where he felt he should have made the English team for the 1958 Empire Games (28:35.2 for Six Miles and 29:47.4 for 10,000).
His 1959 cross-country season started well with a win in the Intercounties from Merriman and Anderson—his first major cross-country win. He followed this with a 7th in the National and a fine 4th in the Internationals. Then he ran his first 10-Mile track race, finishing second behind Fred Norris in the fast time of 48:58. His track season showed improvement with a Three-Mile Midlands title in 13:58 and a 4:12 Mile.
Heatley trails Fred Norris in a
long-distance track race.
In 1960 he almost won the Intercounties again, but he was beaten by Gerry North: "With all the snow, I just didn't switch on at all." In top form nevertheless, he went on to win his first National title with a margin of 27 seconds over Merriman. "It was a good margin" he says. "I went to see the Birmingham course, which was almost local for me, the weekend before. I knew it was going to be wet. I remember looking at the long uphill drag to the finish and thinking 'I can do this.' And that was the way it worked out. I was up with the leaders at the end of the first lap. I was away on my own at the end of the second. That gave me the impetus to go for it on the third lap, knowing that if anybody came to me, I would be equal to them on that uphill stretch to the finish. I felt I had the body strength to drive uphill."
He followed this fine win up with a fourth in the International. Next, soon after his best cross-country season so far, he won the AAA 10 Miles in 48:18.4, a 40-second improvement on his 1959 run: "Races around the hour suited me well. I could take the repetitive lapping, but I wished it wasn't going round and round. It's less intimidating than thinking of a 2 1/4-hour-Marathon."
INJURY SETBACK
Soon after this race, Heatley hit a serious injury problem for the first time. The Times reported that "Heatley may never race again." Twelve years of hard training had worn down the cartilage of his right knee. At the time no one was able to diagnose the problem: "It was the start of deterioration of the medial cartilage, not a conventional tear, but it was frayed at the edges and was being crushed between the bones. Sometimes it caused me problems; sometimes it didn't. Eventually about 19 years later, I had a cartilage removed. What people today don't understand is that in the main we were doing it on tarmac in tennis shoes or army plimsolls. Real cushioning had hardly come about."
Heatley, like other top runners at that time, was aware of the cushioning issues that distance runners faced. He took drastic actions to deal with the problem: "I managed to get several pairs of Adidas 9.9 track shoes. Once the spikes had worn down, I had a local cobbler strip the sole off and put a crepe right the way through and an extra piece for the heel. They were nice and snug. I could make the heel on my right last a fortnight, but the heel on my left foot had to be replaced after a week. That was when I realized the way I ran was just a little bit skew-whiff. I was landing heavily on my left heel and pushing off strongly on my right foot. That may have eventually led to my need of a left hip replacement later in life. This wear only happened when I was running fast. My walking shoes didn't show it." The reality of distance running in the 1960s is also illustrated by another anecdote from Heatley: "I had a pair of hand-made Laws [road shoes] that I bought secondhand locally. They belonged to a boy older than me at the Grammar School."
So his 1960 summer injury "more or less" put paid to the track season. Finally, he did get into shape again in the later summer: "Gordon Pirie wrote in his book that I should have been in the Olympic 10,000 and not him. I was running reasonably well again by the autumn."
BIG YEAR
After a disappointing summer, Heatley came back with a roar in 1961. He won the National Cross Country again and then went on to win the International in France as well—his only win in that prestigious race. "That was probably one of my best runs," he says. "Again it was hurdles on a racecourse. The hurdles were quite high, and I was running against Roelants, the steeplechaser. Gaston was hurdling correctly; I wasn't. I put two hands on top and vaulted. I think that hurdling cost him the race: in trying to look good, he expended too much energy. We also had a steep hill in the race. All the Brits called it Heatley's Hill because I was able to break him going up the hill." The Times reported that Heatley ran "with courage and perfect judgment" to win by a margin of 24 seconds from Roelants.
Still in top form, Heatley entered the AAA 10 Miles again. This time he led from the gun, ran alone for the last 17 laps, and set a world record of 47:47. Running steady miles between 4:43 and 4:48, he passed six miles in 28:37, only 19 seconds slower than his PB. I was privileged to witness this wonderful run and recorded in my diary that "he looked so strong and recovered so quickly after."
On the way to his World Record of
47:47 in the 1961 AAA 10 Miles.
The aftermath of this race gives a good insight into Heatley's personality. He went to extreme lengths to avoid the press: "After the race, I didn't go home because I knew the press would be there. I wanted to avoid them at all costs. I just didn't want all the fuss of it. It's all so embarrassing. So I caught a train to Leicester and Melton Mowbray and stayed overnight with Tommy Crook. I spent the next day with my then girlfriend in Nuneaton and went home Sunday teatime. So I avoided the press. But they caught me at work the next day. Ha, ha!"
Still in good shape, Heatley had perhaps his best track season. After running a PB Six miles in 28:16.1, he won a big 10,000 race in Moscow, clocking the second-best British time ever with 29:01. After a 5,000 race in Helsinki (5th in 14:08.8), he ran second to Dave Power of Australia in the AAA Six Miles (28:03). He continued racing internationally on the track into September, representing his country against Hungary, Germany, Poland, Russia and France. In these races he had one victory (against Germany) and another good 10,000 time (29:02.6). By the time he ran his last track competition, he had been racing at top level for nine months. He had tried to end his season earlier: "I turned down an opportunity to run on a GB team. I told them that my legs were absolutely knackered, really really sore. They came back and told me there was no one else. So I reluctantly went out to run. I shouldn't have done; it really jiggled my calves up for several months."
BREAK FROM TRAINING
In retrospect he knew that he had overdone it: "It was a long season.I used to say that from first of Jan to 31st of December there wouldn't be many seconds variance in my times, whatever the distance. Of course, that brings up other issues. When I read Arthur Lydiard's book much later, I said this is the book I should have had. It dealt with periodization: build-up, high intensity and peaking as the three different periods in a distance-runner's year. That wasn't what I was doing. You really can't stay at the top all the time. You break down."
So it was a good time to take a rest: "I was very tired at the end of 1961, so I took several weeks off to put on a few pounds, because I was getting married in December. I was vain enough to want to look reasonable on my wedding photographs.
RETURN TO MARATHON
After such a long 1961 season, Heatley was nowhere near his normal form on the country. He was 55th in the Intercounty, running with a sore achilles. And for once he didn't run for the England team for the International, finishing only 13th in the National. Thus without the training background for the 1962 track season, he missed out on selections for either the Empire or the European Games. Although he ran a 13:30 PB for Three Miles in July, he looks back at 1962 as a "re-establishment year." It was at this time that he made his crucial decision to refocus his training and aim for the 1964 Tokyo Olympics. "I'd spent 4-5 years trying to set the world alight at 10,000 and hadn't quite cracked it," he explains. "I realized that if I was going to do it all in 1964, it was going to be in the marathon." So reluctantly he became a marathoner.
This change of focus required an increase in his training mileage. This was difficult to accomplish in the harsh winter of 1962-3: "I kept up my mileage, but it was taking an hour and a half to do an hour's run most of that winter." And although he surprisingly was beaten by Bullivant in the Midlands race, he came through in the National at Cambridge for his third title: "There were still five of us together at end of lap 2 of 3—Roy Fowler, Tim Briault, Eddie Strong and Tim Johnston. On lap 3 Roy was doing the pushing. At a mile to go we hit a sticky patch. Roy Fowler was pushing away, and I had to hold on. Stan Ashby of Godiva came running across and shouted, 'Basil, you know you can beat him on the run-in.' At that moment I thought, 'Of course I can.' I relaxed behind him until we made a turn for home with 450 to go. Then I left him by ten seconds."
Heatley hadn't recovered from this huge effort when the International was held three weeks later in Spain: "I said to Roy while warming up, 'Roy, I am still knackered from Cambridge. And on this course, which is fast, I shan't be able to hold on. But I reckon you can win. So go for it.' And that's just what the little bugger did! He had a great battle with Roelants and thoroughly deserved his victory." Behind Fowler, a tired Heatley finished 13th.
But the extra training began to show on the track. In June he won a big six-mile race in Canada with a good time of 28:15.4. He was ten seconds faster in the AAA Six Miles for fifth place. And then he ran a fine Six Miles in a match against the USA, finishing second behind Ron Hill in 27:57. In the Three Miles he set a PB of 13:23.
TWO MARATHONS
And during that summer he returned to the Marathon: "I tried the 1963 AAA Marathon in Coventry as an experiment. I was running purely against myself and the clock. I was not trying to race Brian Kilby as I was expecting him to beat me anyway. I was preferring to have a reasonable time and feel good after it. Kilby and I ran our own races." The result showed he was on the right track: he finished second behind Kilby in the excellent time of 2:19:56. Later in the summer he ran fourth in the Kosice Marathon with 2:20:22.
Buoyed by these two marathon results, Heatley upped his weekly mileage to 125: "I knew that with more mileage in the winter of 63-4 I could make the Olympic Marathon team. So I went on with confidence." He was already putting in 13-14 sessions a week, mainly from running to and from work. So he had to got to extraordinary lengths to get in the extra mileage: "Three times a week I started putting in a lunchtime session as well. It wasn't very long. I only had an hour, but I had a changing room and a sports field right outside my office at Morris Motors. I would leave my office seat at 12:30, run across to the changing rooms, strip off, get out onto to the field, run barefoot for 20-22 minutes doing 250 fast strides round the cricket pitch with 100 jog. Then I'd dash back into changing rooms, get half dressed, go into the kitchen, cook a steak and grill a couple of eggs, and open a can of Guinness. That would be my lunch. After lunch I was cool enough to put on my shirt and tie and get back to my office for 1:30."
WORLD-BEST MARATHON TIME
All went well during the 1964 cross-country season. He won the Midlands title, ran 5th in the National and 8th in the International. But his focus was on qualifying for Tokyo. After a satisfactory Six Miles on the track (28:22), he lined up for the Polytechnic Marathon in June for his crucial qualification test: "I was still frightened of the distance, so I made a very gentle and steady start. I was well down at 10 miles. Then I realized I was coming through. I didn't know any times, but people on the roadside were telling me positions. I think I caught Ron Hill at 21 miles. I remember thinking that it was 5 miles to go, the same as my run round the block on a Sunday evening. I was feeling all right at that point. At a mile to go I had a few people shouting me on. I did a sprint past Ron just outside the stadium with about half a mile to go and carried it through to the finish. It was going back to my Guy Butler book with the advice to middle-distance runners that when you make a finishing effort it's got to be do-or-die. It's got to be decisive. That's what I did to Ron."
That was how Heatley ran the fastest-ever Marathon in 1964: 2:13:55. His selection for Tokyo had been on the line; it was indeed a do-or-die effort. But it was also a disciplined effort where he kept himself under control in the early stages.
OLYMPIC SILVER
With over three months to his Tokyo Olympic Marathon, he kept up his mileage while running a few track races to keep sharp. On October 21, he lined up with team-mates Brian Kilby and Ron Hill for the big race.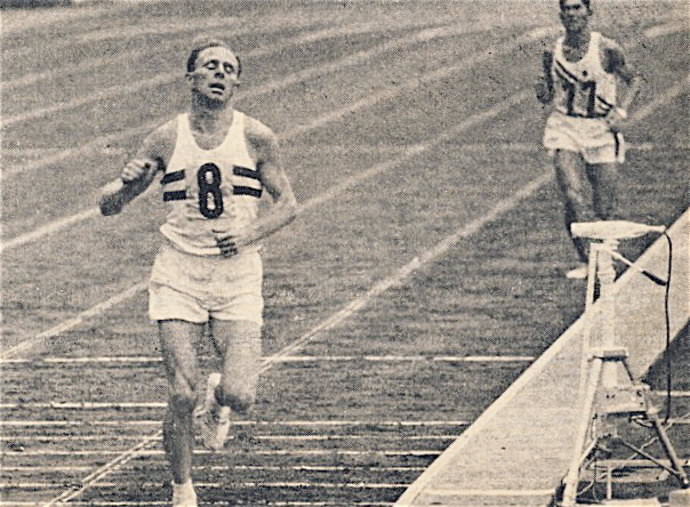 Tokyo Marathon: Heatley finishes second aftersprinting past Tsuburaya in the last 200 meters.
Here is Heatley's description of his Marathon in the 1964 Olympics: "It was extremely humid. The temperature was in the low 70s. None of us really warmed up. I still have impressed on my mind the beads of sweat dripping from the back hem of Brian Kilby's shorts as we went through the motions of warming up. We'd no sooner started than I developed a severe stitch—the first time I'd had one in a race. It affected me for the first half of the race. So I was well down the field. But I at least was in front of Brian Kilby, and I was convinced he was going to be up there amongst the medals. So I didn't worry. Yes, the stitch was a blessing in disguise--absolutely.
"When Brian came up to my shoulder I rallied, and we ran together for quite a way. I didn't know what place I was in, but we were picking off runner after runner. Eventually I saw ahead of me two runners, one of whom was Jozef Suto, a Hungarian 10,000 runner whom I knew. He was coming back to us. This was approaching 40K. He was being left by Tsuburaya of Japan. I increased my speed and was going away from Brian. I went straight by Suto and fixed on the back of Tsuburaya. I didn't expect to catch him, but he was a target. He came back faster than I expected. As we approached the stadium, it was obvious I was going to get very close to him if not past him.
"It wasn't until we were in the stadium with 250-300 to go that I was within 20-30 yards of him. There's that instinctive moment when you know, after many years of racing, that it's time to go. I grabbed a 2-second lead before he knew what had happened. I just carried it through to the finish. I didn't know I was racing him for the silver, but I'd turned Japan's only silver medal into bronze in front of the home crowd—and in front of the Emperor! I wandered halfway round the track and asked a high jumper where I had finished. 'You were second,' he answered." He had run 2:16:19 behind winner Abebe Bikila (2:12:11), covering the last 200 in 33 seconds.
RETIREMENT
Was this race the highpoint of his career? "I suppose. It didn't feel like it at the time. I always say that I won the B race, because we were outclassed by Bikila." Heatley's modesty emerged again when he tried unsuccessfully to avoid the press on his return to the UK: "I thought there was a good chance that the press were waiting for me at Coventry, so to avoid them I took a branch line to Nuneaton and then took the Coventry train to Bedworth. I was hoping to walk home from there. But the station master wouldn't let me off the train, and I had to go on to Coventry anyway. There were about 20 reporters waiting for me there!"
At 30, after 17 years of hard training and even harder racing, Heatley was tired. This was evident in a comment he made after his Tokyo race: " I don't think I ran a particularly good race. It's getting harder and harder all the time." (Times, Oct. 22, 1964) He was ready to retire from top-class running: "I made myself a promise during that Olympic race—that I wouldn't race another marathon. Basically I decided to come down from the top there and then. We were living in a farm cottage without any mod cons at all. And I had four small daughters."
After Tokyo, Basil kept running, for many years turning out for his club Coventry Godiva: "I tended to run, rather than race, the winter. And just keep ticking over—which I did for a number of years." In fact, he kept running into his seventies, adding cycling and swimming. Then he had a hip replacement five years ago: "That put paid to the running. Now it's mainly swimming and the garden, and they're gradually reducing."
After Tokyo he quit his office job with Morris Motors and went back into groundsmanship. In his mid-forties he moved to middle management at the Leisure and Recreation branch of a local authority. He now lives close to where he grew up: "I've got quite a large garden. We came back here to Bulkington 10 years ago from Dudley. We are both from round here. In fact I can look out of this window and see the farm where I grew up."
RETROSPECT
Heatley can look back on a stellar running career. He was the heir apparent to Frank Sando in cross-country running and wore his crown with distinction in the early 1960's during a golden age in English cross-country running. Three National titles and one International title don't tell half his story. Apart from regular wins in the Midland, he had seven top-seven finishes in the National and 6 top-ten finishes in the International. On the track he represented Britain on countless occasions; his PBs were impressive too--3 miles:13:22.8; 5,000 13:57.2; 6 miles 27:57.0; 10,000 28:55.8; 10 miles 47:47.0. The 10-Mile time, of course, was a World Record. And then the wonderful, albeit reluctant Marathon successes: a World Best in 1963 and an Olympic silver in 1964.
Heatley achieved all this without a coach. Right from the start, he did his own research and worked out his own schedules. He wasn't about to take advice from "someone who has read a book and thinks that 10x440 in 60 seconds is what it's got to be." He could only have been coached by someone who had experienced what he was going through: "Show me a coach who has done it, and he'll know what I am going through. If I'd been near someone like Lydiard or Cerutty, or even if I'd been able to pop round and see Jim Peters and he had said this is the way I did it and it worked for me, then I'd have taken advice. But I didn't see anybody in my immediate sphere that could fill me with that confidence. If I had lived next door to Emil Zatopek and he had said, 'Run through that brick wall,' I'd have done that."
But he did have good support locally: "I couldn't have done better than with the Coventry Godiva Harriers. We had a good team in Birmingham, Birchfield Harriers. And we had another club close by that we got on very well with—Tipton Harriers, who I've always been quite close to."
Nevertheless, Basil Heatley achievements were the products of his own intelligence and fathomless inner strength. He had known hard work from his early years of farm work and he continued with this right through his career. Few great runners have got more out of themselves.

---