By John Cobley
13th February 2011
---
---
---
Gunder Hagg v. Arne Andersson
One Mile
Malmo, Sweden, July 18, 1944
A capacity crowd paid to see yet another great race between Arne Andersson and Gunder Hagg. The two Swedish runners had been rivals since 1942 and had had many exciting duels, often setting WRs in the process. Hagg had beaten Andersson every time in 1942, but this year, Andersson appeared to be Hagg's equal. Not only had he beaten Hagg's WRs for 1,500 and the Mile in 1943, but he had also beaten Hagg in their first 1944 encounter over 1,500. Then Hagg had won the second race. Clearly this third encounter of the season was going to be a classic.
By the time the events were to start, the gates of the Malmo stadium had to be closed as there was already a capacity crowd of over 14,000. Some 4,000 were left outside, many climbing the wooden walls to get in free. A last-minute entry by the great Swedish runner Lennart Strand (as a pacemaker) increased the excitement. The race was announced as "One English Mile." And the electric atmosphere of the crowd drove the five runners (the other two being Rune Persson and Rune Gustafsson) off at a break-neck speed.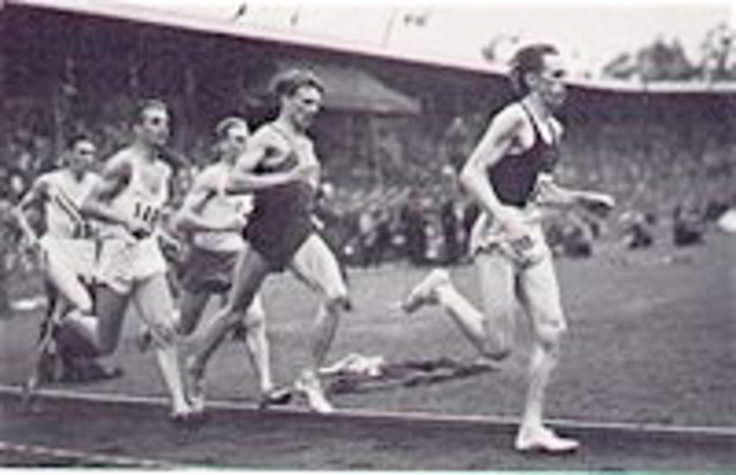 Hagg moves to the front after two laps,
but Andersson is right on his heels.
Twelve days earlier Hagg had beaten Andersson and set world 1,500 record of 3:43.0. Hagg had won the race by starting fast, creating a big gap over Andersson, and then hanging on. It was obvious that Andersson had to stay with Hagg this time, no matter what the pace. And the pace was hot: Hagg, towed along by Strand, went through the first lap in 56.0. Andersson was right on his heels, but he must have been worried as the lap time was three seconds faster than when he broke the Mile WR the previous year.
The five were still all bunched through the second lap. The order stayed the same, and although the pace slowed a little, it was still very fast: 1:55.9 for two laps. Andersson was now over five seconds faster than his world-record pace. Strand let Hagg past just after two laps and eased to a halt on the back stretch. But Hagg couldn't escape Andersson or the other two runners; in fact he slowed on this lap to 63.9. At the bell, the four runners were still together in 2:59.8.
A determined Andersson breaks the tape and the world Mile record.
On the back straight Hagg started to show signs of fatigue. But he drove on, not certain if he had escaped Andersson. On the last bend he looked back and saw his rival right on his heels. As they entered the straight Andersson moved up beside Hagg, and for a while they ran side by side, even glancing at each other. Then Andersson found a little more and broke Hagg, winning by 0.4 of a second in a new world record of 4:01.6. Hagg also broke the previous record. After celebrating Andersson's lap of honour, the crowd chanted for Hagg, acknowledging his contribution to the world-record time.
It was now clear that whenever Andersson managed to stick close to Hagg, he could outkick him. Dominant in 1942, Hagg was now unable to depend on his ability to run a fast pace. But Hagg wasn't finished yet.
Result: 1. Arne Andersson 4:01.6; 2. Gunder Hagg 4:02.0.

---