---
---
---
Profile: Kipchoge Keino
b. 1940
Kipchoge Keino was not the first Kenyan to win a medal in an Empire Games nor the first to win an Olympic medal, but he was the first Kenyan to have a major impact on the international running scene and the first Kenyan to break world records. For eight years, from 1965 to 1972, he was one of the best if not the best middle-distance runner in the world. He won two Olympic gold medals and two silver, as well as three Commonwealth gold medals and one bronze. And though more a competitor than a record breaker, he set WRs for 3,000 and 5,000. Kip Keino always raced with panache and courage; whenever he was in a race, the interest rose. And of course he was the precursor of the flood of Kenyan runners that is still a dominant force in distance running today.
Keino (389) bursts on to the international
scene with a fifth
place in the 1964
Olympic 5,000 final.
Starting
Keino was born in the famous Nandi district of Kenya, from where many of the great Kenyans to follow him originated. Orphaned at an early age, he was brought up by an aunt. After excelling as a runner at school, he focused on work when 16. At 19 he joined the police. The British-influenced police academy gave him ample opportunity for running and for learning the basics of the sport from his PE instructors. Within three years he ran Three Miles in 13:46, earning a place on the Kenyan team for the 1962 Empire Games in Australia. In his first major race he finished 11th in the Three Miles (13:50), just behind his senior team-mate Arere Anentia. He also ran the Mile, but his 4:07 in the heats did not qualify him for the final.
This experience in Australia exposed him to other runners and coaches. He was a good learner and was able to develop his own training ideas from these encounters. As well, Keino benefited from the advice of American Mal Whitfield, the two-time Olympic 800 champion who worked in Africa for many years giving sports clinics. But ultimately Keino had a mind of his own and listened to others only to develop his own training regime.
Tokyo Olympics
This personal training regime enabled him to improve dramatically. Within 20 months of his first international race in Australia, Keino was running with the leaders in the Olympic 5,000 final in Tokyo. (See Great Races #16) He had come to Tokyo with a best of only 14:15 but had qualified in the fourth heat with second place behind Ron Clarke. His time of 13:49.6, a 25-second PB, was a new Kenyan record. In the tactical final he ran with the best in the world—Jazy, Schul, Clarke, Dellinger, and Baillie. He was still in contention at the bell and his fifth place time of 13:50.4 was only 1.6 seconds slower than the winning time of Bob Schul.
Keino in his famous cap leads

Gaston Roelants in a European race

.
In Tokyo he purchased an orange baseball cap that was to become his trademark. He would throw it off in races when he felt he had won. Ron Clarke, who would race him many times in the coming years, wrote about this: "One of the strange sidelights to Kipchoge…was his flamboyance, which somehow seems a little out of character. He warmed up in a blood-red tracksuit and ran in an orange jockey cap, which he dramatically discarded when he made his final burst for the tape." (The Unforgiving Minute, p. 169)
World Record
His subsequent 1965 season showed that his Tokyo race was no flash in the pan. He smashed the 3,000 WR by six seconds with 7:39.6 and the 5,000 WR by 1.6 seconds with 13:24.2. He also became the first African to run a four-minute Mile with 3:54.2—only 0.1 off the world record! Competitively he excelled in the World Games 5,000, where he was up against Ron Clarke and Michel Jazy. Jazy was surprised to find him running at the front: "An African with long, nervous legs is with us. He appears quite relaxed. Unbelievable!" (Mes Victoires, p. 211) Keino led these two greats into the last lap, but he couldn't hold off Jazy with 200 to go. Nevertheless he finished second with an excellent 13:28.2. At the end of the year Keino ran fast times in New Zealand; his 3:37.6 ranked him second in the world for 1,500 in 1965. It was in New Zealand that he ran his 5,000 WR.
Alastair Aitken interviewed Keino in 1965. At this time Keino was a 25-year-old Corporal in the Kenya Police and was married with one daughter. One of the insights from Aitken's interview was how much physical activity other than running he was doing: "I take physical training classes in the Police Training School, so I am actively doing other sports on Tuesday and Friday. And I must say that I enjoy athletics, basketball, hockey, badminton and volleyball." (More Than Winning, p. 62.) He then went on to give some training sessions that appear ludicrously easy: 8x440 in 63-5 and then another 440; 5x880 in 2:14 and then another 880; sprints over 330,220, 80 and 50. He surely trained much harder than this. Similar easy sessions were given in Michael Sandrock's Running with Legends: 10x440 in 63 [2:00]; 6x880 in 2:10 [3:00-5:00]. In the same book, however, Keino's son Martin talks of workouts like 25x200 with the last one in 22.00 and says his dad trained three times a day five days a week. (Sandrock, pp. 57-8)
Helsinki 1965: Keino trails
Clarke and Jazy.
Commonwealth Double Gold
Keino was competing a lot. After the 1965 European season and the 1965-1966 Down-Under season, he went to the USA in the spring of 1966 to compete indoors. Again he was successful. And August 1966 he was in Jamaica for the Commonwealth Games, where he won two gold medals, outsprinting Ron Clarke in the Three Miles for a 12:57.4 victory and leading all the way in the Mile event (59.2, 59.5, 57.9 and 58.7) for a clear win in 3:55.34. From Cardiff he joined the European circuit. He ran a brilliant Mile in London, taking the lead at the end of the first lap (60.1) and then reeling off laps of 58.0, 56.9 and 58.4 for a 3:53.4 Mile, which was faster than Jazy's WR but slower than Ryun's yet to be ratified 3:51.2. Keino also ran a fast 13:26.6 5 for a 5,000 victory in Berlin.
The Mexico Olympics now became Keino's focus; he planned to double in the 1,500 and 5,000. In 1967 his main 1,500 rival Jim Ryun not only beat him by 4.1 seconds in a Los Angeles race with a 3:33.1 WR, but also ran 3:51.1 to improve his Mile WR by a fraction. This showed that he would be a major threat in Mexico, although Keino would surely have an advantage at the 7,300 ft. altitude of Mexico City. His 5,000 rival Ron Clarke was also in good form in 1967, running the two fastest 5,000s; his best (13:18.8) was 18 seconds faster that Keino's 1967 best. But like Ryun, Clarke would be at a disadvantage at altitude.
As he prepared himself for Ryun and Clarke, Keino changed his approach in 1967 and 1968, cutting down his racing and building up his training. In 1967, he raced mainly at 1,500, with three times in the 3:36-3:38 range. He had just one fast race at 5,000 (13:36.8). In the Olympic year of 1968, Keino ran only one race before going to Europe in July to sharpen up. In his first race he collapsed with stomach pains. Then he went to Moscow and ran an impressive 10,000 in 28:06.4
Olympic Gold
Keino, at 28, was at the peak of his career for the Mexico Olympics. He had become an experienced competitor and he had trained himself effectively for fast races. An indication of his confidence was his entry into three events: 1,500, 5,000 and 10,000. With heats, this meant he would be running six races in eight days. The only problem was that he arrived with a health problem: a gall bladder infection that was to be diagnosed later. But this didn't alter his plans to run all three events.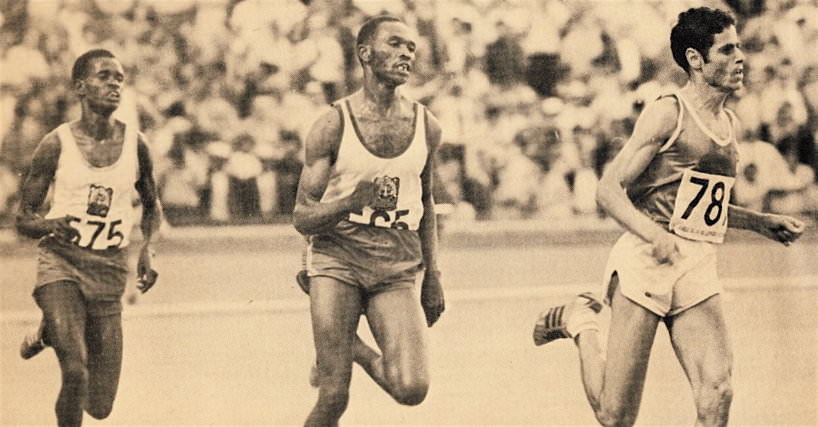 Gammoudi outruns Keino and Temu
in the 1968 Olympic 5,000.
His first race, the 10,000, went well until with three laps to go he collapsed with gallstone pain. After two days' rest, he won his 5,000 heat. In the final he did not run well tactically. He was well placed in third at the bell, but he allowed fellow Kenyan Temu to challenge Gamoudi along the back straight, and when Temu began to fade, Keino found he had too much ground to make up on the Tunisian. He managed to catch Gamoudi with 40m to go, but this effort cost him too much. Gamoudi was able to hang on, winning in 14:05.0 to Keino's 14:05.2, so Keino had to take the silver. His last chance of a gold medal was the 1,500. It was suggested that his gall-bladder problem entitled him to drop out of the final, but he was determined to run. His main rival Jim Ryun was fresh, whereas Keino had already run five races. Moreover, Ryun had not been beaten over 1,500 or a Mile in three years.
In view of Ryun's finishing kick, Keino had no option but to make it a fast race. He was towed through the first lap by team-mate Jipcho in 56.0. Then he took over the lead to pass 800 in 1:55.3—an incredibly fast pace at 7,300ft altitude. On the third lap, he moved even further ahead. At 1200 (2:53.3 for Keino), Ryun made his effort to catch Keino, moving past Harald Norpoth and up to German Bodo Tummler. With 200 to go, he was still 12m down on Keino. Tummler held off Ryun round the bend, by which time the race was won. Keino showed incredible strength in the last half-lap and increased his lead. His finishing time was an amazing 3:34.9, the second-fastest time ever; his last 800 was run in 1:54.2. He had finally won an Olympic gold medal.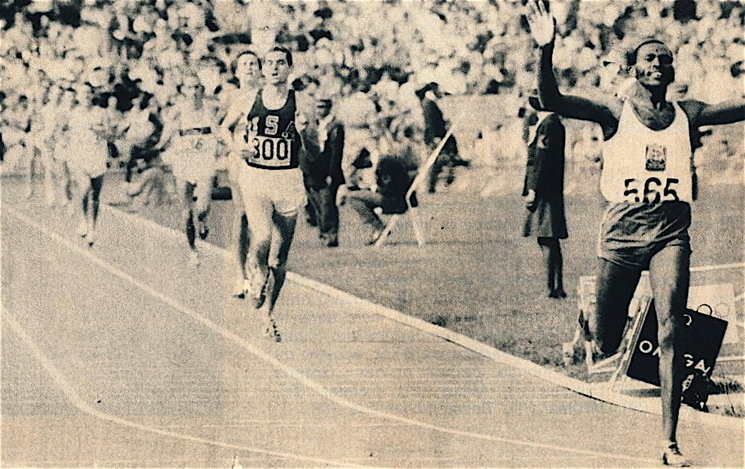 Finally an Olympic gold medal. Ryun and Tummler
follow Keino to the tape in the Mexico 1,500.
Still at the Top
After a good break, Keino was unbeaten in 1969. He mainly ran the 1,500, posting two times under 3:40: 3:37.3 and 3:38.8. He was not listed in the 5,000 and 10,000 rankings, so it was clearly an easy year for him. But in 1970 he was back for the Commonwealth Games. He had little trouble winning the gold in the 1,500 (3:36.6), but in the 5,000 he came up against a new generation of British runners: Ian Steward and Ian McCafferty of Scotland and Dick Taylor and Allan Rushmer of England. In a great race run at near record speed, the aging Keino was thoroughly beaten by the two young Scottish runners. He held his own down the back straight, sandwiched between Stewart and McCafferty. Even round the last bend he looked in a perfect position to take the race. But when McCafferty overtook him and Stewart sped up, Keino gave up and jogged home in third place. His time of 13:27.6 was almost five seconds slower than winner Ian Stewart's.
Last Olympics
Keino's 1971 season was a good one. He had seven1,500s under 3:40 and ran the fourth fastest 5,000 of the year with 13:25.8. This was good preparation for his last Olympics in 1972. The Munich schedule didn't allow him to attempt the 1,500/5,000 double, so he surprised everyone by entering the Steeplechase. In this race he had an easy win in 8:23.6, which was close to the WR. But a much bigger challenge came in the 1,500, a race in which he was the clear favorite, especially after he had run an amazingly fast 800 in 1:46.4 and especially after rival Jim Ryun fell in his heat and was eliminated.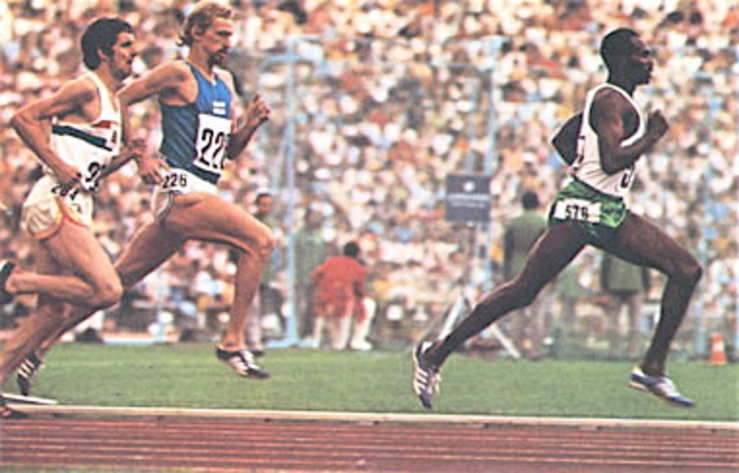 80 to go: Vassala begins his attack on Keino
in the 1972 Olympic 1,500.
Keino was once more up against a new generation of runners: Dixon of New Zealand, Foster of Britain and Vassala of Finland. Keino failed to take charge of the race from the start—a tactic he had used effectively in Mexico with the help of Jipcho. He allowed the race to start very slowly with a 61.4 lap. Even then, he didn't take charge. Only just before 700 meters did he make his move into the lead. He had played right into the hands of Vassala, who had 800 times of 1:44.5 and 1:44.6 to his credit. Even Keino's 55.1 third lap could not drop Vassala. He tried even harder in the last lap, but Vassala never let him open a gap and was still with him on entering the straight. When Vassala moved up beside him, Keino was able to resist for a few meters, but with 50 to go, the Finn was in the lead, and he was well clear at the tape. It had taken a 1:48.8 last 800 to beat Keino.
His Qualities
Keino's long and brilliant career was almost over. In 1973 he joined the professional International Track Association, but he didn't run any fast times, retiring from racing the next year. What a career it had been! Though not the first Kenyan to run internationally, Keino was the first Kenyan to each the very top of middle-distance running. True he had some advantage growing up at 8,000 altitude, but it's hard to conceive how difficult it must have been for him to rise from colonial Kenya to the very top of international track. Self-confidence was clearly something he needed to have as a pioneer: "Self-confidence is something that you have to build," he has said. "Self-confidence has a lot to do with courage." (Top Distance Runners of the Century, ed. Seppo Luhtala, p. 123.) Certainly, he was a very courageous man: his competing in Mexico against doctor's orders with a painful inflamed gall bladder is just one example of his grit.
Keino was also was very intelligent in his approach to training, absorbing a lot of training information both in Kenya and during his early contact with leading runners and coaches outside Africa. Above all, he was a fine competitor. Ron Clarke, who knew Keino well during his racing days, wrote this assessment: "Kipchoge is in many ways an enigma. Shy and disarming, he yet has a habit of making the most confident statements. He is one of my favorite characters in track and field, being of a friendly nature and quick to smile, whether he wins or loses. Nevertheless, he possesses a deep-rooted determination to win. An aggressive runner and not afraid to lead, Kipchoge is ambitious for world records, and this is understandable, for he is an excellent runner with a long, loping stride." (The Unforgiving Minute, p. 168)

---