By John Cobley
13th February 2011
---
---
---
Gaston Reiff v Emil Zatopek
1948 Olympic 5,000 Final
Great Races #6
After his surprising win over WR holder Heino in the 10,000, Emil Zatopek lined up for the 5,000 as the crowd favorite. But there were two concerns about his chances: first, whether he had recovered from the earlier race, especially since he had put in a needless sprint at the end; and second whether his pointless race with Sweden's Ahlden for first place in the 5,000 heats would take the edge off him. Others pointed out that the five-and-ten double hadn't been achieved since Kolehmainen did "the impossible" 36 years earlier. Zatopek himself, after losing to Ahlden in the heats, thought that the Swede might just get the better of him in the final.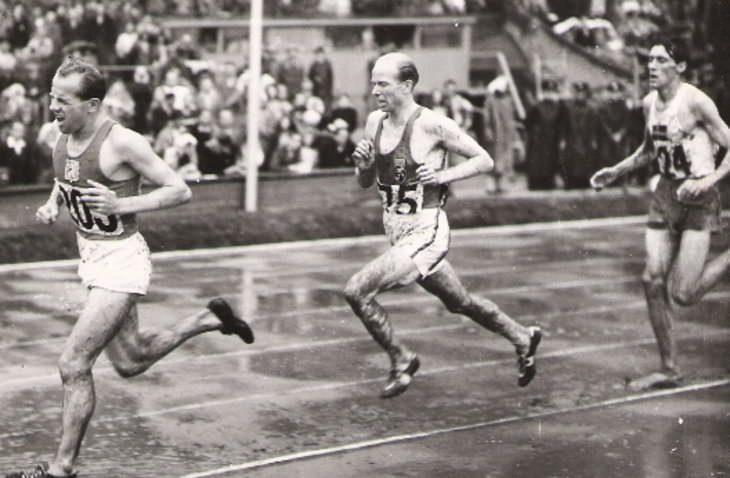 Zatopek forces the pace on the waterlogged
track. Reiff
and Ahlden stay with him.
For the final, it was raining and cool, and the track was soft and muddy. Zatopek, who had hung back in the early laps of the 10,000, went immediately into the lead. Soon the runners were all splattered with dirt as the rain continued. He passed 2,000 in a very fast 5:38, which was 14:05 speed—a finishing time hardly feasible on the waterlogged London cinder track. Behind Zatopek were Belgium's Gaston Reiff, Holland's Slijkhuis and Ahlden. Lap after lap, these three doggedly held on to the Czech. Not surprisingly Zatopek slowed to a 2:55 third K.
In the fourth K (2:52), Reiff and then Slijkhuis passed him. Soon Reiff opened up a gap on Slijkhuis. Reiff said later that he didn't want the pace to slow too much because he was afraid of the finishing speed of Slijkhuis. Resigned to finishing third, Zatopek slipped back until he was 60 metres behind Reiff and 30 behind Slijkhuis. Then, with less than 600 to go, he decided to go after Slijkhuis and made up 10m just before the bell.
Although Slijkuis made an effort at this point, Reiff also increased his pace to hold off the Dutchman. Coming round the last bend, Reiff looked to have the race won as Slijkhuis suddenly slowed and was passed by the charging Zatopek. Then the Czech suddenly realized that Reiff was also slowing and took off again with a full 20 meters to make up in little more than 100 meters. Hearing the crowd go wild, Reiff looked round to see the thrashing Zatopek bearing down on him.
Reiff on the podium.
Both runners drew on their last reserves as the gap narrowed and narrowed. At the tape only 2/10 of a second separated them: Reiff had held on by a proverbial whisker, 14:17.6 to 14:17.8. Reiff later said that the home straight was the toughest of his whole career. Zatopek's last lap was estimated by John Rodda to be close to 60 seconds. He was gracious in defeat and blamed himself for leaving too much to do in the last lap (" I had been too stupid."). But this race increased his prestige with the public: he had almost done the impossible in the last lap.
Reiff, 27, had made a dramatic improvement on his fifth place in the 1946 European 5,000, when he finished close to 40 seconds behind winner Wooderson in 14:45. He continued competing until 1953, setting world records at 2,000, 3,000 and 2 Miles. He won a bronze in the 1950 European 5,000, but this Olympic 5,000 race was his greatest achievement.
1. Gaston Reiff BEL 14:17.6; 2. Emil Zatopek CZE 14:17.8; 3. Willem Slijkhuis NED 14:26.8; 4. Erik Ahlden SWE 14:28.6; 5. Bertil Albertsson SWE 14:39.0; 6. Curtis Stone USA 14:39.4.

---