By John Cobley
15th February 2011
---
---
---
1950 European Championships
Brussels, August 23-27
800
Boysen of Norway, who had run a fast 1:48.7, was the clear favorite. Hansenne and Bengtsson were also highly favoured. The British were not expected to be in the medals, even by their own supporters. Bannister, who had just completed his Oxford finals, admitted, "I was ill-prepared for such an important race." (Bannister, First Four Minutes, p.101)
Boysen shot away at the start and created a huge 15m lead. His lead at the bell (53.8 but 51.8 in T&FN) was 10m from Swedes Bengtsson and Linden. Hansenne and Bannister were a few yards behind him, and Parlett and Clare were even further back. Hansenne moved hard round the curve with Bengtsson on his heels. At 260m to go Bannister caught them and moved into second. The three of them were now catching the flagging Boysen. Coming into the straight Bannister and Hansenne had passed Boysen together and prepared for a duel over the last 80 meters. But behind them Parlett was smoothly making up ground.
At 50m Bannister had a slight lead, but then he started to slow. And while Hansenne edged up to him, Parlett, on the outside, flowed past both of them to win. Bannister later wrote that Parlett came by "as if blown along by a private gust of wind." (Bannister, FFM, p.102) A photo-finish, after a French appeal, showed Hansenne just ahead of Bannister.
1. Parlett GBR 1:50.5; 2. Hansenne FRA 1:50.7; 3. Bannister GBR 1:50.7; 4. Bengtsson SWE 1:51.0; 5. Boysen NOR 1:51.4; 6. Clare FRA 1:51.6.
1,500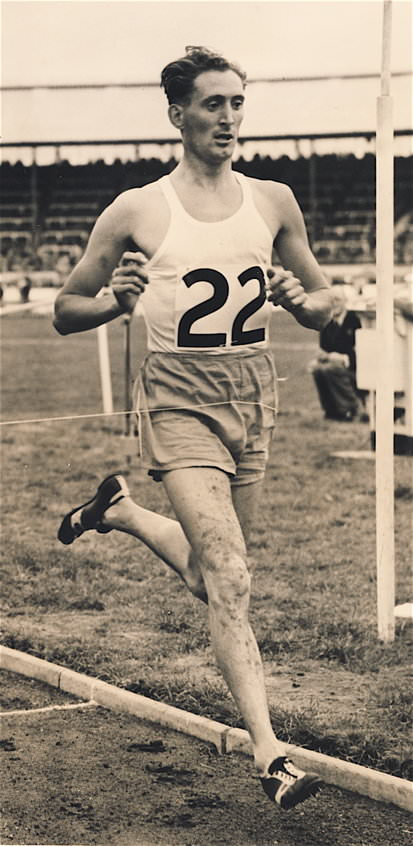 Wim Slijkhuis
Nankeville, a pre-race favorite with Slijkhuis and El Mabrouk, was an early leader. Then Taipale of Finland took over and spiced up the pace. He went through 400 in 61 and 800 in 2:01. Jean Vernier took over in the third lap, and then with 500 to go it was Eriksson in the lead. The big move came on the back straight when Nankeville and El Mabrouk opened up a small lead. Only Slijkhuis was able to respond at all. El Mabrouk passed Nankeville on the last curve. Behind them Sijkhuis came to life, passing Nankeville and catching El Mabrouk. The two ran neck-and-neck for 25m, until El Mabrouk faltered. Slijkhuis finished with a clear lead, while Nankeville almost caught a fading El Mabrouk for second.
Wim Slijkhuis of Holland had his greatest win here. One of the most elegant and successful runners of the immediate post-WW2 era, he had always been in the medals at major competitions, but had never won a gold--until this race.
1. Slijkhuis HOL 3:47.2; 2. El Mabrouk FRA 3:47.8; 3. Nankeville GBR 3:48.0; 4.Taipale FIN 3:50.4; 5. Eyre GBR 3:51.0; 6. Cevona CZE 3:51.4.
5,000
Emil Zatopek
Emil Zatopek, in form, was picked as the winner. Home favorite Gaston Reiff was also fancied for this race, although there was some concern about a back injury he was nursing. Buoyed by the 60,000 Belgian crowd, Reiff went off at a furious pace, with Zatopek at the back of the field. But after 800 Zatopek roared into the lead, his pace reducing the leading pack to six. On the fifth lap Reiff began a series of bursts. Only Zatopek and Makala were able to stay with him. Then Makala dropped back. Zatopek held on gamely, though at one point he was 6m back. Nevertheless, he was right behind Reiff at the bell.
Because of the crowd noise ("Gaston! Gaston!"), Reiff thought he was well clear of the field and had not looked back until this point. Seeing Zatopek right there behind him was a huge psychological blow. Sensing this, Zatopek passed him as fast as he could. The crowd went silent as Reiff quickly dropped back. Zatopek gained an incredible 130 metres in the last lap, winning by 23 seconds from Mimoun (again!), who had passed Reiff at the tape. Zatopek ran a PB and was less than five seconds outside Hagg's WR. Despite Reiff's surging, the kilometer times were steady: 2:48, 2:50, 2:50, 2:50 and 2:45.
1. Zatopek TCH 14:03.0; 2. Mimoun FRA 14:26.0; 3. Reiff BEL 4:26.2; 4. Makala FIN 14:30.8; 5. Posti FIN 14:40.8; 6. Theys BEL 14:42.0.
10,000
Emil Zatopek came to this race having just broken his 10,000 WR by 18.5 seconds with 29:02.6. But he had recently suffered food poisoning and had visited hospital to have his stomach pumped, losing 8lbs. He went into the lead after two laps, and it was soon clear that no one was going to challenge him. He reeled off Ks in 2:58, 2:51, 2:56, 2:56 and 2:56 to pass 5,000 in 14:37. Then he ran the second half of the race in 14:35, cruising to a 69-second win. The runners trailing Zatopek were almost a lap behind when he approached the bell, and they were mistakenly told they were on their last lap, when in fact they had two to go. Popov, who looked a sure third at this point, was the runner who suffered most when told to run an "extra" lap. France's Mimoun, Zatopek's perennial follower, took the silver from Koskela of Finland.
1. Zatopek TCH 29:12.0; 2. Mimoun FRA 30:21.0; 3. Koskela FIN 30:30.8; 4. Aaron GBR 30:31.6; 5. Popov URS 30:34.4; 6. Stokken NOR 30:44.8.
Marathon
Jack Holden
The field included home-favorite Gailly, who had almost won the 1948 Olympic title. British veteran Jack Holden was regarded as the favorite after his Empire Games win. Also a threat was Vanin of Russia.
As in London two years earlier, Gailly set the pace. The leading pack of seven contained two Russians, two Belgians, two Frenchmen and a Brit (Holden). They went through 5K in 18:35 and 10K in 35:29 (16:54). The two Russians dropped back and then Josset of France lost contact. The time at 15K was 52:26 (16:56) and at 20K 70:26 (17:34). Soon after that Gailly faded badly, while Vanin of Russian moved up fast to join Holden, Cerou of France and LeBlanc of Belgium. Holden was clearly the strongest as he started to push the pace. He soon dropped Cerou and LeBlanc, but Vanin held on. At 37K Holden finally broke Vanin, who then faded badly. As Holden pressed on to victory, Vanin was passed by the fast-finishing Finn Karvonen. At the end Holden had a comfortable 31-second lead on the closing Finn.
1. Holden GBR 2:32:13.2; 2. Karvonen FIN 2:32:45; 3. Vanin URS 2:33:47; 4. Leandersson SWE 2:34:26; 5. Gordienko URS 3:34:37; 6. Cerou FRA 2:36:09.

---