---
---
---
Jean Bouin v Hannes Kolehmainen (1912)
Olympic 5,000, Stockholm 1912
Great Races #2

This great race was contested by the two leading runners of the time; both were considered almost unbeatable. Their superiority over all other runners was huge. And in the heat of this race the WR was decimated by an unbelievable margin.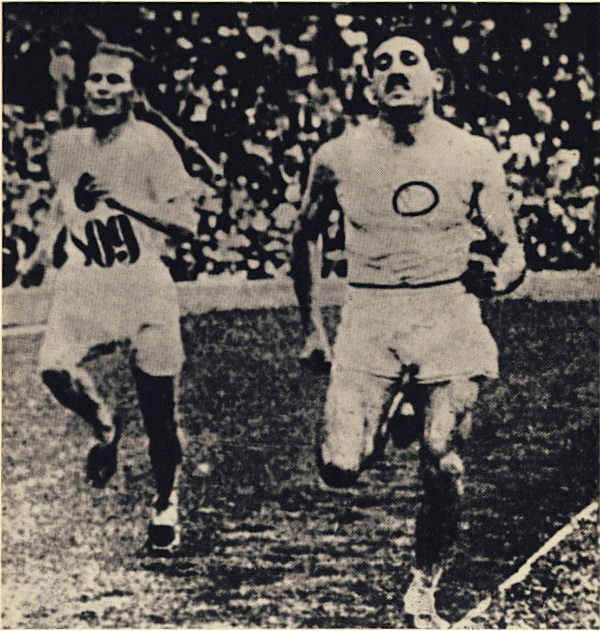 Sixty meters to go:
Jean Bouin desperately
tries to hold off Kolehmainen.
Frenchman Jean Bouin, 23, looked more like a boxer than a runner. He was thought to be overweight but said, "I haven't got an ounce more fat to lose." Bouin relied mainly on enthusiasm and was not considered hugely talented. But he was tough, making his name in cross-country. He had been national champion since 1909, and after running second in the 1909 International CC race, was the international champion for the next two years.
Kolehmainen, 22, came from a running family. The three Kolehmainen brothers all became world-class. Hannes began running and skiing early, encouraged by his older brother William's success. By the age of 20, Hannes was already the best in Finland. In 1911 he went to England and won the English long-distance championship over 4 miles. This success gave him confidence for the 1912 Olympics, although he had less international experience than Bouin.
This much anticipated Olympic race between these two clear favorites had been spiced up by a well-publicized training-track duel beforehand. Without a common language, the Finn and the Frenchman nevertheless negotiated an agreement: they were to run a 2,500 time-trial together. At a furious pace, they took turns to lead and finished side-by-side in 7:09, this at a time when the 5,000 WR was 15:01.2.
But Kolehmainen was able to get some psychological advantage by winning the 10,000 in dramatic fashion. He ran a blistering first half in 15:11.4, only ten seconds off the 5,000 WR, and then, with almost a lap advantage, he eased up for a comfortable 31:20.8 victory. Bouin did not run in this race.
In the 5,000 heats Bouin ran 15:05 to show Kolehmainen that he was ready for a fast race. The Finn qualified with the least effort and proclaimed he was ready to run 14:50.
Kolehmainen manages to
pass Bouin just before the tape.
The final took place in good conditions for distance running: there was a cloud cover, and the air was fresh after some rain. The tactics were clear to the experts: Kolehmainen would try to run the Frenchman off his feet. Bouin would hang on and try to take the Finn in the last sprint. The start was slower than the 10,000 had been. This should have suited Bouin, but surprisingly he suddenly took the lead soon after the field passed 1,500 in 4:17. Such was his pace that only Kolehmainenwas able to stay with him. The Finn stayed close for two laps, but then Bouin burst again, opening a 4-meter gap. Kolehmainen gradually closed this gap and challenged Bouin. But the determined Frenchman resisted. So Kolehmainen waited until 550 to go for his decisive attack. However, Bouin was able to resist, forcing Kolehmainen to run wide round the curve and then fall back.
At the bell Bouin himself attacked and opened up a gap of close to 4 metres. This gap closed to 2 meters down the back straight, but Bouin held this lead round the curve and into the last 50 meters. But he was tying up. Kolehmainen drew up beside his tenacious rival but was forced into the third lane. Their elbows touched. Finally Bouin broke and Kolehmainen hit the tape one meter ahead.
Bouin stood alone, aghast at his failure. The winning time was a new WR: 14:36.6, a massive improvement of 24.6 seconds. Bouin was only 1/10 of a second behind. An incredible rivalry had taken the two runners into unknown territories.
Bouin went on to break two WRs in 1911: the 10,000 in 30:58.8 and the One Hour with 19:021.9 kilometers. But he never competed in another Olympics as he died in WW1, leading his platoon in an attack. Kolehmainen went to the USA after the Games. He was still running in 1920 and became the Olympic marathon champion with 2:32:35, an amateur world best by 3:31.

---