By John Cobley
4th October 2011
---
---
---
1966 British Empire & Commonwealth Games
Kingston, Jamaica
August 4-13
880
Three of the top four finishers from the Tokyo Olympic 800 final were in the field. George Kerr, running in front of his home crowd and finally running in a major 800 race without Peter Snell, looked like a good bet for the gold. But the younger Kenyan Kiprugut was another favorite after his impressive semi-final. And then Bill Crothers, who had looked so good finishing second in Tokyo, was fancied by many pundits. Finally there were two Australians, Ralph Doubell and Noel Clough, as well as the fast-improving Brit Chris Carter.
Trinidad's Lennox Yearwood set so fast a pace that the field didn't go with him. He was 8m ahead at 220 and passed the 440 in 49.6. The field, though not staying with him, was nevertheless running very fast. Kiprugut, Crothers and Doubell all passed the bell in 50.8. The rest of the field were close too, with Clough bringing up the rear in 51.4. The field stayed close down the back stretch, swallowing up Yearwood. At 600 Kiprugut held the lead. Kiprugut and Kerr were both well placed on the crown of the last bend, while Crothers was boxed in fifth place. The Jamaican favorite led down the straight but then began to fade. Right on the outside a charging Noel Clough sped past everyone to take the race, while Kiprugut passed Kerr for second at the tape. The unfortunate Crothers was unable to find a gap and lost a race he could well have won with better tactics. This was a close race with the first four separated by only 0.4 of a second.
Noel Clough's victory was a complete surprise. His running career had been full of disappointments; he had failed to make the Australian Olympic team on two occasions and had never won a national or state title over 880. Known as the "quiet man" of the Australian team, the 29-year-old had been last in an 880 in Los Angeles a month earlier with a 1:53.8 clocking. Coming into the Games as second string to Doubell, his PB had been only 1:48.3, and he had to beat that with 1:47.9 to reach the final. Nevertheless, he rose to the occasion to pull off a dramatic victory with another PB, a full second faster. He never ran as fast again. The sentimental favorite, George Kerr, came very close to his dream. Since his bronze medal in the 1960 Olympics, he had always been second fiddle to Peter Snell in major games. This time, finally in a race without his nemesis, he sadly just didn't have the strength in the last 50m.
1. Noel Clough AUS 1: 46.9; 2. Wilson Kiprugut KEN 1:47.2; 3. George Kerr JAM 1:47.2; 4. Bill Crothers CAN 1:47.3; 5. Chris Carter ENG 1:48.1; 6. Ralph Doubell AUS 1:48.3.
Mile
Kipchoge Keino, who had run well in the Tokyo 5,000 and then had a stellar 1965, was the clear favorite for this race. He hadn't won all his 1966 races, nor had he run close to his 1965 Mile time, but his form was clear from a recent 13:26.6 5,000 and a victory a few days earlier in the Three Miles. Feisty British miler Alan Simpson, fourth in the Tokyo Olympics, was the pick of his opponents with a 1965 PB of 3:55.7. Ian Studd of New Zealand, Walter Wilkinson of England and Derek Graham of Northern Ireland all had medals hopes, but they were not in the same class as Keino and Simpson.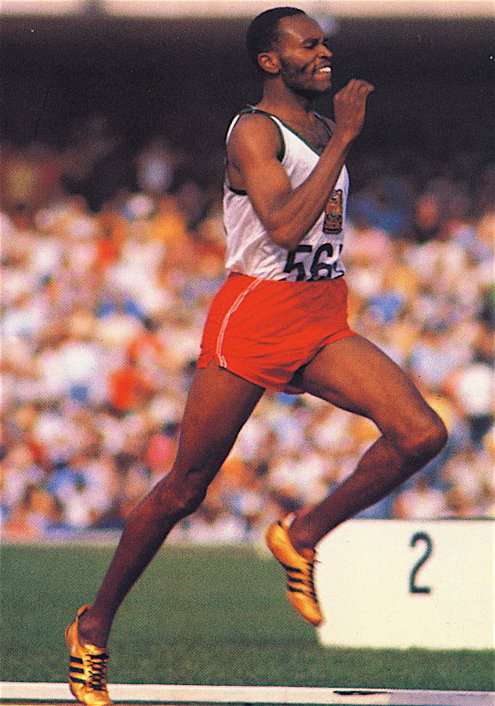 Kip Keino in full flight.
Keino ran a shocking 3:57.4 to win the first semi-final, the fastest heat time ever run. He was just as assertive in the final. Although stumbling at the start, he was in the lead by 220. He dragged the field through the first lap under 60 seconds, his own time being 59.3.A second lap of 59.4 saw him with a lead of 5 yards from Rwajko of Uganda. Behind them Australian Wheeler, who had bragged that he could outsprint Keino (T&FN, August 1966), had moved up into third. Keino went even faster on lap 3; his 58.0 split put him 20 yards up on Simpson, who had moved through the field impressively.
In the last lap, Keino slowed only a fraction to 58.6 for a very comfortable victory in 3:55.3. Simpson consolidated his second place and even closed a little on Keino, but he was well short of his 1965 PB. The next seven finishers all posted PBs; the first six in the race were all under 4:00.
1. Kip Keino KEN 3:55.3; 2.. Alan Simpson GBR 3:57.1; 3. Ian Studd NZL 3:58.4; 4. Walter Wilkinson GBR 3:59.3; 5. Derek Graham NIR 3:59.4; 6. Keith Wheeler AUS 3:59.8.
Three Miles
This was the banner distance race of the Games: a reprise of the Clarke-Keino rivalry. Kip Keino had recently defeated Australian great Ron Clarke over 5,000 and with his miling speed looked the favorite to repeat in this race. Clarke, beaten yet again in a major race in the Six Miles, had a lot to prove. There were no other runners in their class. Still, Temu's emphatic win over Clarke in the Six Miles with a huge breakthrough time made some wonder if the young Kenyan could do the impossible and achieve the distance-double. The other medal hopefuls were all from the UK: Allan Rushmer, Richard Taylor and Bill Wilkinson from England; Ian McCafferty from Scotland and Derek Graham from N. Ireland.
Kip Keino fully extended
Clarke had to break Keino if he was to win the gold, but he didn't appear at the front for long time. For the first half of the race McCafferty and Aussies Ian Blackwood and Kerry O'Brien took turns leading in the first six laps (2:05.2, 4:16.7 and 6:26.7). A slightly faster lap of 65.3 by Keino then dropped the two Australians; only Clarke and McCafferty were able to stay with the Kenyan. Keino continued to push with a 65.8 to pass two miles at 8:37.8. After a 67.4 lap, Keino and Clarke had dropped McCafferty. Meanwhile Temu was hovering some 30 yards behind them.
The pace slowed to 69.3 on the 10th lap, during which Clarke led for the first time. But Clarke didn't speed up at all. He led for the penultimate lap (67.5); Keino had no trouble staying with him. The race was decided on the back stretch when Keino exploded. By the crown of the last bend he had a comfortable margin that he held to the tape. Behind Clarke, Allan Rushmer put in a really fast last lap and passed McCafferty and Temu for the bronze. The first eight were under 13:20.
In winning, Keino broke his PB by 1.2 seconds and proved what a great competitor he is. Clarke, on the other hand, was 8.8 seconds slower than his best. So it was a little surprising that he was unable to push the pace more in the later stages. Perhaps he was still tired from the Six Miles. Allan Rushmer ran brilliantly, equaling Mike Wiggs' British record and cutting 11.2 seconds off his PB. Temu ran another fine race and promised to be a likely challenger to Keino in due course.
1. Kip Keino KEN 12:57.4; 2. Ron Clarke AUS 12:59.2; 3. Allan Rushmer ENG 13:008.6; 4. Naftali Temu KEN 13:10.4; 5. Ian McCafferty SCO 13:12.2; 6. Richard Taylor ENG 13:15.4.
Six Miles
Ron Clarke had run so much faster over this distance than anyone else that it was hard to believe that anyone could challenge him. His 27:39.4 10,000 the previous year had knocked 36.2 seconds off the WR. But Clarke had been stunned in the Tokyo Olympics two years earlier when American Billy Mills came out of nowhere to win the gold. Could something like this happen again?
Surprise winner
Naftali Temu.
The answer was yes. Naftali Temu (22) of Kenya ran the race of his life to run away from Clarke . Although he had run 28:18.6 for Six Miles, his seasonal best was only 28:55.8, albeit at altitude.
Clarke led from the start and within two laps Temu was on his shoulder. Soon the two escaped the rest of the field. In fact Temu led at two miles in 8:54.0, when the duo already had a 100-yard lead. In the tenth lap Clarke tested Temu with a burst, but within half a lap Temu was back in the lead. At three miles (13:24), with Temu leading, they were ahead of WR pace. Clarke tried continually to break Temu—on the 13th, 16th and 18th laps. Each time Temu responded. Clarke then seemed to lose heart, slowing to two laps around 75 pace.
It was Temu's turn to inject pace. He did this just before passing five miles (22:57). Unlike Clarke, he kept his burst going and quickly opened up a gap on the dispirited Aussie. Temu's 62.7 21st lap put him over five seconds ahead. The Kenyan then reeled off laps of 66.4, 68.8 and 59.4 to achieve one of the great upsets of distance running. His last mile was run in 4:17.3; Clarke's was 4:39.5. Afterwards Clarke said he was so tired at five miles that he had doubts about being able to finish.
Behind Temu and Clarke, in what was in effect a separate race, Scotland's Jim Alder ran a fine race for bronze. As he finished, an exhausted Clarke collapsed on the high jump foam, while Temu jogged easily around the track, celebrating a run which that the fourth fastest ever and that earned Kenya its first ever gold medal in a major championships.
1. Naftali Temu KEN 27:14.21; 2.Ron Clarke AUS 27:39.4; 3. Jim Alder SCO 28:15.4; 4. Pascal Myfyomi TAN 28:38.0; 5. Ron Hill ENG 28:42.6; 6. Dave Ellis CAN 28:55.4.
Marathon
Brian Kilby, who had won the Marathon in Perth in 1962 was a pre-race favorite for this event. Other potential medalists were as follows: Bill Adcocks, Kilby's Coventry Godiva team-mate; Jim Alder of Scotland, who had won the bronze in the Six Miles; Jeff Julian and Bill Baillie of New Zealand; and Ron Clarke, who had already won two silver medals on the track.
Like the Six Miles, this was a two-man race. In a race that almost ended in chaos, Jim Alder and Bill Adcocks finished well ahead of the other eight finishers. A very small field of 17 runners were on the start line at 5:30 am. The early start was intended to spare the runners from the midday tropical heat; they should have started even earlier. Clarke went out in front after 7 miles and put in three brisk miles in 16:05. This increase in speed earned him a lead of 30 yards. Running at a reasonable 2:20 pace, he passed 10 miles in 53:33, leading a pack that included Adcocks, Alder and Kilby by 9 seconds.
As the morning heat built to 85 degrees, Kilby dropped back, while Alder and Adcocks started to gain on Clarke. They caught him at 15 miles when he stopped for a long time at the feeding station. Clarke, having donned a white floppy hat, was 100 yards behind the British pair when he restarted running. By 20 miles (1:47:53) Alder and Adcocks were over a minute ahead, Clarke having dropped out at 19 miles. The duo had been running steadily, with five-mile splits of 26:51, 26:54, 26:48 and 27:20. At around 21 miles, Alder moved ahead of Adcocks. "I'd better not leave it to a toss-up between two of us by the stadium," he told the Times correspondent (Times, August 12, 1966)
In an almost empty stadium at 07:52,
Jim Alder takes the Marathon from Bill Adcocks.
Alder managed to stretch his lead to 50 yards as he approached the stadium. But an official sent the Scotsman the wrong way, and Adcocks entered the stadium first with a 30-yard lead. "I just could not believe it when I finally got to the tunnel and saw another runner ahead of me," Alder said afterwards. (Times) But he had something in reserve and managed to retrace his steps and still pass Adcocks for a well-deserved victory. "I got past Adcocks on the back straight of the last lap of the track, and he made no effort, which makes me think it was an act of great sportsmanship." (Times) As it turned out, Adcocks was actually in a daze and wasn't aware that Alder was bearing down on him.
Behind these two, Kiwi Mike Ryan took the bronze 5:46 behind Adcocks. Only eight runners survived the Caribbean heat to finish. Apart from Ron Clarke, Brian Kilby (abandoned at 20 miles) and Aussie Tony Cook were notable non-finishers. Alder, who had no experience running marathon in tropical heat, took every precaution: "The Scottish coach wisely made me take three spoonfuls of salt a day, and I drank a lot too. During the race I stopped at every feeding station, took every sponge, wore a handkerchief, and really took every possible precaution. It was all fairly easy until the last three miles. (Times)
1. Jim Alder SCO 2:22:07; 2. Bill Adcocks GBR 2:22:13.0; 3. Mike Ryan NZL 2:27:59.0; 4. Dave Ellis CAN 2:31:46.8; 5. Jeff Julian NZL 2:32:45.4; 6. Ron Wallingford CAN 2:35:13.0.

---