By John Cobley
18th February 2011
---
---
---
PROFILE: FRANZ STAMPFL
1913-1995
Austrian-born Franz Stampfl was one of the leading coaches of the 1950s and 1960s. He developed his own interval-training system from Gerschler's pioneering work. Stampfl's system was used effectively by Chris Chataway and Chris Brasher in England, and later by Merv Lincoln and Ralph Doubell in Australia.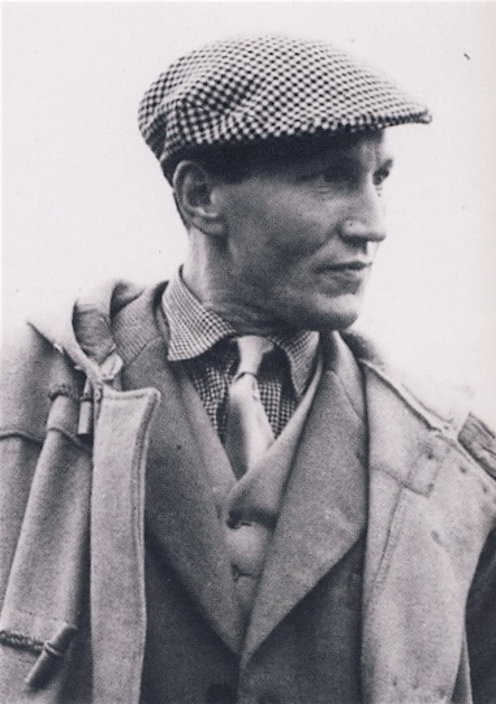 Stampfl was an intellectual. Coaching for him was not merely training the body. He put equal emphasis on the mind, not only with psychological development but also intellectual development. Chris Chataway said, "When I first met him I realized he had a remarkable understanding of human nature and a devastatingly infectious enthusiasm." (O'Connor, Sports Illustrated, Nov. 26, 1956) According to Brian Hewson, Stampfl "not only made sure his athletes were physically fit, he made sure they were mentally fit as well." (Flying Feet, p.61) This is where he differed from most coaches. If coaching can be defined as a blend of art and science, Stampfl put much more emphasis on the art than most coaches. This involved spending long hours in conversation with his main athletes. "We would go down to lunch on Lygon Street," Ralph Doubell recalled. "We'd be first there at lunch, be last to leave. Then we'd go from there to Jimmy Watson's wine bar. So between 12 and 4 I had an earful of Stampfl, but by the end of it I could normally believe that I could beat anybody in the world." (Amanda Smith, The Sports Factor, Jan. 2001)
Stampfl's early life was radically affected by WW2. He had left his native country in 1937 to study art in London, and when Hitler invaded his country, he decided to stay. As an enemy alien he was deported to Australia. Finally settling in Melbourne, he took classes at university. After the war, he returned to the UK in 1946, setting himself up as an athletics coach in Northern Ireland. Initially, he successfully coached high jumper Thelma Hopkins and miler Victor Milligan. Within three years, his credentials were sufficiently established for him to move to London. Although lacking formal training as an athletics coach, he developed a reputation through word of mouth. He made a living by establishing contracts with several London clubs and with Oxford University and by charging athletes one shilling per coaching session.
Stampfl's training methods were not that different from those used by other top runners in the 1950s. The main difference was that almost all running was done on the track. His track schedules originate from Gerschler's system established before WW2. Stampfl deviated from Gerschler in using longer intervals. Where Gerschler used repetitions primarily over 200, Stampfl used 400, 800 and 1320. His schedules are laid out in his book Franz Stampfl on Running. The weekly program started in November with four days of track training, one day of calisthenics for 45 minutes, one day of fartlek (building from 5 to10 miles), and one rest day. In April, track training increased to five days, Fartlek decreased to 5 miles, and calisthenics were terminated.
The four days on the track were interval training: sessions like 10x400, 6x800 and 4x1200. For a potential four-minute miler, the times start at 70, 2:20 and 3:35. The 400 times drop two seconds a month until peaking in April and May at 60 (racing speed). The 800s drop to 2:04 and the number drops to five in the spring. The 1200s drop to 3:15 by April and then stop. Thus by April there are three sessions of 10x400 in 60 (lap jog recovery), and one session of 5x800 in 2:04 (10 minutes rest between). There is one light fartlek day of 3-5 miles and one rest day. In summary, the early months are very easy—a four-minute miler would find 10x400 in 70 very slow. Also, there is no aerobic work--no long, easy runs. The most striking aspect of this schedule is that no running faster than racing speed is required.
The schedule for three-milers uses same sessions but more repetitions at slower speeds: 15x400, 8x800 and 5x1200. In March and April the 1200 sessions are increased to 1800 and then 2200. Six Milers start with 20x400/10x800 and work up to 30x400/8x2200. Surprisingly, six milers also do 200 intervals, unlike milers and three milers: 20x200 up to 30x200.
Stampfl began to train Brasher and Chataway after they had come down from Oxford in the early 1950s. They used the track at the Chelsea barracks. Bannister, meanwhile was training in his lunch hour at Paddington. Near the end of 1953 Brasher introduced Bannister to Stampfl, after which he started training with Stampfl, Chataway and Brasher on Friday evenings. Thus for the six months prior to the four-minute mile, Bannister was seeing Stampfl regularly. There is no indication from Bannister that he changed his training after meeting Stampfl; Bannister was using interval training in very much the same way as Stampfl was—Bannister had talked to Gerschler after the Helsinki OG and was a great admirer of Gerschler's 1,500 gold medalist, Josy Barthel. Nevertheless, it's well established that Bannister talked a lot with Stampfl in 1954. They often socialized as a group on Fridays after training.
Stampfl with Brasher, Bannister and
Chataway after the first 4:00 Mile.
Since Stampfl did have a lot of contact with Bannister for the six months before the four-minute mile, he certainly helped Bannister focus his interval training—for example, gradually reducing the time of the repeat 400s. It is also clear that he was able to work on Bannister's mental attitude. Nevertheless, I believe it wrong to argue that Stampfl became Bannister's coach. As Bannister wrote, Stampfl was an advisor.
This is not to say that Stampfl had a lot to do with the success of the four-minute mile. First, he had coached Brasher and Chataway to the level where they could pace Bannister for 3 1/4 laps at 60-second-per-lap speed. Second, he was able to make Bannister believe that he could run under four. Their "chance" meeting on the train up to Oxford was crucial, for on this journey Stampfl was able to persuade Bannister that he should run despite the weather conditions and that he was capable of running under four. He had every right to pose for photographers with Bannister, Chataway and Landy after the four-minute barrier had been broken.
In the same way, Stampfl helped Bannister with his victory over Landy in Vancouver. Bannister visited Stampfl before he left England: "The day before I left for Vancouver I had a long talk with Franz Stampfl. I knew exactly the type of program that suited me, so I did not need to see him while I was training myself to a peak. But his advice was invaluable in building up my mental approach to the race. I could carry myself almost all the way. Then at the last minute, when I became hesitant, he helped to give me the confidence and aggressiveness that I previously lacked." (Bannister, First Four Minutes, p.20)
Although his support of Bannister is usually the main focus of any discussion of Stampfl, he had other equal, if not greater successes. First, he was behind Chataway's great career, which included the fabulous 5,000 WR victory over Kuts, four-minute miles, a Three-Mile WR and an Empire Games gold medal. The strongly individualist Chataway can't have been easy to coach. Second, Stampfl coached the less talented Brasher to a surprising gold medal in the Melbourne Olympic Steeplechase. With far inferior credentials than most of his competitors, Brasher spent several months with Stampfl in Australia before the Games and came up with the performance of his life in the most important of races. Third, Stampfl developed Merv Lincoln into one of the best milers of his day. Fourth, he coached Ralph Doubell to the 800 gold medal in the 1968 OG. This was another unexpected victory that showed how adept Stampfl was at preparing his athletes for a peak performance.
Soon after the triumphant 1954 season that had seen spectacular success from Bannister and Chataway, Stampfl was lured back to Australia by the offer of a coaching post at the University of Melbourne. He continued to coach Brasher and Chataway from a distance, but now focused on Australian athletes. Immediately he came into conflict with Percy Cerutty, who had been passed over for the position at Melbourne University. Cerutty's success was evident. He had coached Landy for a while and had Albie Thomas and the promising Herb Elliott on his group. Stampfl's first top runner was Merv Lincoln, whose clashes with Elliott over the Mile were seen as clashes between the two coaches. The Melbourne Age spoke of this "battle of the coaches." (Landy Era, p.198) On one occasion in a press room, Cerutty verbally attacked Stampfl, referring to the Austrian's origins: "His sort of training is for Nazis. It's for people who like to be dominated." An angry Stampfl commented, "Who wants to have arguments with a madman?" (Why Die?, p.212)
John Landy also criticized Stampfl's approach to coaching: "Franz is so single-minded, almost Teutonic, in his approach to athletics. I could never let him coach me. I can't see him doing well in Australia." (Why Die?, p.168) In fact Stampfl did not do as well as he hoped. He coached a youthful Ron Clarke for a while, but Clarke left him and quit running for a few years. Merv Lincoln, to whom Stampfl had written after seeing him compete in Melbourne, was his first success. He helped Lincoln improve quickly, to the point that he was in the Melbourne Olympics. However, Lincoln suffered a tendon injury ten days before the Games. He reached the final but finished last. Subsequently, Lincoln went on to become one of the fastest milers in the world. Probably, Stampfl's big success in Australia was Ralph Doubell, who won the 800 in the 1968 Mexico Olympics.
Stampfl continued coaching for the rest of his life. Even a 1980 car accident that left him a quadriplegic did not stop him. But there were no more Chataways or Doubells. Maybe Landy was correct in thinking that Stampfl's approach did not suit the Australian psyche.

---