By John Cobley
18th October 2012
---
---
---
Ian Stewart Profile
b. 15 Jan 1949
A cursory review of Ian Stewart's running career would suggest that he was a teenage prodigy. He set a UK age-best for 2 Miles at 16 and then Junior European records for 3,000, 2 Miles, 3 Miles and 5,000. And the next year, as a first-year Senior at age 20, he was European champion at 3,000 indoors and at 5,000 outdoors. The following year he beat the two greatest distance runners of the 1960s, Ron Clarke and Kip Keino, to win the 1970 Commonwealth Games 5,000, clocking the third-fastest time ever and setting a European and UK record.
Of course, Stewart had athletic talent, but there were two other qualities that were crucial in his makeup. First of all, he had a strong work ethic and an attitude that anything undertaken must be done well and be completed. His completion of a seven-year apprenticeship attests to this quality, which of course also ensured he trained hard and regularly. Second, there was a daredevil quality in him. He liked challenges and tackled them with enthusiasm. He was the type who could think on his feet and stay in control under stressful conditions. This second quality was crucial in his racing. But despite all this brilliant early success, Ian Stewart can hardly be called a prodigy. When he joined the legendary Birmingham club Birchfield Harriers as a teenager, he didn't show unusual talent: "I wasn't one of the best in the group when I started—for the first 18 months." Stewart began as a cross-country runner: "When I was a kid, I wasn't a great track runner. My coach took a lot of time to convince me that I should run track. The first year I was with him I didn't run track hardly at all."
After his Commonwealth victory at age 21, Stewart went on to place third and seventh in the 1972 and 1976 Olympic 5,000s. He continued running at the world-class level until 1978, during which time he won a second European indoor title. In his second-last year of competition he finally became a world champion when he won the World Cross-Country Championship in Rabat. Over his ten-year career he was respected as one of the finest racers, combining intelligence, confidence and decisiveness as well as a ruthless determination. Winning for him was the essence: " First's first, and second is nowhere," he once said. (Mel Watman, All-Time Great of British Athletics)
Apprenticeship
Setting a UK Junior record for
Three Miles (13:39.8).
The third child in a family of six, Ian Stewart did show some running ability at school. In his last year he placed 47th in the English School Cross-Country Championships. At 16 he left school and went straight into a demanding seven-year gunsmith apprenticeship with a prestigious Birmingham weapons manufacturer. Already a member of Birchfield Harriers, he continued running in his spare time. "I was motivated by reading books," Ian recalls. "Arthur Lydiard was a massive influence on me. The other main one--and I only met him last year--was Jim Ryun's coach, Bob Timmons. I was devouring books on distance running when I was 16-17." Stewart was being coached Geoff Warr, who also coached his elder brother Peter. Warr was to become a crucial influence: "I was very lucky. I was probably better technically coached that most." Warr worked Ian hard from the start, stressing quality over quantity. And the cross-country runner began competing on the track. His country stamina was soon evident as he set a British age best for 16-year-olds with a 9:12.8 for 2 Miles.
The next year, 1966, Stewart started to improve dramatically. He won the Midland Youths Cross-Country title and improved his Mile time to 4:18.6. He also set two 17 age-bests for 2 Miles (8:55) and 3 Miles (13:59.6). And he continued to improve in 1967: second in the National Youth Cross-Country, 8:46 and 13:39.8 age-bests for 2 and 3 Miles, a big breakthrough in the Mile with 4:07.9, and a Junior international victory over 3,000 (8:25.0). "I had quite a fair year in 1967," he told Alastair Aitken, "but on the track I never quite made it in a lot of big races. Tony Simmons had the edge on me." (Jon Wigley and Alastair Aitken, "The Ian Stewart Story," Athletics Weekly, May 31, June 7 and June 14, 1975).
First Senior Vest
Another winter's training under Warr showed results in 1968. Racing against Seniors he place third in AAA Indoor 3,000 (8:03.4). This earned him his first Senior vest; in a match against West Germany, he finished second, reducing his PB to 8:01.4. Soon after, in the National Junior Cross-Country Championships, he stuck close to new cross-country star John Bednarski and used the finishing speed from his track work to win the national Junior title.
Hard training and the combination of cross-country and indoor racing again produced results in the summer, when he competed mainly in Senior races. He started with a 10-second PB and a new European Junior record of 8:35.6 with a fifth place in the British Games 2 Miles. Another European Junior record came in the 3 Miles (13:28.4). He was showing good competitive skills too with a third in the AAA 3 Miles (13:29.8) and a 3000 victory in a Junior International against West Germany (8:01.2, a European Junior record). "1968 was a good year," he said later, "but at the time I thought I could do better…. The only thing I did find to be a bit of problem was running at 5,000, which is a long way if you have not got a lot of bulk training behind you." (Wigley/Aitken)
Coaching Benefits
The next winter Stewart did focus on "bulk training." He increased his weekly mileage by introducing a 16-mile run on Sunday morning and ten miles fartlek in the afternoon. (Tom McCook, www.ardbruach.org.uk) With this extra work, his track performances kept improving, but more importantly he started to win big races. Stewart appreciated the coaching he was getting: "That was a thing Geoff was very good at—getting you right. If I was coming up for a championship race, you could bet I would be ready. He was very good at easing you off and tuning you for the major championships. It is a fine art, and you've got to be quite brave."
Brave? He was referring to the insecurity that many runners have about resting properly before a big competition: "With Geoff, we'd be doing all this volume, and mileage and track work, and he'd say 'Let's have two weeks out. You're not going to be fitter in two weeks than you are now.' He was absolutely right. So how [do you] add another 5%? The obvious thing to do is rest. You've got to be brave. When I started working with Mo Farah after the Beijing Olympics that insecurity was right there because he was training at a fantastic level until three days before a race. That's exactly what you don't want to do, especially when you've got heats. If I was in a meet with heats, I wouldn't even run two days before. I'd just chill out and relax. More people have overdone it than have eased off."
First Euro Title
The first big race Stewart won was the 1969 European Indoor 3,000. After he had trained "like mad" for the indoor season, he showed good early indoor form before this big race, winning the AAA 3,000 in 8:11.0 and running a fast 8:32.2 2 Miles. The first half of the European Championship race was a slow 4:04. Stewart waited until the last 400 before moving up. Then he was "shoved" by Mecser of Hungary, who pushed him forward and up on the banked boards. Thinking quickly, he decided to use this unexpected impetus to make his move: "So I said, 'An opportunity here. Off we go.' I was well ahead with a good five meters lead on him before he knew what had happened." (Wigley/Aitken) Stewart kept moving away from the field, running the second 1,500 in 3:51.3 for a 7:55.4 victory. This race is a good example of how tactically alert and adaptable he was a racer.
Stewart (23) on his way to winning the
1969 AAA 5,000. Dave Bedford leads.
There was a lot more to come from this precocious 20-year-old in 1969. After a break from competition, he won the Inter-Counties 5,000 in a PB time of 13:42.6. Then there were some shorter races, first a 1,500 with a 3:44.2 PB victory and then a paced Mile, in which he finished second to Ian McCafferty with a 3:57.3 PB. He was now Britain's youngest-ever four-minute miler. His next win was the AAA 5,000. Using a tactic that was to become his hallmark, he made his move with 600 to go, gradually increasing his speed (30.8 for the 200 up to the bell and a 57.6 last lap). Another PB in 13:39.8. This win earned him selection for the international match against the USA, for which he was teamed up with Dick Taylor, the best British distance runner at that time. Stewart wasn't able to stay with Taylor, who ran a 13:29.0 UK record, but he did improve his PB a third time to 13:36.4. Yet another PB came in his last race before the Euros: a 3:39.1 for 1,500, which was just a tenth inside John Whetton's UK record.
Second Euro Title
Winning the 1969 European 5,000.
The 1969 European Championships were held in the summer heat of Athens. Heat has never bothered Stewart. With Harald Norpoth absent because of a West German boycott, his main concern in the final was Bernt Diessner of East Germany, who had a fast finish. So Stewart decided to pick up the pace after a slow first four laps (4:28.6). He led the field through 2,000 (5:35) and 3,000 (8:20.8). At this point, he tried to get someone else to lead, but there were no offers. Finally, with just under four laps to go, he did something drastic. He pulled out into the second lane and almost stopped. After a lot of indecision from the field, Emiel Puttemans eventually took the lead with 800 to go, but Stewart was back in front 200 later, "just to see how the other boys were going—but only at half effort." (Wigley/Aitken)
Stewart takes up the story: "At the bell I was leading from Sharafetdinov, Diessner and Alan Blinston. I was still not running flat out, and coming down the back straight the Russian took me. I could see that he was sprinting almost flat out, and I was still striding fast. I thought, 'I'll get him right on the crown of the bend and take him unawares.'" (Wigley/Aitken) This unusual tactic worked to perfection, and Stewart moved clear in the straight. With a 56.6 last lap and a 1:58.8 last 800, he had run 13:44.8 to win his second European title of the year. Neil Allen of The Times was impressed how dominant Stewart was: "The [race] looked incredibly easy, as if Stewart was just toying with the field." (Oct. 24, 1969) Easy or not, one thing can be said for certain, Stewart was in charge throughout the race. Such authority is not usually shown in a major race by a 20-year-old. And it is significant that he used two unorthodox tactics in this race.
Daredevil
One important aspect of his character contributed to Stewart's early success. He was someone who reveled in tight situations. This side to his personality gave him extra self-control in races. He enjoyed the hurly-burly of competition. David Bedford encountered this daredevil aspect in Stewart when he trained with him in Birmingham: " Ian's morning route ducks and weaves beneath the bridges carrying traffic into the heart of Birmingham…. The towpath beneath the bridges plunges into darkness at regular intervals. The run holds nightmares for Dave Bedford as Stewart balances across a weir, up on to a sewage pipe and over a parapet into the maze of underpasses and bridges." (Wigley/Aiken)
There is more evidence of Stewart's daredevilry. After his running career, Stewart was often on a motorbike. Indeed, he regularly drove a motorbike during the Tour de France, carrying a photographer on the pillion. Not many would undertake such a dangerous job; Stewart did it for eight years. "I must have been mad," he told John Gibson. "It was crazy—lashing down mountains on the wrong side of the road with a camera man standing up on the pillion behind you, But it was also fun!" (Evening Chronicle, 6 June 2006) In short, his daredevil temperament helped him to act effectively despite the stress of big races where many of his more highly strung competitors weren't in full control.
Towards Edinburgh
Preparation for the 1970 Commonwealth Games started late. After winding down from his incredible 1969 season, Stewart wasn't in great shape at the end of the year. Still, he went to the USA for some indoor racing, and then won a European 3,000 indoor race in 7:55.6. His increasing fitness was evident when he ran the fastest time on the longest leg of the National Road Relay. His base for the summer was done in the spring rather than the winter: "It's not a bad thing getting the miles in during the spring," Coach Warr explained at the time, "because the weather is better and there are no important races until the middle of June." (Wigley/Aitken)
Although Stewart was getting fitter, his brother Peter was still ahead of him in training sessions. But Ian got serious in the Emsley Carr Mile and held off his brother with a 3:57.4 clocking. And with thoughts now focusing on the Edinburgh games, he went to Stockholm to race one of his main Commonwealth opponents, the great Ron Clarke. This shows how thoroughly he prepared for his major races: "I said to my coach, 'I want to go and beat him so that when he gets to Edinburgh, he's going to know that no matter what he does he cannot beat me." Stewart had a great race in Stockholm, but not with Clarke. Harald Norpoth of West Germany was also in the race. "I had raced him quite a few times. He was a real handful—because he had all the gears. He was fast; he was strong. I knew I was going to have a hard race." Ian used a familiar tactic, taking off with 600 to go: "I think we got eleven seconds out of Ron Clarke, but Harald just got me on the line. I ran a PB in that race. [Norpoth's victory] didn't bother me because I knew I'd got a lot more to give. While I didn't like being beaten by Harald, it told me what I need to know. By the time I got to Edinburgh I was in much better shape than that."
Much better shape indeed. Geoff Warr had again prepared Stewart perfectly for the big race: "[Ian's] last session before the Commonwealth Games indicated that his personal best would be there, which is part of our system. The 'Ace Card' is the transition from an enormous amount of training that has to be done way back—to the actual race. It's an art to know how to cut it down." (Wigley/Aitken) But while Warr had prepared Stewart physically, he wasn't so effective on the psychological level. "Geoff could be quite depressing," Stewart explains. "He could think of all the reasons why you were not going to win. I didn't speak to Geoff for five days before that race in Edinburgh--not at all--because he was getting nervous. My brother was there too saying I couldn't beat Keino, couldn't beat Clarke. I didn't want to hear that. I was rooming with my brother and I said, 'You've got to get out.' My brother was very like Geoff; they were welded at the hip. I told them I knew what shape I was in and that win lose or draw, [my opponents] were going to know they had been in a hell of a race."
Edinburgh Final
Stewart was one of the three Scots in the 5,000 final for the home crowd to cheer on. He had opted to run for Scotland rather than for England, using his father's Scottish birth to qualify him. Apart from Clarke and Keino, there were two fine English runners: Dick Taylor, who had beaten Stewart the previous year with a British record, and Allan Rushmer. Also competing were a couple of runners who had already won medals in the games—Lachie Stewart (10,000 gold) and Dick Quax (1,500 silver). Stewart claims he was ranked ninth timewise going into the race, but in view of his 1969 European titles, he was regarded as one of the favorites.
The field stretches out. McCafferty leads Stewart, Keino, Clarke, Taylor
and Rushmer. Clarke is starting to lose contact.
The race started slowly with a 70.8 lap before Dick Taylor, who needed a fast pace if he was to be in the medals, took things in hand. Running around 64 per lap, he led through 1,000 (2:47) and 2,000 (5:28.6). After two more laps in the 63s, there were only five runners still with Taylor: Stewart, Clarke, McCafferty, Rushmer and Keino. But then Taylor slowed to 64.8, 65.4 and 66.2; he passed 4,000 in 10:52. As the pace slowed, the pressure to make a move grew. But it was not Clarke, as many had expected, who finally surged; with 870 to go, it was McCafferty. Stewart too had been considering a move: "I remember thinking, 'I'm glad somebody else had gone now rather than me.'" (Wigley/Aitken) McCafferty's pace left all but Keino and Stewart behind. Clarke was desperately trying to hold on, but it was now really a three-man race.
Coming off the last bend.
Stewart begins his final effort.
Stewart took the lead 550 out: "We thought if I could keep Keino under pressure until 150m from the tape, I could possibly get him. And that is why I took off so early to really make him have to run hard rather than to let him decide 'to go now.'" (Wigley/Aitken) Gradually accelerating all the time, Stewart passed the bell in 12:27.4, with McCafferty behind him and Keino on McCafferty's shoulder. Right after the bell Keino moved up to Stewart's shoulder; the Kenyan looked in control. But Stewart kept upping the pace.
On the back straight, the leading trio kept the same positions: Stewart in the lead, Keino slightly wide on Stewart's shoulder and McCafferty tucked in behind Stewart. At 200 Keino tried to make his move, but Stewart resisted, forcing Keino to tuck in behind him round the bend. McCafferty was still with them, staying close behind Keino, and just past the crown of the bend he made his move.
Commonwealth victory.
McCafferty was past Keino by the time the trio hit the straight. At the same time Stewart began his final effort: "I came out of the bend, put my head down and started to go." (Wigley, Aitken) Keino now knew he was beaten and looked back to see how safe his third place was. Meanwhile, McCafferty's incredible sprint got him closer and closer to Stewart. With 50 to go it looked possible that McCafferty could get the gold. But at that point he ran out of steam, and his head started to rock from side to side.
Stewart held his form to the tape for a glorious victory in 13:22.8. He had run 13 seconds faster than ever before to clock the third fastest 5,000 time ever. It was a new European record. His last 1,000 took 2:30.8, his last lap was run in 55.4 and his last 200 in 26.4. It seemed like he could do no wrong in major races.
Setbacks
Pre-Olympic 5,000. Left to right: Jipcho (1st), Stewart (2nd),
Viren and Tagg.
In the winter of 1970-71, for the first time in his career, Stewart had to deal with some serious setbacks. An achilles injury and a nasty abscess made it difficult for him to train properly. So despite an impressive ninth-place debut in the International Cross-country and the fifth fastest leg in the National Road Relay, he did not feel confident enough to try for a place in the Euro 5,000. His form did improve late in the summer, when he ran an 8:25 Two Miles behind Puttemans and Brendan Foster, and a 13:41.4 behind Jipcho (and ahead of Viren) in a Pre-Olympic meet in Munich. His 1971 season ended with a 13:33.4 behind Keino and Salgado, a time which left him "moderately pleased" after a frustrating year. At least it was something to build on for his first Olympics the next year.
And Stewart had a busy winter. He trained hard and raced regularly. Geoff Warr had some interesting thoughts on training for the Olympics: "It's a nerve-wracking business if you coach a favorite for a medal. You have got to play every card right. Because of the amount of training necessary…for the 5,000 and 10,000, it's obvious that [your athlete] is injury prone because [he] is tired all the time. You have to steer a course through this. Ian was very fortunate not getting any injuries." (Wigley/Aitken) Since Stewart had an injury-free winter, he was able to race regularly. Over the country, he twice beat the great Gaston Roelants—in December in Paris and in February in Hannut. Then he again won the AAA Indoor 3,000 in 7:50, before returning to the country to place a very impressive third in the International Cross-Country Championships. He led much of the way and was passed only by Roelants and Haro. Finally he ran the second fastest stage in the National Road Relay.
Pre-Olympic Races
Stewart's build-up to the AAA 5,000, which would decide the British team for Munich, was low-key. He ran two 5,000s in 13:46.8 and 13:59.4, and he placed second in the Midlands 1,500. After that he was "very fit, but not all that sharp" for the AAA race. Aware that he needed sharpness later at Munich, he was confident of qualifying without being fully race-ready. But he was not ready for Dave Bedford, who blasted the first mile in 4:11 and then dropped Stewart and McCafferty with a 63-second fifth lap. Bedford passed 3,000 in 7:53.6, while Stewart and McCafferty were clocked at 7:59.2. With three laps to go, Stewart was dropped by McCafferty, who took off to chase Bedford. But Bedford held on to run a British Record of 13:17.2. Stewart finished third behind McCafferty in 13:24.2. "I was choked about that run," he told Alastair Aitken. "I didn't run well. I didn't like Bedford beating me." (Wigley/Aitken)
That summer, in preparation for the Olympics, Stewart undertook two periods of altitude training, first at Fort Romeu and then at St. Moritz. In St. Moritz he ran a session of 10x400 in 58 and a session of 6x800 in 2:04. Down in Munich he ran his 10x400 session faster than ever before. So his confidence wasn't dented by one last race before the Games—a 2 Miles in Stockholm in which he came fourth behind Viren, Puttemans and Garderud. He hadn't tapered for the race yet still beat the British Record with 8:22.0.
Munich Maelstrom
Bunched field.Stewart (309), Puttemans (61) and
McCafferty (300) lead. Viren's head shows on right
and
Gammmoudi's over Stewart's shoulder.
With only two to qualify from each heat (plus the two fastest losers), Stewart had to take his heat very seriously. He finished second, letting Vaatainen kick past him at the end. "I was running very well in my heat," he said. "I didn't believe in showing my hand at all." (Wigley/Aitken) In the star-studded final, no one was willing to take out the field. The first three Ks went by in 2:46, 2:46 and 2:47 for 8:20 at 3,000. A lap later Prefontaine made his move, injecting laps of 63 and 61, and separating six runners, including Stewart, from the field. With just over two laps to go, Viren moved past Prefontaine to up the pace. Stewart had allowed a small gap to open up in front of him, perhaps slow to react to Viren's increased pace. Although he quickly made up this gap, it appeared that he was hanging on rather that challenging the leader. Nevertheless, on the back straight he was able to react well when Prefontaine pushed out in front of him and slowed him. With 600 to go he was tight in fifth with the leaders.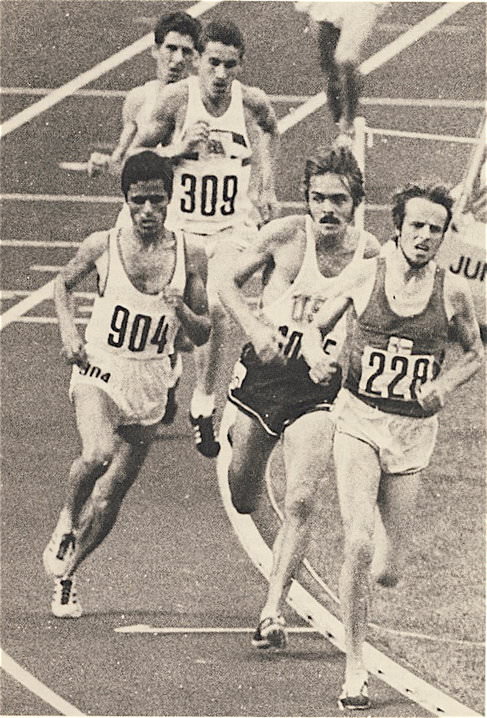 180 to go. Stewart is about two
seconds behind Viren,
Prefontaine and Gammoudi.
The crucial moment came just before the bell when he lost contact with the three leaders (Viren, Prefontaine and Gammoudi) just before the bell. This was caused by the sudden slowing of Puttemans, who was just in front of him. Stewart had paid the price for not being closer to the front. At the bell he was suddenly 1.2 seconds down on the leaders. And by the end of the back straight, he was running alone, about two seconds down: "With 200 to go, I didn't think I was going to get anything, and when I came off the last bend I still didn't think I was going to get a medal." (Wigley/Aitken) But get a medal he did, running the last straight much faster than anyone else and catching Prefontaine just before the line for the bronze. At the finish he was only 1.2 seconds behind the winner Viren and 0.2 of a second behind Gammoudi. However, this was the first time he had been beaten in a major track race.
The finish. Stewart takes bronze.Gammoudi is
hidden behind winner Viren. Prefontaine makes
a desperate dive.
Forty years later, Stewart had this to say about his Munich 5,000: "I allowed [the collision with Prefontaine] to affect me more than it should have done. It cost me about 10 meters. It was my fault: I was at the wrong place at the wrong time, and I take full responsibility for it. I always have. Of course I'm not happy with it. I should have been all over Viren, which normally I would have been. It's probably the worst championship race I ever ran. I was pissed off with myself then and I am pissed off now. I knew I was in fantastic shape, perhaps the best I'd ever been in. And I screwed it up on the day; there's nothing I can do about it." For the record, his bronze medal stayed forgotten in a drawer for many years until his wife found it.
Fatigue
After this Olympic disappointment—and not many would have been disappointed with a bronze medal in such a competitive race—Stewart's running career lost its way for a time. He admitted later, "I should have stopped after Munich and had a rest." (Wigley/Aitken) Instead he went on racing: road races for his club, an indoor tour in the US, an indoor record attempt over 3,000, a 10,000 in South Africa, more road races, and even a 3,000 exhibition at halftime during the FA Cup Final. And when the 1973 track season started, he didn't exactly light up the track. The worst came in the AAA 5,000 in which he was soundly beaten by Brendan Foster, 13:23.8 to 13:31.0. Clearly, the intense competitiveness of previous years had waned. "I should have packed it in before that [AAA 5,000]. My enthusiasm was rock bottom," he admitted. (Wigley/Aitken)
Stewart nevertheless knuckled down to prepare for his next major competition, the 1974 Commonwealth Games that was to be held in January. He wanted to do more than defend his 5,000 title; this time he wanted to do both distance events: "I did a hell of a lot of mileage because I thought I'd have a go at the ten. I was doing 150 miles a week. I was very fit but not very fast. I thought it was the way to prepare for a ten; I now realize it isn't…. The over-distance work didn't pay off then." (Wigley/Aitken)
Following an impressive cross-country victory over Haro and Zaddem in December, Stewart headed south to New Zealand. In the Commonwealth 10,000 he was up with the leaders as Bedford blazed the first 5,000 in 13:47, but then he faded to sixth, half a minute behind the winner, Dick Tayler. "I had no pace—no change of pace. I just hadn't done the speedwork. I realized it when the bloody gun went bang." (Wigley/Aitken)
All this didn't bode well for his defence of the 5,000 title. A change of pace was again his undoing. Stewart couldn't react when the leaders upped the pace with 2K to go. While Jipcho edged out Foster with a 13:14.4, Stewart finished fifth in 13:40.4. His later comments about this race clearly show how burnt out he was: "It was a disaster. I'd written it off before I'd started. I was choked off before I got there. I just decided that was enough. It was a half-hearted effort really. I just couldn't stand it any longer. I should never have bothered going." (Wigley/Aitken) Such an attitude is far, far from that of the young man who prepared so aggressively for the 1969 European races and the 1970 Commonwealth 5,000. Six years of dedicated training and ruthless, top-level racing—all carried out while working full-time--had taken its toll. "I just got tired out," he said.
A Bicycle Made For…
Ian Stewart didn't run for nine months. Instead he began cycling. He found great enjoyment and camaraderie in the sport and kept himself in good physical shape. He only started running again at the end of the 1975 summer because the cycling world took a break and he had started to put on weight. "I was planning to do some cross-country and then go back to cycling," he recalls. But soon, clearly refreshed from the long break, he was running hard. By November he was up to 100 miles a week, and in that month he won his first race. The next month he was invited to run in the Gateshead International race. He was soon in the lead in this race and held off Dave Black and Brendan Foster for a clear victory. He was back. And he was hungry again.
Back to Winning
A successful January training camp in Spain, where he did "a hell of a lot of fast work," prepared him for the indoor track season. First up was the AAA race, which he won easily in 8:01.0. Encouraged by this race, Ian decided to run both the Euro indoors and the International Cross-Country. Following two tuning races (3,000 in 7:56.8 and 3:48.6 for 1,500), his old confidence was fully restored: "I had been running better than anybody at Katowice [European Indoor host] so I was pretty sure I was going to win…." (Wigley/Aitken part 3) In fact, he told Neil Allen that he was running faster than before the Munich Olympics.
Stewart had a clear plan to beat the favorite Paivarinta of Finland: "I was not going [to go] out in front and let them burn me off. Before the race…I paced out that final straight—it was about 43 strides--and was sure I could get him then." (Times, Mar 10, 1975) Only someone supremely confident in his finish could rely on such a risky tactic. After the first five laps of the 18-lap race, Stewart was always close to the leader and alert to any moves. With four laps to go, he was right on Paivarinta's heels in third place. He matched the Finn's acceleration at the bell and then did exactly what he planned in the last 40 yards to win in 7:58.6, the same time being given to Paivarinta. "It was tight," he later admitted. (Wigley/Aitken) Ever the racer, he was elated, telling Neil Allen, "That's the best medal I've ever won." (Times, Mar 10, 1975)
World Champion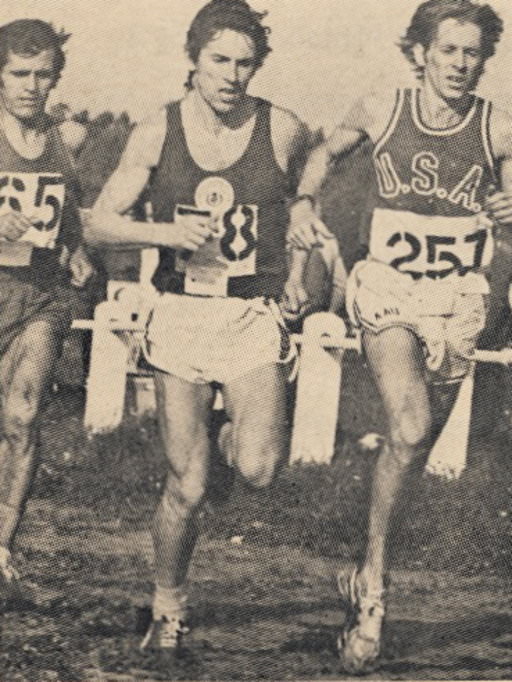 Bill Rodgers (257) pushed the pace,
But Stewart had the strength and
speed. Haro (65) was second.
The following weekend he lined up for the International Cross-Country Championship in Rabat, Morocco. He knew he had the speed; now his strength was to be tested over 12,000 meters. He was facing a veritable who's-who of distance running from Kiwi John Walker to Marian Haro, Emiel Puttemans, Gaston Roelants and Klaus Hildenbrand. Starting slowly and bothered by an early stitch, Stewart took a while to work his way through the field. When he reached the front he found an unknown American pushing the pace—Bill Rodgers. With 4,000 to go it was really a three-man race: Rodgers, Stewart and superb harrier Marian Haro of Spain. John Walker, in fourth, was eleven seconds back. Stewart, of course, was happy to go along for the ride, knowing he could outkick his two adversaries: "In the last lap, the American made it really hard, but when he came to the last jump, he stumbled badly and I knew he was done. Haro went there and I just followed him and took him off the last bend." (Wigley/Aitken) Stewart had done it again, and in a race so different from his Euro Indoor 3,000.
Stewart believes that indoor track and cross-country are complementary in winter conditioning: "I believe now more so than ever that you should do speedwork in winter, and the best way of doing speedwork is racing indoors…. I also accept that you've got to do a certain amount of cross-country running, although proper English cross-country running doesn't exactly suit me. I see it as a means to an end. I like racing the short laps on the Continent because that's my sport of running—fast. I don't see plodding through the mud as much assistance to anybody." (Wigley/Aitken)
Montreal Ahead
His thoughts began to focus on 1976 and that elusive Olympic gold medal. But there was the summer of 1975 ahead. With his strong views on the need for speed, he worked hard on the shorter distances. He ran a PB for 2,000 (5:01.98) and a 3:57.4 Mile behind Filbert Bayi, which was only 0.1 outside his best. His summer racing was relatively low-key; he didn't get involved in the intensity of the European Cup. He was beaten into second a couple of times by Emiel Puttemans: once over 2000 and once over 5,000 (13:27.00). He also won a 5,000 in Helsinki in 13:27.55. But in 1975 seven athletes ran faster than him over his 5,000 specialist distance. He was only 4.2 seconds off his 1970 PB, but the standard had risen in the meantime.
A successful winter's preparation led to good form for the 1976 track season. And he needed that good preparation to qualify for the British Olympic team. In the British 5,000 trial, he faced three people who had run faster times (Foster, Simmons and Rose). In fact, five of the 14 runners had run faster than the Olympic record. Foster was the clear favorite, and with 2K to go, he took charge with 60.6 and 62 laps. This was too much for the rest of the field. Behind him Stewart managed to qualify for Montreal with a third place, easing up to let Black take second. In the 10,000 trial a week later, Stewart was running really well. He and Foster caught the early leader, Simmons, at 3,000. They stayed with him for a while, but by 7,000 the two were alone at the front. But then Foster put in one of his famed bursts and escaped Stewart, who by this time was suffering from a huge blister on the ball of his foot. A few laps later he dropped out, and was thus unable to compete in the Olympic event where he believed he had the best prospects--the 10,000.
Second Olympics
The bell: Stewart in a perfect beind Viren. Foster,
Dixon,
Hildebrand and Quax are close behind.
Stewart does not think he could have beaten Viren of Finland in the 1976 Olympic 10,000, but he's sure he could have won the silver. As it was, he had to be content with running the 5,000, where his speed would really be put to the test. With the Africans absent, getting into the final was not as hard as it might have been. Although Stewart had the slowest of the three heats, he need a 56 last lap to get the last qualifying place in a blanket finish of six runners.
270 to go: Viren leads. Stewart is
about to
fall back as Foster on the
inside
and Dixon move past.
In the final, ten of the 14 runners had faster times, but times had never bothered Stewart. He was well placed throughout the first eleven laps. The race started to get serious just before the start of the last K, when Viren took charge. A good half dozen runners, including Stewart, took up the challenge, and the field was still close to the Finn with 600 to go. It was then that Stewart tried to take charge. "I went between 500 and 600 out. I just couldn't get round Viren. Nobody could. The harder I went, the harder he went." Stewart's effort took from fourth to second by the bell. He was now on the shoulder of the leader Viren, and he held this ideal position round the penultimate bend. As the leaders entered the back straight for the last time, Viren turned it up a notch, and Stewart began to lose contact. Hildebrand and Dixon were quick to pass him in order to stay with Viren. Stewart was able to hold on to fourth up to the bend but then Quax and Foster came by, and he lost contact completely with the five leaders. Stewart held his sixth position almost to the tape, but Pollenius just caught him to push him back to seventh. He told Athletics Weekly, "I ran the only race I could; there was no other way I could run it." (Aug. 10, 1976)
Not Finished Yet
At 27, with a full-time job and the next Olympics four years away, Stewart saw his hopes for an Olympic gold were gone. But he wasn't finished. In May of 1977, he ran the Michelin 10-mile road race in the very fast time of 45:13. This is about 28:08 10K-speed. The time was so much faster than anyone had run 10 on the road that the course length was questioned and had to be re-measured. In fact no one had beaten 46:00 before. "When I ran that, I just hit it from the gun," Stewart recalls. "It was almost like a solo time-trial. People went on about it, and they measured the course twice. If you are a world-class track 10,00 runner, which I certainly was, you ought to be able to run 45 minutes and bits. I'd run low 46s before. It never surprised me, but it surprised a lot of people because I was the first person inside 46 minutes ever. If you really know about distance running, it shouldn't surprise you."
Using this distance fitness, he went on to win the 1977 UK 10,000 title with 27:51.3. And at the end of the season he ran even faster, clocking 27:43 for sixth place in a Crystal Palace race won by Foster in 27:36. There were some other good races, but he was no longer winning the big ones. However, in one last hurrah, he ran second to Bernie Ford in the 1978 National Cross-Country championship, which is one of the most competitive races on the winter calendar. He continued running into the summer, but suffered from health problems. In July he announced his retirement. "I just retired because I was heavily involved in my job."
Retrospect
Ian Stewart's virtual invincibility in his early international career could not have continued indefinitely. But it took a health problems and an injury after his great Commonwealth victory in 1970 to "burst the bubble." After some difficult times in 1970 and 1971, Stewart still ran many great races, but that invincibility had gone. In the 1972 Olympic 5,000 final he almost continued his streak of winning the big races, but the three leaders got away from him just before the last lap, and he was unable to make full use of his finishing speed. Track running is full of what-if's, but those crucial few moments before the bell, when Puttemans slowed and separated Stewart from the three leaders, cost him both the race and his aura of invincibility. Nevertheless, Stewart continued to run well for another six years and retained his reputation as one of the world's top distance runners. In recognition of his great career, Stewart was awarded an MBE the year after his retirement.
Now in his sixties, Stewart is still fully involved in athletics. Since 1994 he has been Meet Director for all televised meets in the UK, having taken over from the controversial Andy Norman "at a helluva time." And in 2010 he also took the position of Head of Endurance with UK Athletics. Thus he has been closely involved in the development of Mo Farah and facilitated Farah's association with Coach Alberto Salazar. Despite his two jobs, he still finds time to run. "I try to get out most days," he says, "but I don't get out as much as I'd like."

Note: I am indebted to a wonderful series of three articles on Ian Stewart by Jon Wigley and Alastair Aitken. These appeared in Athletics Weekly in 1975 under the title of "The Ian Stewart Story."
---