By John Cobley
18th February 2011
---
---
---
1954 EMPIRE GAMES
VANCOUVER, CANADA, July 30-August 7
These games were the most famous of all the Empire (and later, Commonwealth) Games. The intriguing four-minute mile barrier had been finally broken in 1954, first by Roger Bannister and then by John Landy. Now these two milers were to meet head-on in the games. The excitement surrounding this clash built to a high pitch. However, excessive enthusiasm had some negative effects not only on the race itself but also on the Marathon, which was in progress while the Mile race took place.
First, the excitement over the Bannister-Landy duel had an adverse effect on the runners who followed them. There was such a pandemonium at the finish line that the other finalists had difficulty reaching the end of the race. Films of this great race show clearly how many officials and onlookers poured onto the track as soon as Bannister and Landy had finished. Murray Halberg described the scene in his book A Clean Pair of Heels: "The end of the race was a bit of a shambles. The officials, and there were a hell of a lot of them for this particular race, converged in a mass on to the track when Bannister and Landy finished. I was then trying to beat off another Englishman who had come at me and we had to finish in to this seething clutter of mixed-up officialdom, all trying to slap the back of Bannister and Landy. Bill [Baillie] had the same trouble finishing and his 4:11 could have been faster if he's had a decent run at the tape." (CPH, p.41).
Second, this excitement over the Bannister-Landy duel affected the Marathon. The marathon runners were out on the road when the Mile was run. According to reports, some officials were missing from their posts on the course, presumably because they wanted to see the Bannister-Landy Mile. Jim Peters believed that this cost him the race because he was unable to find out what his lead was. Thus he pushed himself much harder than needed; this led to his collapse before the finish.
880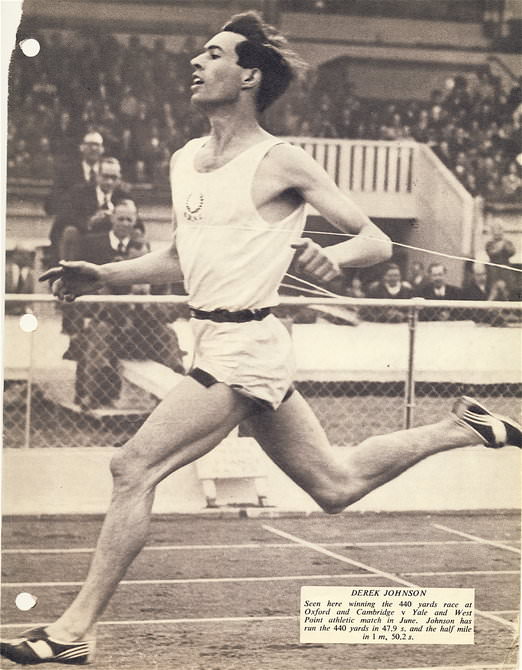 Derek Johnson
After a steady 55.2 first lap, Derek Johnson waited until 250 to go to sprint ahead. Brian Hewson, the one given the best chance of beating Johnson, was boxed in. He had 10 yards to make up in 200 yards. Hewson gave Johnson a good chase, but Johnson, looking relaxed down the home stretch, was strong enough to hold on with a 0.5 advantage.
1. Johnson ENG 1:50.7; 2. Brian Hewson ENG 1:51.2; 3. Ian Boyd ENG 1:51.9; 4. Baillie NZL 1:52.5; 5. Ferguson CAN 1:52.7; 6. Hamilton SCO.
One Mile
See Great Races # 9.
3 Miles
Geoff Warren of Australia was the early leader, passing the first mile in 4:29.4. At two miles there were six in the leading bunch (9:08.3); Warren led Green, Maiyoro, Sando, Binnie, and Chataway. With 880 to go the group was down to five with Maiyoro the only non-British runner. At the bell the barefoot Mayoiro led Green, Chataway, Sando and Peter Driver. Chris Chataway exploded on the back straight to escape from Green, who had beaten him earlier that summer in the AAA Championships. Chataway knew he had the race won soon after entering the home stretch, and he cantered in comfortably. He still had a comfortable two-second lead at the tape, while Green only just held off Sando for the silver.
1. Chataway ENG 13:35.2; 2. Freddie Green ENG 13:37.2; 3. Frank Sando ENG 13:37.4 PB; 4. Maiyoro 13:43.8; 5. Driver ENG 13:47; 6. Warren AUS 13:50.
6 Miles
Peter Driver
earned his
only major title.
A clean sweep for England. In very hot conditions, King and Warren set the early pace before marathoner Jim Peters took over and led the 15-man field for most of the race. The Mile times were 4:45, 9:44; 14:41, 19:32 and 24:28. Sando led at five miles, but then Peters went back into the lead. Just before the bell lap, Peters called out to Peter Driver and Frank Sando, both of whom were thirteen years younger than he was. His words, as recorded in his autobiography, were these: "You know, you're hanging about too much. If you two boys don't have a go, the old man is going to beat you." (In the Long Run, p.191) Soon after this, Driver and Sando did indeed take off. Driver took the lead on the back straight and was fastest on the last lap (58.8), just holding off a game Sando. The old man himself hung on for third and a bronze medal. There was some confusion over lap scoring cards.
1. Peter Driver ENG 29:09.4; 2. Frank Sando ENG 29:10; 3. Jim Peters ENG 29:20; 4. Warren AUS 29:42.6; 5. Stan Cox ENG 30:11.4; 6. Ian Binnie SCO 30:15.2.
Marathon
This race, in retrospect, was very badly organized. Not only was the course length clearly wrong, but the scheduling at the hottest time of the day (noon) was woefully misguided. The combination of these two unpardonable mistakes almost led to the death of the best competitor. The painful pictures of Jim Peters staggering round the Empire Stadium track so close to the tape are still painful to watch over 50 years later. By the time he first collapsed, he had already covered the marathon distance, the course having been measured too long. (It was measured along the gutters of the urban streets, where no runner could safely run, instead of in the middle of the road.) As well, since some of the course officials had left their posts to witness the Bannister-Landy race, Peters was never informed of his massive lead. Thus he pushed himself much harder than necessary, believing his colleague and opponent Stan Cox was close behind him when in fact Cox had also fallen victim to the heat and had run into a telegraph pole and collapsed. If ever a marathon runner was hard done by, it was surely Jim Peters in Vancouver.
Jim Peters, the man
who should have won.
The course was a tough one with lots of hills. The first three miles were uphill. Already Peters was well ahead of the field with only Cox and Joe McGhee with him--this despite them running at a "much slower pace" than normal. McGhee stayed with the two Brits until 9 miles. Peters was surprised when he also dropped Cox on a hill a mile later—surprised because Cox was usually stronger on hills. At the turnaround, Peters held a 300-yard lead on Cox. Wanting to get further ahead, Peters ran a little harder but not all out. At the first two feed stations he had expected wet sponges, but they were almost dry. Peters gradually increased his lead to a mile, but "I still visualized him as being hot on my heels." (ILR, p.198) Not even at the last feeding station, which was only half a mile from the stadium, was he told of his huge lead. "I could have stopped at the last feeding station, had a good sponge down and trotted in slowly," Peters ruefully wrote. (ILR, p.199)
But he raced on and reached the stadium in 2:20 with 17 minutes advantage over the second–place runner, who at that moment was sitting by the roadside, unsure if he could continue. Peters wobbled a bit up the last hill; this surprised him. He descended a steep ramp successfully, although he remembers wobbling again. There were only 380 yards to go. When he first fell over, he didn't understand what was happening. His thought was that he didn't want to disgrace his wife and family. So he drove himself on: "I could see that tape in front of my eyes, but as I got up and ran, it didn't seem to get any nearer." Over the next ten minutes, he got up and fell several times until Mick Mayes, the British team masseur, grabbed hold of him. Peters lost consciousness and was taken to hospital, put in an oxygen tent and given saline intravenously. He stayed in hospital for several days. Roger Bannister, who had just qualified as a doctor, stayed behind in Vancouver to look after him.
The race was won by Joe McGhee, who did get up from the ground and make his way slowly to the stadium. The bronze medalist ran only 2:51, such was the effect of the afternoon heat. Only six of the 16 starters completed the race.
1. McGhee SCO 2:39:36; 2. Mekler SAF 2:40:57; 3. Barnard SAF 2:51:50; 4. Lush CAN 2:52:74; 5. Hillier CAN 2:58:34; 6. Crossen NIRL 3:00:12.2.

---