By John Cobley
17th February 2011
---
---
---
Elliott v Lincoln v Delany
Santry Mile, Dublin, August 6, 1958
Great Races # 12
Using the prestige of Ron Delany's Olympic 1500 gold medal in Melbourne, Billy Morton, a 48-year-old optician who was secretary of Clonliffe Harriers, organised the building of Santry Stadium in Dublin. The famous En Tout Cas company, which had built the Melbourne, Cardiff and White City tracks, was hired for the job. They used a base of 9 inches of ashes from the local Guinness factory and on top 3 inches of their own secret formula of clay, shale and sand. The track was hard and spikes came out of it cleanly.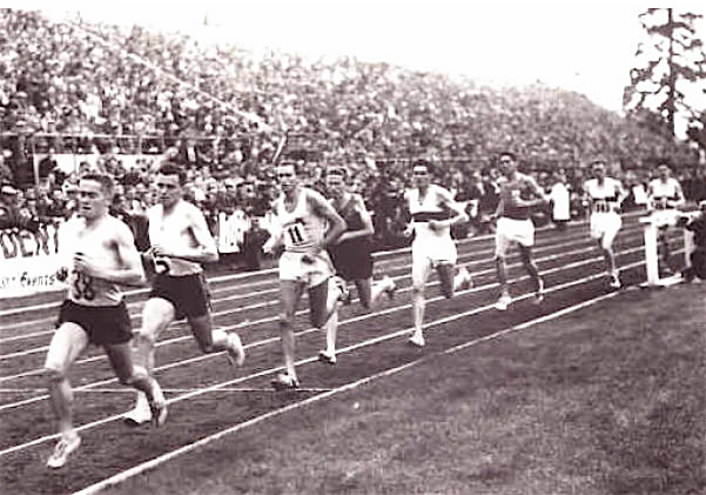 Albie Thomas leads Merv Lincoln to a fast 56
first lap. Elliott bides his time in third.
By the summer of 1958 the Santry track was ready for competition. Morton started well with a meet in which Australian Albie Thomas broke the Thee Miles WR. Then after the Empire Games in Cardiff, Morton managed to assemble some of the finest milers in the world to take on local hero Ron Delany. Delany had just returned from a wonderful season in the USA. He had been unbeaten—until Herb Elliott took him on and beat him soundly in Compton, California. Right after this race Delany challenged Elliott to race him again in Dublin.
So Morton had managed to get Elliott to Dublin for this race, fresh as he was from golds in both the 880 and Mile in the Cardiff Empire Games. The partisan Irish crowd was anxious to see Delany gain revenge on the Aussie. Also in the field was Albie Thomas, already in love with the new track, who had agreed to take the field through at least two laps at WR pace. As well, Billy Morton signed up Merv Lincoln, Elliott's great Australian rival, and Murray Halberg, who had won the Three Miles in Cardiff.
Elliott moves up to Thomas's
shoulder. Lincoln, Halberg and
Delany are all
in contact.
There was a horrendous traffic jam on the road to Santry Stadium. It was one of those meets where more spectators showed up than could be accommodated. The gates were opened to all 22,000 who wanted entry, although 17,500 was official capacity of the stadium. This decision was taken to avoid the gates being pushed in by an angry crowd.
Before the race Halberg noticed how focused Elliott was: "When I jogged past and asked him how he was going, he didn't even hear me." (Clean Pair of Heels, p.75) Elliott however later said that he had found it hard to focus on the race.
Under a cloudy sky that was just starting to produce rain, the field of 11 runners were led through the first two laps by the assigned pacemaker Albie Thomas. He went a little fast on the first lap (56), leading Lincoln, Halberg, Elliott and Delany. Into the second lap, Elliott moved up a place as Halberg was in danger of losing contact with Thomas and Lincoln. Australia were 1,2 and 3. Elliott moved past Lincoln just before 880 and tucked in behind Thomas. Delany was still holding back, nursing his energy for the final sprint. The second lap was a little slow (62), but the combination of the two laps was fine: 1:58. (On the second lap a brown and white mongrel briefly joined the race; fortunately it didn't trip any runners.)
After Elliott's world record:
the five who
broke 4:00.
Top: Thomas, Elliott,
Halberg. Lower: Lincoln,
Delany.
Feeling really good, Elliott took over on the back straight of the third lap, but someone else was right on his heels. Elliott thought it was Delany, but he soon found out it was Lincoln, for his arch-rival breezed past him on the straight before the bell (2:59). Elliott wrote later, "I had never known him to do such a thing at this stage of a race before. I was thunderstruck. He must have been feeling as buoyant as me, and I wouldn't have considered that possible." (The Golden Mile, p.5)
The two Aussies needed a last lap under 58.2 to break Ibbotson's 3:57.4 WR. At the bell, Lincoln was passed as Elliott poured on the pace. But Lincoln wouldn't let Elliott get away. Behind Lincoln, Halberg and Delany were locked in a close battle for third. Lincoln was still with Elliott on the last bend: "I…could feel someone still dogging me," Elliott recalled. "It could have been Lincoln. It could have been Delany. I didn't care. I felt I could hold whoever it was." (TGM, p.5)
Elliott moves past Lincoln.
In the stretch Elliott's strength endured, and he finished in the amazing time of 3:54.5, 2.7 seconds under Ibbotson's WR and 1.4 seconds ahead of Lincoln. I remember how this race was reported on British television: "Not 3:57, not 3:56, not 3:55, but 3:54.5." The running fraternity was in shock; Herb Elliott's name was on everyone's lips for the rest of the summer.
Overlooked in all this was Merv Lincoln's superb 3:55.9, also well under the WR. Behind the two Aussies, Halberg and Delany fought all the way to the line, both finishing in 3:57.5, with Delany getting third. Behind them, the "rabbit" Thomas ran 3:58.6. So, for the first time in history, there were five runners under 4:00—and all had run beyond expectations.
After the race, Delany, who for a while after the race was seen retching in the midfield, said of Elliott: "Short of tying his legs, there is no way of stopping him." (Sports Illustrated, Aug 18, 1958) Elliott praised the track, the Irish atmosphere and the crowd. Two days later, he returned the favour to Thomas, pacing him to a two-mile WR.

---