By John Cobley
16th February 2011
---
---
---
Bannister v Landy
1954 Empire Games Mile, Vancouver, Canada
Great Races #9
The build-up to this race was incredible. Athletics, as one of the truly international sports, had followers all over the world. The first four-minute mile had captured the imagination of millions. And now the first two runners to have broken that barrier earlier in the summer, Roger Bannister and John Landy, were to meet in the Vancouver Empire Games.
The race received huge coverage in the world press. It was given an array of names, The Miracle Mile, The Mile of the Century. As well, the television cameras were ready to supply the new medium live to an estimated 10 million North American viewers. Radio provided live coverage to the rest of the world. Bannister and Landy had become celebrities, hunted down by reporters and cameramen as soon as they arrived in Vancouver. The two runners dealt with the situation in different ways: Bannister avoided attention as much as he could and trained in private; Landy was happy to talk to anyone and trained in public.
Landy sets the early pace.

Bannister is in fifth place.
Landy knew that he had to use front-running tactics. He had tried to show his speed by tackling the 1,000 in Europe, but Bannister's last lap of 53 in the British AAA Championships convinced him that trying to win in a sprint would be futile. His only option was to draw Bannister into a very fast pace and thus drain him of any finishing kick. His chance of success, based on many races in the past, was not good. More often that not, big Mile races were won by a kicker. Front runners usually won only when they were significantly better than their opponents. As Landy told Mike Hurst, "It's very hard to beat somebody of the same ability running from the front." (IAAF.org) So Landy had to decide how to take the sting out of Bannister's kick: should he go out early and open up a gap, or should he keep Bannister in contact and lure him on faster and faster? On top of these considerations, Landy felt an obligation to the public to make the race a fast one.
Bannister, on the other hand, knew he had the ace card. His superb finishing speed made him the favorite. Still, he had a huge task: to be touch with the fastest miler in the world on the last lap and still keep something in reserve for the finishing kick. He planned to run the race as evenly as possible and leave his finishing kick to the last straight.
There was another factor in the race: both runners had health problems. Bannister had developed his first cold of the year. It was at its worst in the heats, but mercifully it improved before the final. Still, in post-race interviews he was coughing badly. Landy, on the other hand, had to run with two gashes on the bottom of his foot. He had gone outdoors barefoot in the night and trodden on a photographer's flash bulb. The worst gash, which was between the ball of the foot and the heel required stitches. Landy tried to keep the injury secret, but the doctor told a reporter about it, and the story eventually got out. However, Landy has always claimed that it made no difference to his race.
There were only two heats; Bannister and Landy drew separate heats. So when they lined up for the final, they were competing against each other for the first time since the 1,500 heats in the 1952 Olympics. In appearance they were quite different: Bannister was pale and frail-looking; Landy was deeply tanned and muscular. And as they set off, their running styles also contrasted, with Landy running with a brisk, high-tempo gait and Bannister with a long-striding, loping gait.
Bannister loses contact with Landy.
As part of their "Help-Landy" plan, Kiwis Halberg and Baillie set off at a brisk pace. But after 220, Landy felt that their pace was not fast enough. By the crown of the bend he was in the lead, and at 440 he had a lead of 5 yards. Bannister who had stayed in the pack for most of the first lap, moved up to second in the straight before the end of the first lap. For the next 220, the five-yard gap stayed unchanged, but then Landy poured it on to double his lead. It stretched to as much as 12-13 yards, but Bannister had it back to ten at the halfway mark.
But he had lost contact with Landy. "This was the moment when my confidence wavered," Bannister wrote later (First Four Minutes, p.214). Since Landy was not slowing and since he felt he had to be at Landy's shoulder in the early part of lap 4, Bannister decided to abandon his schedule and try to catch Landy: "I quickened my stride, trying at the same time to keep relaxed." (FFM, 214) He soon made up ground and regained reasonable contact, though 5 yards back. "I was almost hypnotized by his easy shuffling stride—the most clipped and economical I have ever seen. I tried to imagine myself attached to him by some invisible cord. With each stride I drew the cord tighter and reduced his lead." (FFM, p.214)
Landy had not slowed, running his third lap in 60.2, but Bannister had run an amazing 59.3. Usually the third lap of a Mile is the slowest, so Bannister's 59.3 must have demanded considerable effort. He was close to Landy as the bell rang (2:58.4 to 2:59.0). But the Australian was able to answer; he accelerated along the back straight, opening up a 3-4 yard gap. Both runners were under 30.0 for the penultimate 220. Bannister knew that if Landy didn't slacken, he would be defeated: "As we entered the last bend, I tried to convince myself that he was tiring." (FFM, p.215)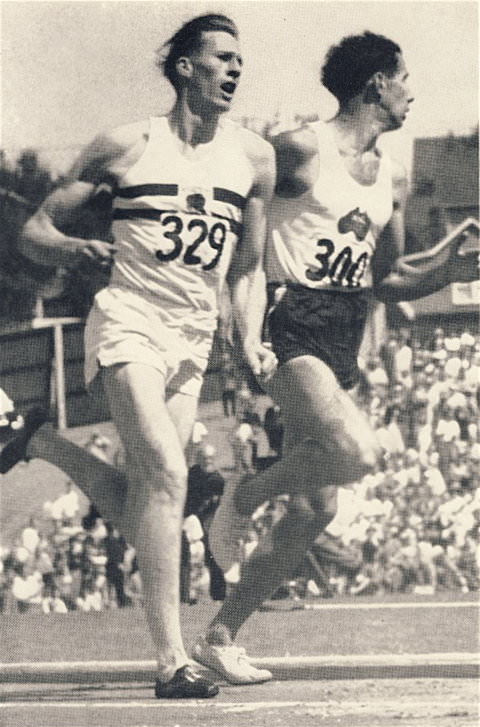 The crucial moment: Landy
looks back as Bannister passes.
Round the last bend, Bannister closed on the straining Aussie. Coming into the straight, Landy thought he had broken Bannister and looked back to the left at the very moment Bannister came by on his right. "I flung myself past Landy," Bannister wrote. "As I did so I saw him glance inwards over his opposite shoulder. This tiny act of his held great significance and gave me confidence." (FFM, p.215-6) Bannister was finally in the lead with 70 to go after a little resistance from Landy. Bannister knew he was slowing himself, but he had broken his rival and needed only to hold on. Hitting the tape in 3:58.8, he collapsed into the arms of an official. Landy was only 0.8 behind him.
Such was the excitement that officials and press swarmed on to the track and hindered the other runners. Halberg, who finished fifth, was one of those who had to fight to reach the finish line: "The end of the race was a bit of a shambles. The officials, and there were a hell of a lot of them for this particular race, converged in a mass on to the track when Bannister and Landy finished…. We had to finish into this seething clutter of mixed-up officialdom, all trying to slap the backs of Bannister and Landy." (Clean Pair of Heels, p.41)
Bannister wins.
Bannister had a deep respect for Landy, and his comments underline the classic difference between the two runners: Bannister was a racer, while Landy was a fast solo runner. And the racer always has the advantage when the two are of equal ability. Bannister wrote of Landy: "He is the sort of runner I could never become, and for this I admire him. Before Vancouver he achieved a record of solo mile races that I could never have equaled. At Vancouver he had the courage to lead at the same speed in a closely competitive race. His boldness forced me to abandon my time schedule and lose myself quite completely in the struggle itself." (FFM, pp.216-7) Landy's different attitude to running can be seen in a crucial comment to Sports Illustrated: "I'd rather lose a 3:58 mile than win one in 4:10." (May 21, 1956) Though winning was important to Landy, his time was the priority.
Landy was resigned in his defeat: "I tried to set a fast pace from the start. I did exactly as I wanted, but I was beaten by a better man today." (The Times, Aug. 5, 1954) Yes, Landy ran as well as he could. I think that Len Johnson summarized the result most succinctly "That Landy did not succeed may just have been because Bannister ran the race of his life." (Johnson, The Landy Era, p.196)

1. Roger Bannister ENG 3:58.8; 2. John Landy AUS 3:59.6; 3. R. Ferguson CAN 4:04.6; 4. V. Milligan NIR 4: 05.0; 5. Murray Halberg NZL 4:07.2; 6. Ian Boyd ENG 4:07.2.
---