By John Cobley
24th June 2011
---
---
---
Chepkwony, Anentia and Maiyoro: The First Kenyan Runners
Kenyan runners first appeared on the international running scene in the mid-1950s. Since Kenya was at that time a British colony, it was natural that these Kenyan runners initially competed in Britain and in the Empire Games. Lazaro Chepkwony was the first, competing in the 1954 AAA Six Miles in London. There were two other trailblazers in the 1950s: Nyandika Maiyoro also appeared in the 1954 AAA Championships, as well as in the 1954 Empire Games, and Arere Anentia made his international debut in the 1956 Olympics. Both these runners had longer international careers than Chepkwony's; Maiyoro competed until 1960, Anentia until 1962. Maiyoro was the most successful, finishing 7th and 6th in consecutive Olympic 5,000 finals . Anentia's best achievement was a bronze medal in the 1958 Empire Games Six Miles. Between them, these three early Kenyan runners broke over a dozen Kenyan records from 1,500 to Six Miles. They were the warning sign of the tsunami of Kenyan distance runners to hit the running scene in the next decades; they set the stage for the great Kenyan runner—Kip Keino.
Lazaro Chepkwony
The first Kenyan to compete in Europe,
Chepkwony, running in bare feet,
leads Gordon Pirie in
this historic
race
at the White City.
On July 9, 1954, Chepkwony's appearance in the AAA Six Miles in London caused quite a stir. It was not that he ran barefoot on the White City cinder track, while his competitors wore spikes some two inches long. It was not even that he was the first Kenyan ever to run in Britain. Rather it was the uninhibited way he raced. At the gun, he rushed into the lead and opened up a large gap. Then he slowed down to let the field catch him. Chepkwony repeated this tactic several times in the first three miles. The British press was critical of the way he kept rushing into the lead. For example, the Guardian correspondent claimed the race was "bedeviled" by the Kenyan's antics. It was claimed that the runners themselves were upset; however, Gordon Pirie, who was the best known runner in the race, did not mention Chepkwony in his account of the race in his autobiography.
When Chepkwony dropped out after 15 laps, the critical attitude towards Chepkwony hardened: clearly he wasn't smart enough to pace himself for the full distance. The Times described the race as follows: "The race was enlivened and also robbed of its customary rhythm and stately order by L. Chepkwony, a runner from Kenya who, lap after lap and half-mile after half-mile, persisted in challenging anyone who tried to set up a reasonably comfortable lead. Pirie, K. Norris, Sando, Binnie, all tried to shake him off but failed." (July 10, 1954)
Chepkwony ran this London race on the way to the Empire Games in Vancouver. There he again ran the Six Miles. In this race he did not attract so much attention, finishing respectably in seventh place with 30:16.2, only a second behind sixth-place finisher Ian Binnie of Scotland. His time beat the Kenyan record by four seconds. He also finished 12th in the Three Miles in 14:27.
Chepkwony made the Kenyan team for the Melbourne Olympics in 1956, but he dropped out of the 10,000 with an injury. After this disappointing experience, he disappeared from the international running scene.
See: https://www.youtube.com/watch?v=LSMw09MCu7Q
Nyandika Maiyoro
b. 1931
Nyandika Maiyoro, who was listed in the Times as a Veterinary Scout, ran in London the day after Chepkwony's initial race in Britain, missing by a day the right to be called the first Kenyan ever to run in Europe. In bare feet, he ran in the 1954 AAA Three Miles and also shocked the crowd and runners with his tactics. But rather than employ bursts like Chepkwony, Maiyoro roared into the lead and stayed there for over six laps. He went through the mile in 4:23.4, which was 13:07 pace--25 seconds faster than Hagg's world record. The field knew better than to follow at this pace; after four laps, Binnie led the field 25 yards behind the Kenyan. Gradually the field closed on Maiyoro, passing him on lap 7. The Kenyan, however, showed amazing resilience; while Chataway and Freddie Green fought for victory, Green actually breaking Hagg's record by 0.2 of a second, Maiyoro held on for third place in 13:54.8, beating such respected runners as Pat Ranger and Ken Wood. Maiyoro's initial pace may have been "ludicrously fast," as The Guardian put it, but it was a pace off which Maiyoro could still run a good time and a Kenyan record. The Times correspondent was more complimentary, calling Maiyoro's run "a great effort."
Maiyoro in fourth place in the
1958
Empire Games Three Miles.
The most perceptive assessment of Maiyoro's surprising performance came from Athletics Weekly founder Jimmy Green: "It was the unusual and unexpected form by some of the coloured runners in the distance races which provided much food for thought. Never again shall we nurse the idea that the coloured races are no good at anything beyond a mile. Maiyoro of Kenya, with as near the perfect action as I have seen, would, with the right training and competition, be a match for any runner in the world." (Quoted in Kenyan Running: Movement Culture, Geography and Global Change, p.6)
Following this fine performance, Maiyoro competed in the Three Miles at the 1954 Empire Games. This time he ran a more conventional race and was rewarded with another PB and Kenyan Record. He stayed in the lead pack all the way, holding third place with two laps to go and then leading at the bell. However, when Chataway made his effort on the back straight, Maiyoro fell back, finishing 4th in 13:43.8. This was 11.0 faster than his London time.
Two years later, Maiyoro qualified for the Olympic 5,000 final in Melbourne, in which he became the first Kenyan to complete an Olympic final. He finished a very creditable seventh in 14:19. This was a good time in view of the loose track, but it was not an improvement on his 1954 Empire Games Three-Miles time.
In 1958 Maiyoro was back in Britain for the Cardiff Empire Games. This time he ran below expectations. After a fine 13:34.8 Three Miles PB in the AAA Championships, which earned him second place, he could manage only 12th at Cardiff, where he was also eliminated in the Mile heats.
Maiyoro's last major competition was in the 1960 Rome Olympics. He again improved his PB, placing an impressive sixth in the competitive 5,000 final with 13:52.8 (26.2 seconds faster than his 1956 Olympic time). He finished just one second behind fifth-place finisher Dave Power and eight seconds slower than the bronze medalist Janke.
Over his career, Maiyoro managed to improve steadily. His great quality was his ability to run PBs when it really counted in big races. In some of these meets he showed that he could run with the best distance runners in the world.
Arere Anentia (Originally Areri Onentia)
1931-1979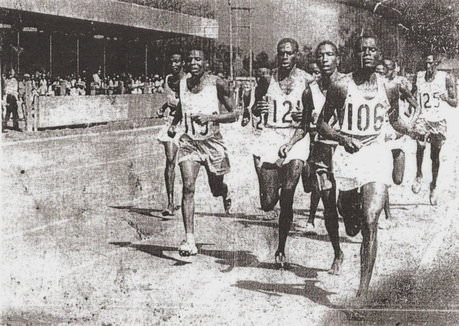 Anentia leading a race in Kenya.
Arere Anentia was exceptional from the start. He was one of the first Africans of the Gusii Nation to attend school, earning a Certificate of Preliminary Education. At the request of missionaries for someone with English language skills to work for them, Chief Nyandusi of the Gusii tribe nominated Anentia. He later worked for the Kenya Police, eventually becoming an instructor at the Kenyan Police College in Kiganjo.
Arere Anentia made his debut in the 1956 Olympic Games. He ran in the heats of the 5,000 but failed to qualify for the final, finishing 6th in 14:37. Two years later he showed great improvement, winning a bronze medal in the Empire Games Six Miles. In this race he ran conservatively, especially in comparison to the earlier examples of Chepkwony and Maiyoro. He stayed in the pack when Stan Eldon tried to break up the field; he followed Dave Power closely when the Australian took the lead soon after the halfway mark. Anentia, together with Hyman and Merriman, stayed with Power through 4 miles (19:05) and 5 miles (24:05). It wasn't until the penultimate lap that Power's strength had effect: first Hyman and then Anentia dropped back. While Power and Merriman fought for the gold medal, Anentia nevertheless showed a lot of strength, hanging on for third, only 3.4 seconds behind the winner: 1. Power 28:47.8; 2. Merriman 28:48.8; 3. Anentia 28:51.2; 4. Hyman 28:58.6.
Rare photo of Arere Anentia.
Anentia continued to show good form in the 1958 British Games Six Miles (third in 29:05.8), and he also ran two good races in Scotland. In 1959 he was again in Europe, clocking a Kenyan record of 30:05.04 in a 10,000 in Helsinki. At four miles there were four runners making the pace: Power, Merriman, Hyman and Anentia. On the penultimate lap, first Hyman and then Anentia dropped back. But as Merriman and Power fought for the gold, Anentia still ran a strong last lap and at the finish was only 3.4 seconds behind the winner Power and 2.4 behind Merriman. His time of 28:51.2 broke Chepkwony's Kenyan record by 85 seconds. (Teammate Paul Sum was sixth in the race with 30:03.6.)
He had a disappointing race in the 1960 Olympics, finishing 19th in the 10,000 with 30:03. But the next year he improved his Six-Miles time in the AAA Championships with 28:18, breaking his own Kenyan record and finishing fifth. In his final year of competition in 1962, Anentia ran his best ever 10,000 in Helsinki with a Kenyan record of 29:14. But later that year, he could manage only 7th in the Six Miles and 10th in the Three Miles at the Commonwealth Games in Perth. His Three-Miles time was 13:47. Three seconds behind him in 11th place was a young Kip Keino making his international debut.
Sadly, after such a successful career, Anentia was ignored by the authorities. This happened for political reasons: he belonged to the Abagusii/Kisii community rather than the ruling Kalenjin community. According to his grandson Davis Ogaro, "He died a very desperate and poor man, leaving his family in unutterable misery." Nevertheless, Ogaro says that Anentia is still well known in Kenya for his legacy, which has inspired subsequent Kenyan runners and raised the reputation of Kenya internationally.

---