By John Cobley
20th March 2011
---
---
---
1962 BRITISH EMPIRE AND COMMONWEALTH GAMES
Perth, Western Australia
November 22-December 1
880
This was a highlight race featuring two great rivals: Peter Snell of New Zealand and George Kerr of Jamaica. Although Snell had won six out of their seven encounters, Kerr was always able to push Snell to his limits. Kerr had finished third behind Snell in the Rome Olympics, after setting an Olympic record in the semis. And he was little more than half a second behind Snell in the final. Later in 1960, in New Zealand, Kerr defeated Snell with a very fast burst on the back straight. After that Snell was wise to this tactic and had beaten the Jamaican in subsequent races. Still in 1961, Kerr almost beat Snell in Dublin, when he used the same tactic that had worked before and once again caught Snell napping. Snell had to really work to catch Kerr and was level at 800 and ahead at 880. They had both clocked 1:46.4 for 800 and Snell ran the fastest 880 of the year with 1:47.2.
This 880 final started with a brisk 25.4 first 220. Then the pace slowed to 54 at the bell, with Francis of Kenya leading. The slow pace suited Kerr, as he had the best sprint finish. Aware of this, Snell took control in the third 220 (27.6), bursting into the lead with 330 to go. "It was a matter of forcing myself to crack it on or risking trouble," Snell recalled (No Bugles, No Drums, p.126) Kerr, who had run wide for most of the race, went with him into second place.
Just before the bell: Snell lying third behind
Francis and Fleet. Kerr
on the outside is just
outside Snell, between Blue and Harris.
The Jamaican ran wide round the bend in an effort to get up to Snell's shoulder, and he was almost level for a moment in the final run-in. But Snell's strength was the deciding factor, the Kiwi drawing clear in the final 10 yards. Although Kerr had a superior 440 time and thus better basic speed, Snell's strength was yet again enough to negate the Jamaican's speed. Snell's final 220 was 25.2. Tony Blue, who was in fifth round the bend, was able to pass Francis and Fleet for third, but he was well behind the front pair.
1. Peter Snell NZL 1:47.63; 2. George Kerr JAM 1:47.90; 3. Tony Blue AUS 1:48.99; 4. P. Francis KEN 1:49.9; 5. Mike Fleet ENG 1:50.0; 6. Andy Harris ENG 1:52.3.
Mile
Snell was the odds-on favorite for this event. His only serious challenger was his team-mate John Davies. There were several mile-three mile specialists like Alby Thomas and Bruce Tulloh in the field. Tulloh, of course, had recently won the European 5,000. Also in the final was Tony Blue, the Australian 880 runner. It looked like the pace would be fast as Thomas and Tulloh, both with 4:02s to their name, had to use their superior endurance to get into the medals.
But the first lap was a pedestrian 66. Snell wrote later that Tulloh " had been an idiot to do what everyone wanted me to do." (NBND, p.129) Tulloh reacted too late to the slow early pace, rushing into the lead after the first lap and putting in a 60-second lap. But then the pace slackened again, and the bell was reached in a slow 3:09. John Davies ran wide round the next bend and then took off on the back straight. Only Terry Sullivan and Snell went with him. Snell easily moved past Sullivan of Rhodesia and followed Davies round the last bend, with the idea of protecting his team-mate from any challenge from Sullivan. But this generous action wasn't necessary as Sullivan fell back. In the last 80 yards, Snell cruised past Davies for a comfortable win. Sullivan held on to third from Tony Blue. Thomas was a disappointing fifth and Tulloh was well back, failing to beat 4:20.
1. Peter Snell NZL 4:04.58; 2. John Davies NZL 4:05.12; 3. Terry Sullivan FRN 4:06.61; 4. Tony Blue AUS 4:09.4; 5. Albie Thomas AUS 4:11.2; 6. Andy Harris ENG 4:11.8.
Three Miles
Early in the race. The medalists are biding
their time. From left: Halberg, Clarke, and Kidd.
Ibbotson is #6. Part of Tulloh's head is just
visible on the inside behind #5.
The 1958 Empire Games champion was back again. Kiwi Murray Halberg, still running well, was one of the favorites, but there was an exciting new runner from Canada—19-year-old Bruce Kidd to challenge him. Kidd had already won the Six Miles by making a sudden burst with more than two laps to go. As well, he had beaten Halberg in the USA earlier in the year. But perhaps the most favoured competitor was the recent European 5,000 champion Bruce Tulloh. The barefoot English runner, who had used Halberg tactic of sprinting with more than two laps to go in winning the European title, was expected to try the same tactic in Perth.
The pace was slow (9:18.6 at two miles), and the field stayed bunched until the penultimate lap. Tulloh seemed unwilling to make an early move this time. Halberg, with good miling speed, bided his time. On the back straight of the eleventh lap, Kidd made his move. But Halberg had been watching him throughout the race and was right with him as soon as he broke away from the field.
Kidd tried unsuccessfully to escape again at the bell. A patient Halberg waited until the start of the back straight to make his move. He immediately broke away from Kidd. "I sensed in that instant that the race was mine," Halberg wrote later. "I didn't even have my customary uncontrollable urge to look behind….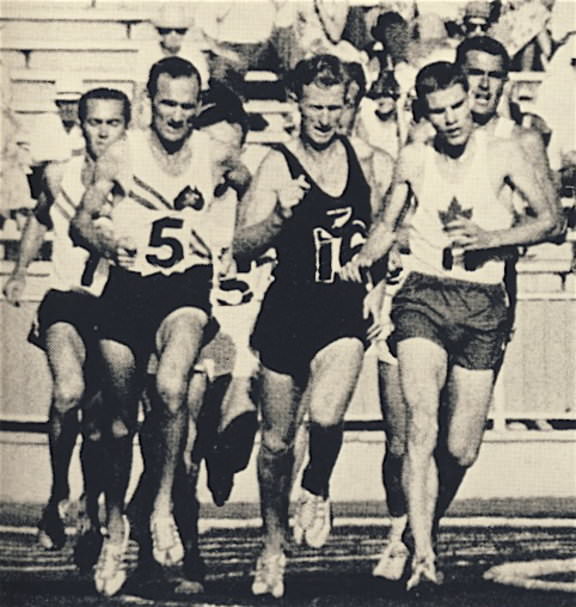 As Kidd makes his move,
Halberg stays right with him.
I finished with a smile on my face instead of in a crumpled heap in the midfield." (Clean Pair of Heels, p.167) Meanwhile Tulloh had made a belated effort to win the race. He roared past Kidd and tore after Halberg round the final bend. But this belated effort was too much for him; he faded in the straight and was passed by both Kidd and Australian Ron Clarke.
Halberg's 53.8 last lap left him a clear and relatively easy winner. The slow race played into his hands. Neither Clarke or Kidd could have expected to outrun him in the last lap. Tulloh might have managed to win with an early surprise break—as he did in the Europeans 2 1/2 months earlier—but he was clearly past his peak.
1. Murray Halberg NZL 13:34.15; 2. Ron Clarke AUS 13:35.92; 3. Bruce Kidd CAN 13:36.37; 4. Bruce Tulloh GBR 13:37.8; 5. Albie Thomas AUS 13:40.6; 6. Eddie Strong 13:41.2.
Six Miles
This race caused a lot of local interest because the reigning Commonwealth Six-Miles champion, Aussie distance-runner Dave Power, was in the field. He was again facing John Merriman of Wales, who had been second to him in Cardiff four years earlier. English runners Martin Hyman (fourth in Cardiff) and Mel Batty were also serious challengers. But the most likely challenger was the 19-year-old wunderkind Bruce Kidd of Canada, who had already surprised with some impressive races in North America.
The oppressive heat forced all runners to be cautious in the early stages. They passed two miles in 9:25 and three in 14:16. It wasn't until 4 1/2 miles that the race really unfolded. At this point Power injected pace; only Kidd was able to go with him. Power led for about a mile until with just over two laps to go, Kidd made his move. Power had no answer as the Canadian, with his distinctive hand-flapping running style, burned off the last two laps in 2:11. He had a comfortable cushion of 7.5 seconds at the end, but this didn't stop him looking nervously back a couple of times. There was a 15-year age gap between these two runners, and most often the older runners dominate the Six Miles. But Bruce Kidd was breaking all the age rules. Behind these two, the ever-reliable Merriman just took the bronze, with Magee, Hyman and Batty close on his heels.
1. Bruce Kidd CAN 28:26.6; 2. Dave Power AUS 28:34.0;3. John Merriman WAL 28:40.8; 4. Magee NZL 28:42.0; 5. Martin Hyman ENG 28:42.2; 6. Mel Batty ENG 28:44.6
Marathon
Reigning champion Dave Power (34) was back, this time with the burden of being the home favorite. But European winner Brian Kilby (24) looked likely to give the rugged Australian a good race. But had he fully recovered from his European triumph 74 days earlier? According to Alastair Aitken, Kilby was a very hard trainer. He trained two to three times a day and built up to a weekly mileage of 147 miles. (The Winning Edge, pp.39-40) So perhaps he was strong enough to run another good marathon. There was also much interest in the precocious Canadian Bruce Kidd, who had won the Six Miles and placed second in the Three Miles. However, he was unproven over the marathon distance.
Kilby leads at halfway from Stephen,
Batty and Kidd.
The weather prior to the race was so hot that according to Kilby, "the medics were thinking of calling it off." (Aitken, TWE, p.46) But a fortunate thunder storm the night before meant that race conditions were cool. There was a large bunch at the front for many miles. Even at 15 miles ten runners were still in contention. It was a this point that Kilby took charge. According to the The Times, "He made no sudden break, but gradually increased the pressure."
Kilby's lead was 30 yards at 18 miles and 50 at 20 miles. He admitted to being "a little worried" at 20 miles, but he said that "A little bit of fear keeps you going." (Times, Nov. 30, 1962) His lead kept increasing to the point that he was 58 seconds clear of Power at the end. With this victory, Kilby completed a legendary double of two major Marathon titles in one year, emulating the achievement of Jack Holden. (See Profile) "The European was more prestigious, but it was nice to beat a runner as good as Dave Power," Kilby said afterwards. (Aitken, TWE, p.46)
Behind Kilby were the three Australian entries. They were followed by 22-year-old Mel Batty. Bruce Kidd dropped out at 22 miles.
1. Brian Kilby GBR 2:21:17; 2. Dave Power AUS 2:22:15; 3. Rodney Bonella AUS 2:24:07; 4. Keith Ollerenshaw AUS 2:24:59; 5. Mel Batty GBR 2:25:51; 6. John Stephen TAN 2:28:39.

---