By John Cobley
3rd January 2013
---
---
---
Emiel Puttemans Profile
b. 1947
In the early 1970s Belgian runner Emiel Puttemans was the leading 5,000 runner in the world. During the five-year span from 1971 to 1975, he was the fastest in the world for three of those years and second-fastest once. He set four outdoor world records (3,000, 2 Miles, Three Miles and 5,000) and twelve indoor world records (2,000, 3,000 [twice], Two Miles, Three Miles [three times], 5,000 [three times], Six Miles, and 10,000). He was also very consistent, running under 13:30 for 5,000 eleven years in a row (1971-1981). Despite all this, Puttemans' greatness has been underestimated because he never won a major outdoor championship. His best Olympic result was a silver medal in the 1972 Olympic 10,000, where it took a world record by Lasse Viren of Finland to defeat him. This race showed the Belgian to be a great fighter. He was the only one to answer Viren's acceleration at the bell and closing round the last bend, he looked like he might catch the Finn. It was only when Viren managed to accelerate yet again that the race was decided.
So Puttemans' speed—he ran 3:40 for 1,500 and 3:56.19 for the Mile—was not to be underestimated. It was just that he lacked the explosive speed needed in the last 200 of a tight championship race. But more often than not he was able to run away from the field, winning 150 of 219 races in his long 17-year international career. From 1968, when he surprised everyone by making the 5,000 Olympic final, to 1984, when he ran a 2:13:24 Marathon, Puttemans proved to be one of the world's best distance runners.

------
Born in Louvain, a Flemish town east of Brussels, Emiel Puttemans began running with his brother Frans, who was eight years older. Puttemans recalls, "He was training with Gaston Roelants, and every now and then I would join in with them, which made me very happy." (Seppo Luhtala, Top Distance Runners of the Century, p. 217). The young Belgian was training only once a week when 15 and only twice a week when 16. But by the time he appeared on the international scene at the age of 20 in 1968, he had worked up to training six times a week.
Young Olympian
His first recorded race was an 8:57 3,000 in 1965. The next year he improved this time to 8:37, but he does not have any times recorded for 1967. He started the 1968 season with a 3,000 in 8:12.4 and a 3,000 Steeplechase in 8:51.0. A big breakthrough came in August when he ran 13:51.6 for 5,000. This run earned him a place on the Belgian Olympic team. That same month he showed good form over 10,000 with a fourth place behind Lajos Mecser in 29:23.8.
At the Mexico Olympics, he surprised with a 5th place qualifying time ahead of three established international runners, Diessner of East Germany, Briton Dick Taylor and Sharafetdinov of the USSR. He ran a brave race in the final. In the rarified air of Mexico City, the 21-year-old managed to stay with the leaders for 3,400m, but then he faded badly, finishing 12th and last in 14:59.6.
Slow Progress
After the excitement of Mexico, the next year was an anti-climax. Puttemans started his track season slowly. Following a promising improvement over 3,000 to 8:00.8, he was beaten into second place three times over 5,000 with times well below his 1968 best of 13:51.6: 14:07.8, 14:07.8 and 14:15.8. But then in August he won a major 3,000 in West Berlin, leaving the likes of Kvalheim, Girke, Korica and Viren in his wake. His time of 7:54.2 was a big improvement and his first time under 8:00.
After such a breakthrough, he must have been a little disappointed with his 7th place in the Euro 5,000 behind winner Stewart. His 13:53.2 time was 8.4 slower than winner Stewart's and 1.6 seconds slower than his 1968 PB. He did, however, assert his presence in this race, taking the lead with just over two laps to go. But he could offer little resistance when Stewart challenged him 600 meters out. At this stage in his career, he was still about 12 seconds too slow to make the top 20 in the world 5,000 rankings.
Still working as a gardener for his day job, Puttemans did little more than consolidate his running career in 1970. He showed promise indoors with a sixth place in the European Championships 3,000 (7:57.0), and also showed stamina with a 13th place in the International Cross-Country Championships. On the track he improved slightly to 7:51.8 and 13:47.0, improvements of 2.4 seconds over 3,000 and 4.6 over 5,000. Perhaps the most encouraging was a big improvement from 3:49.0 to 3:41.9 for the 1,500.
Breakthrough
If 1970 was a consolidation year, 1971 was an explosion year. His first race was a 5,000 PB of 13:46.8, and he soon improved to 13:37.0 behind Jean Wadoux (13:34.0) in Paris. This was followed by a Belgian record over 2000 (5:03.6) behind Marty Liquori. But he was still not quite performing as a top distance runner. A sixth place in the European 5,000 in another PB of 13:36.60 was a good run, but it didn't indicate the amazing sequence of performances to follow.
Puttemans won nine of his next ten races, losing only once to Alvarez of Spain although finishing with the same time. In these ten races he set one world record, one European record, four national records and eight personal bests. His Two Miles world record of 8:17.8 broke Ron Clarke's world record of 8:19.6. And his 3,000 European record of 7:39.8 was only .02 of a second outside Keino's 7:39.6 world record. In the space of 45 days Puttemans went from a solid European performer to a world beater.
Top of the World
Puttemans' first world record was set in the Edinburgh Highland Games, Before an overflowing crowd, a stellar field of British runners was assembled for the 2 Miles. Foremost was Ian Stewart, who on this track the year before had won the Commonwealth 5,000 in record time. But another strong threat was the Commonwealth 1,500 bronze medalist, Brendan Foster, who was destined to break the 2 Miles world record in 1973. Rounding out the British contingent were Peter Stewart, Mike Tagg, Alan Rushmer and Lachie Stewart. Also in the field was a second Belgian, Andre Boonen, and it was he who set a fast pace—clearly at the request of Puttemans. He blasted through 400 in 61.2 and 800 in 2:02.0, before dropping out at 1,000 and leaving Puttemans with a 20m lead. The Belgian kept up the pace for 3:03.3 at 1,200 but slowed on the next lap to 63.2 ((4:06.5 at 1,600). He maintained his 20m lead on the fifth lap (62.9). By this time the capacity crowd sensed that Clarke's 8:19.6 world record could be broken. The roar of the crowd was augmented by a group of Belgian sailors from a visiting destroyer moored close by.
Puttemans was still so full of running that the bunched field, led by Ian Stewart, could make no impression on him. "It was clear we had underestimated him," wrote Foster later. (Brendan Foster, Foster and Cliff Temple, p.66) Laps of 62.1 and 61.9 took him to the bell at 7:13.4. He needed a last lap of 66.2, but the last lap was an extra 18.69 metres, as the race was not metric. Puttemans passed the 3,000 mark in 7:44.4 inside Norpoth's 7:45.0 Euro record. And he hit the tape in a new world record of 8:17.8. The quality of this time was underlined by the fact that second-place finisher Brendan Foster was seven seconds back yet still set a UK record. This was an awesome example of well-judged front running.
With his superb form in 1971 Puttemans was the talk of the running world and looked like a successor to Gaston Roelants as Belgium's #1. Suddenly there was a new contender for the 5 and 10 at the Munich Olympics. Maybe Puttemans could emulate his compatriot Gaston Reiff, who had won the 5,000 title in the 1948 Olympics.
The New Star
So what kind of a runner was Emiel Puttemans? He has been described as "slightly built," but Mel Watman's description seems wrong. He was 1.75/5'9" tall, an average height for a distance runner, but he weighed 68kg/150lbs. This suggests that he was more than slightly built—compare Harald Norpoth who was 1.85 tall and only 60kg. In fact, Puttemans was quite stocky for a distance runner, clearly possessing a lot of lower-body and upper-leg strength. Maybe his work as a gardener had strengthened him. Films of him in action show him running with a very fast tempo, while his arm action is strong but a little loose.
Robert Parienté has described him as a "petit jardinier" (little gardener), which is hardly accurate. Parienté also portrayed him as "modeste, timide, mais terriblement ambitieux" (modest, timid and terribly ambitious). The respected French journalist stressed Putteman's "fragile" character. He saw the Belgian as primarily a runner against the clock who was "obsessed" about his weakness over the last lap of a race to the point where he often set too fast a pace. (Robert Parienté, La fabuleuse histoire de l'athlétisme, p.p. 447-8) Parienté did concede that as Puttemans matured in 1976-7, he was "wiser and more resolute" in competition, but I don't think he took into account the many major races the Belgian won in the early 1970s.
Puttemans was fortunate to quickly join up with Belgium's finest coach, Edmond ("Mon") Vanden Eyde (1924-1989). Based in Leuven with the Daring Club Leuven, Vanden Eyde coached many of Belgium finest athletes: de Hertoghe, Roelants and Ivo Van Damme. According to Frank Horwill, "Puttemans' training consisted of two sessions a day all year round and involved more anaerobic running than his predecessors; he appears to have been one of the first athletes to do two lactate threshold runs of four miles duration each at maximum effort. Fartlek (speed play) occupied 15 per cent of the total 100 miles a week." ("5,000 Metres Training," www.pponline.co.uk)
Munich Olympics Preparation
Puttemans was now a serious gold-medal contender for the 1972 Olympics. As part of his conditioning he raced nine times over the country from the middle of November to early February. Next, he went to the USA to sharpen himself with indoor competition. He won three of his four races, gradually improving his 2 Miles time from 8:39.2 to 8:30.4. The only person to beat him was Steve Prefontaine, whom he was likely to meet in Munich. Gradually rounding into form outdoors, he won eight consecutive low-key races before facing an international 5,000 field in Stockholm. Although he ran his fastest time of the year (13:33.2), he was beaten by Brits Ian Stewart and Ricky Wilde. Six weeks later, after winning the Belgian championships in 13:44.8, he was back in Stockholm to face Viren, Garderud, Ian Stewart, Quax, Bedford, Korica and Tuominen over 2 Miles. Bedford set the pace almost up to the bell, with only Viren and Puttemans able to stay with him. When Viren took over the lead, Puttemans was right on his tail. The Belgian was able to stay with Viren until the run-in, but then he lost 3.2 seconds. Viren broke Puttemans' WR with 8:14.0. Puttemans too improved on his own WR with 8:17.2, a new Belgian record. He was clearly rounding into the best form of his life. And a 13:20.0 5,000 ten days later in Brussels was just what he needed to boost his confidence for the Munich 5,000.
However, his Olympic build-up was suddenly in crisis. He developed an achilles problem while training at St. Moritz just before the games. He later claimed he was "only 90% of my powers" for Munich. "I was not sure of myself," he said. (Athletics Weekly, October 21, 1972) If that was really true, Puttemans at 100% could well have won both the 5,000 and 10,000. As it turned out, he almost did win the 10,000, and although he was exhausted by the time of the 5,000 final, he finished a respectable fifth in that race.
Munich
Bedford (274) and Puttemans run 30 seconds
too fast in the 10,000 heats.
Putteman's sore achilles tendon was not the only factor that affected his Olympic performances. There was also his youthful impetuosity. This flaw was evident in his 10,000 heat. In the heats of both the 5,000 and 10,000, he ran Olympic records. Yes, he ran his 5,000 and 10,000 heats faster than anyone had ever run in these Olympic finals! Admittedly, a fast run was needed in the 5,000 heats, but it wasn't in the 10,000, as he qualified for the final with a time a full 30 seconds faster than needed. In the 5,000 heats he had to run fast as he had both Prefontaine and Norpoth in his heat. With only two to qualify, he was only 1.6 seconds ahead of Norpoth in third. (A lucky Norpoth did qualify as one of the fastest losers, but Puttemans could not have risked doing this in the second of five heats.) Thus over nine days Puttemans ran two Olympic records and two finals in the 5,000 and 10,000. It was therefore not surprising that he did not perform up to expectations in the last of the four races, the 5,000 final. In such circumstances and in such a stellar race, his fifth place was still impressive.
His initial Munich race was the first 10,000 heat. Both he and Bedford got carried away with their fitness and ran much too fast. Bedford was reputed to have asked Puttemans at the 8,000 mark (22:16 .2), "Shall we go for the world record?" (T&FN , Aug 72). Under the pressure of the big event, Puttemans ran to win and even sprinted near the tape, recording a PB and an Olympic record of 27:53.4. Had he run 25 seconds slower, he would still have qualified and would have saved more energy for the three races to come.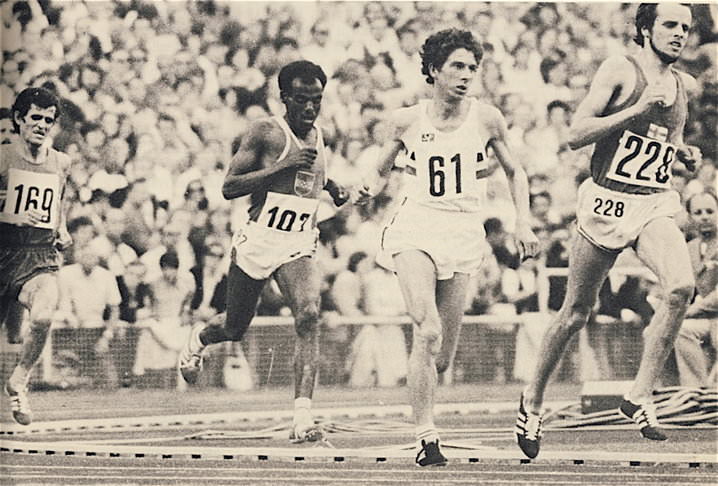 500 to go in the 10,000 final. Viren
has started his
drive for the tape.
Puttemans and Yifter go with him.
In the 10,000 final he ran his best race of the games. He was with the leaders throughout, running comfortably, although he was perhaps a little quick to match Bedford's surges in the middle of the race. The pace was fast: 2:37, 5:18, 8:06, 13:44. At 7K (19:28) Bedford was done, and the field slowed (25:09 at 9K) Then the pace upped as Viren went into the lead with 600 to go. Only Yifter and Puttemans were able to stay with him. Just before the bell, Yifter was dropped, but Puttemans stayed within 3-4 meters of Viren. He got even closer coming off the last bend, but Viren found another gear and had a 1.2-second margin at the end. Viren needed a 27:38.4 world record and a 2:29.2 last K to beat him. Puttemans' 27:39.8 was a Belgian record and the third fastest ever 10,000. He had run two 10,000 PBs in three days, improving 21.6 seconds. In fact these were the only two occasions in his career when he ran under 28:00.
Later he paid tribute to Viren's running: "I had no chance of beating Lasse Viren…. All I could do was to try and follow him during the last 400 or 200 meters. He was faster. I couldn't do anything about it." (Luhtala, p.217)
Early in the 5,000 final. Puttemans leads Stewart
(309) and McCafferty (300). Viren runs sensibly
on the inside (his face is top right).
Two days after his 10,000 final, Puttemans had to run the 5,000 preliminaries, where he was unfortunate to have both Prefontaine and Norpoth in his heat. He had to beat one of them and ended up running another Olympic record of 13:31.8, just seven seconds off his PB. Then, with three days' rest he was up against an incredible field for the final that included Viren, Gammoudi, Viren, Norpoth, Prefontaine, Ian Stewart, McCafferty and Bedford. It was a slow tactical race for the first 3,000 (8:20). Prefontaine then took charge with laps of 63,61 and 59. Puttemans was one of the four other runners able to match this pace. But at the bell he was suddenly out of contention, having slowed between 500 and 400 to go. He then seemed to find some reserves and still ran a fast last lap. But he had lost the race by the bell and finished fifth in 13:30.82, which left him 4.4 seconds behind winner Viren.
Still, placing second and fifth in the two Olympic distance events was a fine achievement. If he had been able to conserve energy in the heats, especially in the 10,000, he might have had more energy for the 5,000 final—maybe enough for another silver. Sadly Munich was his best chance for Olympic gold.
World Records
Munich 5,000 final. The five contenders with 800 to go:
Viren leads Prefontaine, Puttemans, Stewart (hidden)
and Gammoudi.
Following the Munich Games Puttemans shocked the running fraternity with three world records. Only four days after his 5,000 final, Puttemans ran a 3,000 at the Aarhus Festival Games. With only local Danish competition, the race was really a time-trial for him. He roared through 2,000 in 5:05 and held on to exactly the same pace for the last K to record 7:37.6. He had beaten Kip Keino's 1965 mark by a full two seconds. Three days later he was in nearby Sweden to compete in Malmo against, Malinowski, Viren, Vaatainen, Tuominen and Garderud over 3,000. This was a slower race, but he was still able to win in 7:48.6.
Three more days later he was in Brussels for a 5,000 against Dave Bedford and his countrymen Thys, Janssens and Lismont. In this race he broke two world records: the 3 Miles in 12:47.8 and more importantly the 5,000 in 13:13.0. After running splits of 2:34, 5:12 and 7:53, he was on his own for the last 2K. He passed 4,000 in 10:35.6 and needed a last K of 2:40.8 to equal Viren's WR. He ran 2:37.4 to improve the mark by 3.4 seconds. Thus in 21 days he had set three world records and placed second and fifth in Olympic finals. A remarkable three weeks. Then, just to finish off the season, he ran a PB 3,000 Steeplechase in 8:27.8, a time which would have earned him fourth place in the Olympic race.
Cross-Country and Indoor Success
Puttemans took his remarkable fitness into the cross-country season, racing twice in September and October and four times in November. Then on December 3rd in the Cross du Pèlerin in France, he trounced a very strong British contingent of Ian Stewart (second), Dave Black (third), Lachie Stewart (fourth), Mike Tagg (fifth) and Alan Blinston (sixth). Finally, on the last day of 1972 he beat fellow Belgians Roelants, Schott and Schoofs in a race at Ninouve.
He didn't let up in the new year, racing over the country three times in January and culminating with a win at Hannut on February 4th. Six days after his Hannut win, Puttemans was on the 190m track in Leiden for his first indoor race of 1973. His 3,000 winning time was a new indoor world record: 7:45.2. He ran even faster eight days later in a Two Miles on the 180m Berlin wooden indoor track against mainly German runners. "This was my best-ever race," Puttemans explained later, "because in that race I broke three world records: 2,000, 3,000 and Two Miles. The Two Miles was faster than the outdoor world record." He set an electric pace, passing 800 in 1:57.2 and 1,000 in 2:27. Slowing a little, he went through1,500 in 3:43.0 and one mile in 4:03.2. He passed 2,000 in a world-record time of 5:00.0. This incredibly fast pace began to tell in the last K; is next two 400s were 61.8 and 63.2. Nevertheless, he passed 3,000 in a new world-record time of 7:39.2, six seconds faster than his WR a week earlier. His final time was another world record of 8:13.2 for Two Miles. Has anyone else broken three indoor world records in one race?!
Not surprisingly, there was no one to touch him three weeks later in the Euro Championships 3,000. He qualified in 7:51.02 and then easily won the final in 7:44.51. He finished with a 7.35-second margin over fellow Belgium Willy Pollenius, having asserted himself from the start by running the first 800 in 2:00. Thus in the first indoor season of his career, he had obliterated the 3,000 WR and trounced the field in the European final.
1973 Track Season
Now a European indoor champion, Puttemans finally took a ten-week break from competition before the summer track season. Overall, his 1973 season was a huge competitive success, although he set no major records. This put lie to the view that Puttemans was a record breaker rather than a racer. He lost only two races: a Mile in Stockholm in which he was fourth in lifetime best of 3:56.19 behind Jipcho, Bayi and American Hilton; and a 1,500 team race where he finished second in the same time as his team-mate.
Puttemans surges by Prefontaine. This
picture shows the power of his stride.
His 15 victories in the 1973 outdoor season included four in major races. Before these races, he began the season with a Mile victory in London (4:03) and wins in a Mile and a Two Miles (4:03, 8:26) in California (where he turned down a pro contract). His season began in earnest in mid-June with two races in Sweden, where he beat Garderud and Pollenius both times with 13:26.8 and 7:55.8. His 3,000 time came down a lot ten days later with a comfortable 7:43.4 against Danish runners. This race was a good warm-up for the World Games 5,000 in Helsinki three days later. Here he faced a daunting field: Prefontaine (USA), Moses and Kimeto (Kenya), Black (GBR), Viren (Finland) and Hermens (Ned). But he was a clear winner in 13:19.6, with Prefontaine 2.8 seconds behind him in second. He followed this fine victory with a 10,000 win over Hermens in a European Cup qualifying meet (28:28.6). Puttemans' excellent June form suggested he was going to topple some more world records.
This didn't happen. However, his first two races in July only confirmed his world-record potential. A PB Mile in 3:56.19 (his only major defeat of the whole season) attested to his speed. And a fine 5,000 victory in Zurich (13:16.28) was only three seconds off his world record.
Then he had two great victories in Stockholm. On July 25 he faced a top field over Two Miles that included Viren, Rod Dixon of New Zealand, Jipcho and Nyambui of Kenya and Tanzania, and Garderud. In a thrilling race he pipped Jipcho by 0,7 of a second with 8:16.32, his lifetime outdoor best. Dixon was third, only a second behind. Two weeks later Puttemans was back in Stockholm for an attack on his 5,000 WR. His main opposition was Kiwi Dick Quax and Anders Garderud. Unfortunately the pace set in the first K was too fast: 2:33, which is 12:45 pace. However, the pace settled down with 2:41 and 2:42 Ks. But the time at 3,000, 7:56, meant that the last two Ks needed to be faster at 2:38.5 pace. Puttemans wasn't quite up to running that fast as he ran 2:40 and 2:38 for a 13:14.51 time, just 1.51 seconds outside his record. Quax ran well to clock 13:18.33 for second. This race turned out to be Puttemans' best chance to improve his 5,000 marker.
With his 1973 season almost done, he did manage a PB and Belgian record with 4:59.8 for 2,000 in a Belgian race. Everything came to an end for the season when he attempted a record run over 10,000; he had to drop out at 8K with an achilles problem.
Summer Training
Mon Vanden Eyde,
Puttemans' coach.
Puttemans' weekly summer training schedule was organized around his usual race day, Sunday. The two days before and the two days after were lighter than the intense two middle days. Much of his training was geared to improve his ability to follow his racing tactics of starting fast and of varying the pace. He was always aware that his finishing kick was not as fast as some of his international rivals; thus in major races he had to negate the finishing kick of his opponents with a fast and varying pace. "I couldn't win a 13:30 5,000 race because I was not so fast at the end," he explained. "If the pace was 13:15 to 13:20 I had no problems. I could run the last 200 in 25.2 to 25.5, but in a slow race they were finishing in 24.8."
Thus Puttemans trained to start fast in his races. For example, in the 19.6K run he often did, he would start as if in a cross-country race: "My first K was always at maximum. So in a race the guys who went with me were 'in the red.' On the track I always started quickly. I had no problems with that."
Here is the weekly schedule followed by Puttemans, under Vanden Eyde's supervision, during his peak years when he was in his mid-twenties. Still working as a gardener, Emiel trained twice a day before and after work.
Sunday: Competition
Monday: 1. 10-12K at 3:20 pace. 2. 16-20K ending with 10x100 on the track.
Tuesday. 1. 10-12K at 3:20 pace. 2. 2x10x200 [100 jog] with 5:00 jog between sets. Both the repetition and the interval were run increasingly faster, so each set became "harder and harder." The reps started at 29 seconds and dropped to 26.
Wednesday. 1. 8K finishing with 10x100 on the track. 2. Long hilly run of 19.6K "very fast." Vanden Eyde would start other runners 2, 4 and 6 minutes ahead, and Puttemans had to catch them by the finish. His pace was around 3:05. "This was not walking training!" he explained to emphasize how tough this run was.
Thursday. 1. 12K. 2. First, 2x2K of in's and out's. These were run alternating 50m at max. and 50m at 5,000 racing speed. Again the two reps got faster, from 5:25 to 5:19-5:20. Only 3:00 rest between. Second, 2x500 at max. [2:00 jog]. Note: This major interval session sometimes varied. He might do 1x2K in 5:05 or 10x400 [15 seconds] starting at 60 and ending at 58.5 (when in top condition).
Friday. 1. 5K warm up. 10K of 1:00 fast and 1:00 slow in forest.
Saturday. 1. One hour of jogging, finishing with 2x400 [100] in 56 and 54.
Winter 1973-4
Puttemans' late-season achilles problem was soon healed. And by November he was competing over the country. He won four races, including Vanves and Hannut. This good form continued indoors with world records in the Three Miles and 5,000 in one race (13:05.2 and 13:30.8). Following this race in France he went to Gothenburg to win a second European 3,000 title (7:48.48). To cap a successful winter, he won the Cinque Mulini 10K cross-country race in Italy, leaving the likes of Shorter, Foster, Arese, Bernie Ford, and Viren in his wake.
No More Improvement
Although Puttemans competed seriously outdoors for another eight track seasons, he never improved on the PBs he had set in 1972 and 1973. His 1974 performances (3:41.6, 7:55.4, 8:16.55, 13:33.0 and 28:36.0) were still world class and still enabled him to win all but four of his races, but they indicated a slight falling off. And the pressure of racing at world class for several years, which is generally overlooked, eventually took its toll at the end of the season. After dropping out of a 5,000 race in Zurich on August 16, he gave up during a 3,000 time-trial on August 29, reportedly suffering from a "psychological crisis." (Times, August 31, 1974) Reports from Belgium explained Puttemans was handicapped by injury and "was unable to cope mentally with the increasing pressure of his nation's hopes at the time of the European Championships…drew nearer. (Times)
But three months later his enthusiasm had returned, as he won an international cross-country race in France ahead of Dave Bedford (UK). He went on to win the big Hannut race in February and to place 16th in the World Championships. After opting out of the 1975 indoor season, he had another successful season outdoors, winning nine of his thirteen races. After a promising early 5,000 in 13:18.6, his best competitive success came with a victory in the World Games 10,000 (28:03.64), although the competition was not the greatest. Perhaps his best race was in a 3,000 in Paris, when he placed second behind John Walker but ahead of Dixon, Garderud, Brendan Foster, Ian Stewart and Kvalheim. He lost this race by only 0,1 of a second and posted a fast 7:45.10. And two weeks after this, he ran a good 13:20.8 5,0000 before traveling to Montreal for a pre-Olympic meet. There he ran a very disappointing 1,500 in 3:48.57 in this meet for ninth place. This poor run was explained by the fact that soon after he had his tonsils removed. Thus, although his 1975 season was a definite improvement on 1974, he still wasn't back to his peak form.
Third Olympics
Another photo from the 1972 Olympic 5,000 final, showing the relaxed
running style of Puttemans (61). Viren and Prefontaine are ahead;
Gammoudi and Stewart follow.
Fully recovered in the new year, Puttemans began the 1976 Olympic year with an indoor WR for 5,000 with 13:20.8. This was the fastest he ever ran indoors. And after winning a cross-country race in Germany, he returned to France three weeks later to win an indoor 3,000 in 7:50.2 with a 16-second margin. But his pre-Olympic races outdoors were not so encouraging. Before Montreal he showed only mediocre form with four 5,000s in 13:45.0, 13:38.0, 13:48.0 and 13:34.16 and two 3,000s in 7:54.4 and 7:52.8. Going into Montreal, he said his chances were better in the 10,000 than in the 5,000—even though he hadn't raced the longer distance in over a year.
In the Olympic 10,000, he had to sprint hard to get the last qualifying place in his heat (28:15.5). Athletics Weekly reported that he was "in all sorts of trouble until the final 200 when he showed his true class." (Aug. 7, 1976) He disappointed his Belgian fans in the final, pulling out with over 3,000 to go when he was well down the field. He also dropped out in his 5,000 heat with two laps to go; he would have needed a season's best to qualify. Clearly something was wrong. In an international race three weeks later, he again dropped out after 7K of a 10,000. The next day he announced that he was no longer going to compete in international athletics. "I was very much affected by my critics after Montreal," he said. "Top competitions are now definitely out as far as I am concerned." (Times, Aug. 20, 1976) Nevertheless, he did run four more races at the end of the season, winning three, and then he went to Gateshead to win the prestigious cross-country race from Simmons, Black and Ford. At least he finished the roller-coaster season on a high note.
Not Finished Yet
The 29-year-old Puttemans still had an appetite for competition and was ready to run for his country. Although he dropped out of the Belgian Cross-Country Championships that winter, he still ran for Belgium in the International race. Sadly, he was spiked in the foot in this race and was unable to finish. On the track he was still winning his races, but many of those races were now in Belgium. A rare foreign tour, in Finland, in early June saw him win three consecutive 5,000s in 13:56.8, 13:38.16 and 13:44.0, but the opposition was not quite top class. When he did come up against the top distance runners in the Helsinki World Games and the Ivo Van Damme meet, he was outclassed. He languished back in eighth place in Helsinki and dropped out of the 10,000 in the Ivo Van Damme. However, in September, he ran two faster 5,000s in Merksem, Belgium, clocking 13:25.6 and 13:23.16. It seemed that at this stage of his career he ran better when there was no strong opposition.
He took the 1978 indoor season seriously. After winning the Belgian 3,000 title in 7:56.3, he ran a fast 7:52.0 to win for his country against Italy and Spain. His good indoor form continued as he ran well in the European Championships, just losing out to the Swiss runner Marcus Ryffel 3:49.5 to 3:49 .9. He got revenge on Ryffel in an ensuing Europe v. USA match, winning in 3:49.5.
A very successful indoor season was followed by a quiet summer of only seven races. His only major meet was the Ivo Van Damme, where he ran a reasonable time of 13:29.0 for sixth place. With seasonal bests of 13:26.4 and 7:48.4, Puttemans was still running well, but he was no longer in the top echelon.
After passing on both the indoor and cross-country seasons, Puttemans raced a lot more frequently (eleven times) on the track in 1979. The highlight was his win in his country's major meet, the Ivo Van Damme, when he just pipped Henry Rono in 13:28.70. Significantly, he ran in many more international meets than he had in the previous year: the European Cup (first in the B final and second in the semi-final), the Gateshead Games (fourth in the 5,000), and the IAC Coca-Cola International (second in the 5,000). Thus his competitive drive had returned after his Olympic disappointment back in 1976. Indeed, he was now thinking of the 1980 Olympics in Moscow.
Fourth Olympics
Puttemans took a six-month break from competition after his good run (13:26.30) in the 1979 London Coca-Cola Meet. He began competition three months before the July Olympics in Moscow. The races were low-key; he met no one likely to make the 5,000 final and rarely competed outside Belgium. Nevertheless, he went into the Olympics with a respectable season's best of 13:25.9, having gradually improved his times over five 5,000s. But standards had risen. His WR had been erased to 13:08, and 22 runners had run faster than 13:25 the previous year. His Olympic prospects did not look good, despite the boycott of several countries.
Moscow was another Olympic disappointment for him. Although he got through the first round with 13:42.91, he was well down in eighth place in his semi, running only 13:50.2. Afterwards, he ran in several international meets: Zurich (5th in 13:25.14); Lausanne (10th in 7:52.75); Brussels (7th in 13:30.3) and Innsbruck (3rd in 8:08.3).
Moving up to the Marathon
A new phase of his racing career began in the fall of 1980: road racing. He ran two road races, including a half-marathon in 1:02:08. (Once before, in May of 1977, he had run a 59:04 on A Belgian course that was likely short.). He continued racing on the country through the winter, notably placing second in a stellar field in the Schweppes International Cross-Country Race and winning the Vanves race in December. His cross-country season ended with the 1981 International CC race, where he finished a lowly 135th.
Now 33, Puttemans tried one more year at his regular distances of 3,000 and 5,000, before moving up to longer distances and the marathon. He could still match his times of the previous few years but rarely won international races, his victory in the European Cup Semi-final being a notable exception. Still holding the Belgian national title for 5,000, he raced again in the major meets: Zurich (8th in 13:39.41); Cologne (6th in 13:41.52); Brussels (4th in 13:36.32). But as soon as September came, he began a series of five road races varying from 8K to 16.95K. Clearly he was thinking about a marathon.
He made a stunning Marathon debut in March 1982, winning the Citta di Roma Marathon from marathon greats Ian Thompson and Karel Lismont. Sadly, his stunning time of 2:09.53 was made invalid when the course was found to be 111m short. Nevertheless, his unofficial adjusted time of 2:10:14 was impressive. After placing 37th in the International cross-Country race, Puttemans raced only once on the track in the summer, finishing ninth in a 10,000 with 28:27.22.
After a busy cross-country season, Puttemans competed in the 1983 London Marathon. He was soon leading the race at world record speed, taking three Ethiopians with him. He was still in front at the halfway point in a time just over 64:00. The eventual winner, Mike Gratton, caught him at 15 miles, leaving Puttemans to hang on for a 68:30 second half and 8th place in 2:12:27. Mike Gratton was correct in saying later that Puttemans started too fast. As he had shown in his 1972 10,000 heat, Puttemans was sometimes unable to hold back when it was clearly the correct option.
Following this disappointment, he raced only twice in the summer (13:40.6 and 28:24.5), before tackling the Chicago Marathon. This marathon proved to be his slowest. He finished over 15 minutes behind the leader in 38th place (2:25:00). Puttemans' long career began to wind down. He did have a fairly successful cross-country season, finishing second behind Tim Hutchings in the annual Vanves race. Then in April of 1984 he won the London Thamesmead Half-Marathon. He tried one more marathon, the 1984 Belgian Championship, finishing fourth with 2:13:24, again on a course of questionable length.
Conclusion
In his best years, 1971 to 1973, Emiel Puttemans was at the very top of distance running. His brilliant 10,000 in Munich and his 5,000 world record were his greatest achievements. But perhaps he was an even better indoor runner. From 1973 to 1976 he broke an incredible twelve indoor world records. He was almost unbeatable on the boards. After finishing sixth in the 1970 European 3,000 early in his career, he was only beaten twice in his whole indoor career—by Prefontaine and Ryffel. Sadly, he didn't compete indoors that often: "I enjoyed running indoors, I was small and I like the curve. In those days I got paid a little bit to run cross country but I got paid nothing indoors. Even for breaking a world record indoors there was no real interest and no money." (www.european-athletics.org)
Puttemans had a long career at the top, competing until he was 34. but he never managed to improve after 1973, when he was 25. Not having over-trained when he was young, he could have expected to keep improving for at least another five years. Perhaps he was not emotionally equipped to survive at the top of his sport. Few runners are; it's a tough world, especially with the modern media focus. It would be fair to say that Puttemans was never quite the same after Munich.
When Puttemans retired after 1984, he had to have operations on both his achilles tendons. Following that he jogged until he was 42. Then he stopped running completely and was inactive (except for his job) for ten years. At the age of 54 he took up cycling and still regularly does 80-90K when the weather is good. Now 65 and in excellent health, he can look back on a career of 16 world records, all achieved while he was working full-time.

---