---
---
---
Walter George v. William Cummings
One Mile, Lillie Bridge Stadium, August 23, 1886
Great Races #1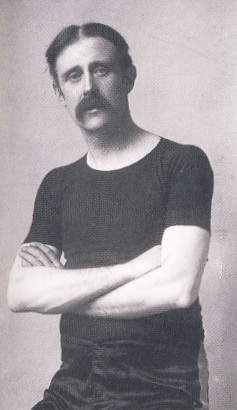 Walter George
These two professional runners knew each other well. They had raced each other in 1885 in a series of three races. Cummings had won the 4-mile and 10-mile races; George had won the Mile. This return match over One Mile in 1886 brought out a huge 20,000 crowd. Although Cummings had the faster time, 4:16.2 to 4:18.4, George was a slight favorite--even though his 4:10.2 time trial had not been divulged to the public. This amazing time had been recorded by his manager, an expert timekeeper, Sir John Astley. The time was confirmed by a clever journalist called Charlie Westall, who had witnessed George's run while hiding in a hedge. However, Westall didn't publish the story.
Walter George had been focusing on the Mile all his career, although he often raced at other distances. The story goes that in 1878, before he had ever run a race, he told his new clubmates that he had planned a schedule for a 4:12 Mile. The record in 1878 was 4:24.5. His notebook shows the following entry: "Timetable for possible record. First lap, 59 seconds. Second lap, 2 minutes 2 seconds. Third lap, 3 minutes 8 seconds. Fourth lap, 4 minutes 12 seconds." Throughout his running career George started his Mile races with a sub-60 first lap and usually a 2:02 half mile. In his first recorded Mile of 4:23.2, he ran 59 and 2:04.5 for the first half. Gradually his times for the latter two laps dropped. By 1882 he was regularly reaching 3/4 at 3:08, but still had not the strength to run a 64-65 last lap. By 1886 he trained as though ready for his 4:12.
William J. Cummings, a Scot, had turned professional at the age of 18 in 1878. The next year he won the England Mile title in 4:28. His times improved over the following few years; by 1881 he was down to 4:16.2. The next year he was challenged by George, who had just dipped under 4:20. But George, still an amateur, was denied permission to race Cummings. The Scot had to wait until 1885, when George finally turned professional.
Cummings (left) and George
line up in
front
of the
cigar-smoking starter.
For this big race, Cummings had to be prepared for George's fast pace. In his 1885 Mile race against George, he had given up with half a lap to go, unable to stay with George any longer. It was obvious what he had to do to beat the predictable George—hang on.
George won the toss for the inside position and at the gun went straight into the lead. Cummings knew very well how George paced his races. So he tucked in through the 58.5 first lap and the 63.3 second for a 2:01.8 clocking for the first half mile. George, as usual, was almost exactly on schedule with his lap times. Cummings waited until the final straight of the third lap to move up beside George.
As the timekeeper yelled 3:07.8, an elated Cummings roared past his rival, moving two, four, six, eight yards ahead. George wisely kept his head and his tempo. Inevitably Cummings could not maintain his suicidal pace, and George gradually closed the gap on the back straight. But he was still a yard down going into the last bend. Forced to run wide on the curve, George had trouble getting by Cummings. Only in the straight did he manage to pull ahead. He heard Cummings for a while and then nothing. But he didn't look back till he had breasted the tape. Cummings was nowhere to be seen; he had collapsed on the grass some 60 yards from the finish.
George had run 4:12.8, a world record. No human had ever run faster—nor would run faster for almost 30 years. An eyewitness described the scene after George breasted the tape: "Everyone remained in their places and a peculiar silence came over the crowd as it waited for the time to be displayed on the board; then what a roar went up. Such a roar as thrills me even when I write this…the thousands broke loose from every quarter and rushed madly across the ground towards the victor." (Quoted by Peter Lovesey, Kings of Distance)
George had run his projected 4:12 mile and had strayed less than a second from the lap schedule he had drawn up eight years earlier. As Peter Lovesey wrote, "Few men have accorded so perfect a realization of their dream." (Kings of Distance)

---