By John Cobley
17th February 2011
---
---
---
1958 EUROPEAN ATHLETICS CHAMPIONSHIPS
Stockholm, Sweden, August 19-24
800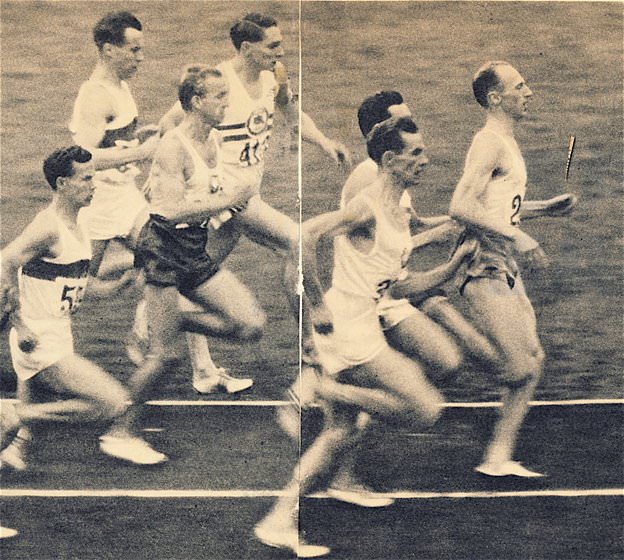 Rawson (in 4th) is pushed off
the track.
This was the race that favourite Brian Hewson wanted to run, but he was selected for the 1500 instead. His team-mates Derek Johnson and Mike Rawson thus became Britain's hopes. These were the days before the staggered lane start, so the first bend was inevitably a melee as runners fought for crucial positions. Waegli of Switzerland ran hard from the outside to get into the lead. In doing so he caused a lot of jostling on the first bend, as a result of which the man on the inside, Rawson, was pushed off the track for three strides. Waegli meanwhile took the field through 200 in 25.0. At the bell (53.0) he still led. But going into the back straight he suddenly slowed, and Schmidt of Germany found himself in the lead.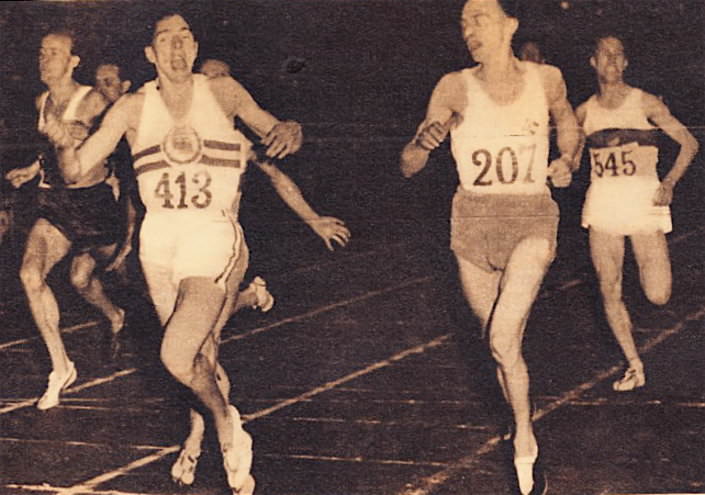 Where did you come from? Boysen
sees winner Rawson right at the tape.
The real race took place in the last 100 when Schmidt attacked with Makomaski hot on his heels. Boysen then managed to sneak through on the inside. With 50 to go, Boysen had a slight lead over Makomaski and looked like the winner. But there was a small gap between them, large enough for the burly Rawson to burst through and reach tape first. The first four were within 0.2 of a second, with Schmidt just getting by Makomaski for the bronze.
Following the race it was announced that a jury would meet before the official result was given. It was thought that Makomaski, who had pushed Rawson off the track, would be disqualified. But it was Rawson who was disqualified. The British team protested, and eventually Rawson was reinstated and declared the winner.
1. Mike Rawson GBR 1:47.8; 2. Audun Boysen NOR 1:47.9; 3. Paul Schmidt FRG 1:47.9; 4. Zbigniew Makomaski POL 1:48.0; 5. Lajos Szentgali HUN 1:48.3. 6. Herbert Missalla FRG 1:48.5; 7. Derek Johnson GBR 1:49.2.
1500
Olympic champion Ron Delany of Ireland and Swedish star Dan Waern were the favorites. But there were other potential winners: Rozsavolgyi, Hermann, Vuorisalo and Jungwirth. After Kovacs took the field through the first lap in 58 seconds, home-favourite Waern took over the on the back straight of the second lap. Buoyed by the chanting Swedish crowd, he passed 800 in 2:01.4 and 1,000 in 2:31. He still led at the bell (3:00.3), with Vuorisalo, Herrman, Rozsavolgyi and Hewson in his wake. Olympic champ Delany was back in 11th place. With 300 to go, Hewson decided to move up to the leaders, bumping into Delany who had made the same decision. Meanwhile, Waern and then Vuorisalo tried to break away, only to be caught each time by Rozsavolgyi. Delany had moved up from sixth with Hewson on his tail. Waern led into the final straight with Vuorisalo on his heels. Then the Finn began to fade. At 70 meters, Delany and Hewson, moving up to second and third, had another slight collision, but Hewson recovered well and went after Waern. He caught the desperate Swede ten meters from the tape, finishing in lane 4. Hewson, who had often disappointed in major races, enjoyed his finest hour, his last lap a brisk 55.5 taking him past six runners. Delany ran the fastest last lap (53.8) but the task making up ten places in the last lap proved just a little too much. Full credit to Dan Waern for his great effort to win for the host country; however, he was not able to set a fast enough pace to negate Hewson's fast finish. In tenth place was a young Michel Jazy, who had been the slowest qualifier.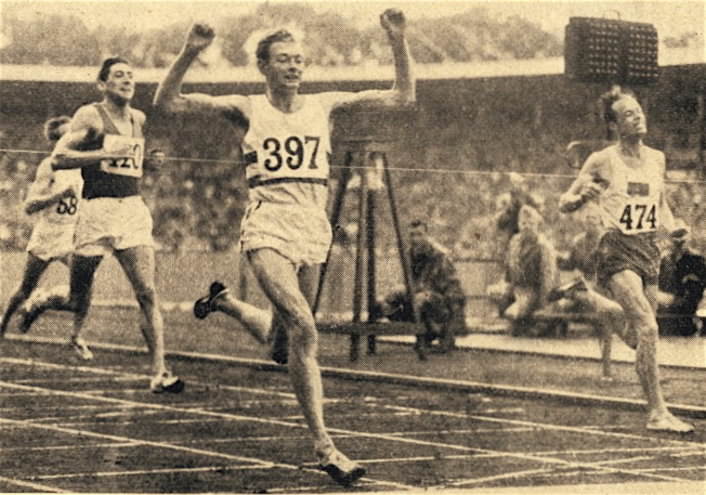 "I knew the gold medal was mine."

Hewson passes Waern (474) and

holds off Delany.
The night before, Brian Hewson had sat up past midnight with Coach John Le Masurier and steeplechaser Eric Shirley discussing the star-studded final. The decision was to be more cautious than he had been in the Melbourne Olympics and wait for an opportunity to move into the lead. Thus Hewson had been quite content to stay back for the first three laps; he was last at 800 and still 7th coming into the home straight. With 50 meters to go, he knew he had used the correct tactic: "Halfway up the finishing straight I knew the gold medal was mine. I felt so good." (Flying Feet, p.97) Whereas in Melbourne Delany had been able to work off Hewson, this time Hewson kept enough in reserve to hold of his most dangerous rival in the final run-in.
1. Brian Hewson GBR 3:41.9; 2. Dan Waern SWE 3:42.1; 3. Ron Delany IRL 3:42.3; 4. Istvan Rozsavolgyi HUN 3:42.7; 5. Olavi Vuorisalo FIN 3:42.8; 6. Siegfried Hermann GDR 3:43.4.
5000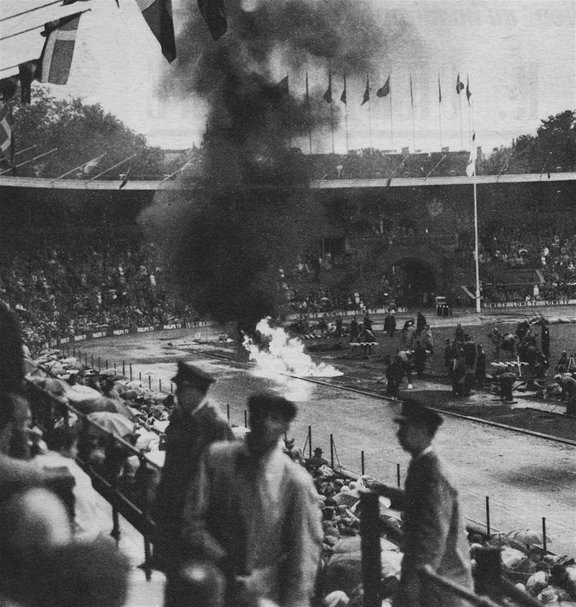 Organisers try to dry out the
track with a fire.
The track was so flooded for this race that many wanted it postponed. Gordon Pirie described the conditions: "The surface of the track was so soft that one's foot slipped away completely on the drive-off. It was pathetic for everyone except those who tended to 'plod' with the old flat-footed style." (Running Wild, p.183) The race was moved to the third lane, causing a 20-minute delay. After Bernard of France had led for the first lap, Poland's Zimny took over. He led his mud-spattered rivals through 1,000 (2:43), 2,000 (5:29) and 3.000 (8:18). Michel Bernard tried unsuccessfully to break the field on the eighth lap. Then Briton Peter Clark attempted to break away, but he never led by more than a few meters and was caught by Zimny, Krzyszkowiak and Pirie on the eleventh lap. Clark's effort nevertheless had broken up the field: it was now a four-man race, with the other contenders—Iharos, Bernard and Artinyuk a good 30 meters back.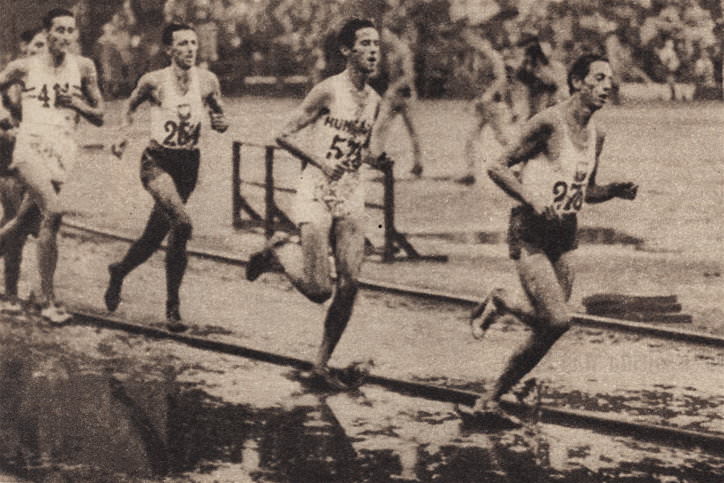 Zimny leads through the mud.
Iharos, Krzyszkowiak and Pirie follow.
It was now Great Britain v. Poland. When Clark slowed, Zimny took the lead with Krzyszkowiak going with him. Clark held on, but Pirie couldn't stay with the pace of Zimny, who still led his countryman into the last lap. Krzyszkowiak took off with 250 to go to claim his second gold. He owed a lot to the selfless pacemaking of Zimny. A very tired Peter Clark headed Pirie round the last bend in the fight for the bronze, but Pirie found enough reserves to sprint by his countryman in the race for the line.
Considering the poor condition of the rain-sodden track, the times of the two Poles, Krzyszkowiak and Zimny, were impressive. They were clear winners from Brits Pirie and Clark. Krzyszkowiak, though not quite in the class of Zatopek and Kuts, impressed with his 5,000/10,000 double.
1. Zdzislaw Krzyszkowiak POL 13:53.4; 2. Kazimierz Zimny POL 13:55.2; 3. Gordon Pirie GBR 14:01.6; 4. Peter Clark GBR 14:03.8; 5. Alexandr Artinjuk URS 14:05.6; 6. Sandor Iharos HUN 14:07.2.
10,000
Stan Eldon, with the fastest time of the season, was one of the favorites, but lacking a sprint, he was vulnerable. To win, he basically had to run away from the field. There were several runners capable of preventing him from doing this. After Poland's Ozog had led through 1K (2:48), Eldon tried too early to break away. He sped up on lap 5 and was able to create a lead of more than 25 meters, passing 2K in 5:33.8. This lead increased to 40m as Eldon led through 3K in 8:21.
Eldon forces the pace while Krzyszkowiak (254)
and Zhukov (358) bide their time.
His time at 5K (14:14) showed he was slowing. He now had only a six-meter lead over the tightly packed field. When Zhukov and Krzyszkowiak caught him near 6K (17:15), Eldon burst away again. With six laps to go he was almost 15 meters ahead. But the pack of seven soon caught him again--Russians Pudov and Zhukov; Poles Krzyszkowiak and Ozog; and Merriman of Wales.
However, the resilient Eldon wasn't done yet. He sped up yet again at the 7K mark (20:13) and was still ahead at 8K (23:12). Zhukov and Krzyszkowiak finally did the work to pull him back. Soon after, Eldon and Merriman lost contact with the four leaders. Finally, Krzyszkowiak took charge with 900 to go and quickly dropped Pudov and Ozog. With a steady 2:40 last kilometer, Krzyszkowiak had a comfortable 2.6-second lead from Zhukov at the tape. He ran the last 800 in 2:05.6 and the last 400 in 63.2. The amazing Eldon came back at the end, passing Ozog and almost catching Pudov for the bronze. His time was a new British best. Just one second behind Eldon, Merriman also beat the British best. The top six were clearly the class of the field as seventh finisher Mimoun (37) was almost half a minute behind Merriman.
1. Zdzislaw Krzyszkowiak POL 28:56.0; 2. Yevgeni Zhukov URS 28:58.6; 3. Nikolai Pudov URS 29:02.2; 4. Stan Eldon GBR 29:02.8; 5. Stanislas Ozog POL 29:03.2 6. John Merriman GBR 29:03.9.
Marathon
Popov, 29, had already proved himself in the Soviet Union with back-to-back national titles. Now running in his first international marathon, The diminutive Russian (5'3" and 118 lbs) totally dominated this race, said to be on a hard course, winning in a World-Best time.
At 5K (15:44) the seven-man group in the front was led by Swede Nillson and included Popov, Filin and two 1956 Olympic medalists: Mimoun and Mihalic. Beckert was a few yards behind, and Wilkinson was seven seconds adrift. At 10K (31:45) Popov was in the lead with Filin, Mihalic, Mimoun and Van de Briessche. Beckert was again just behind the group, while Norris, Wilkinson and Arajo came through in 32:16. Popov was two seconds ahead of Mimoun at 15K, while the others had dropped well behind: Mihalic and Filin were some 120 metres back; Van de Briessche, Norris and Wilkinson were between 60 and 90 seconds behind the leaders.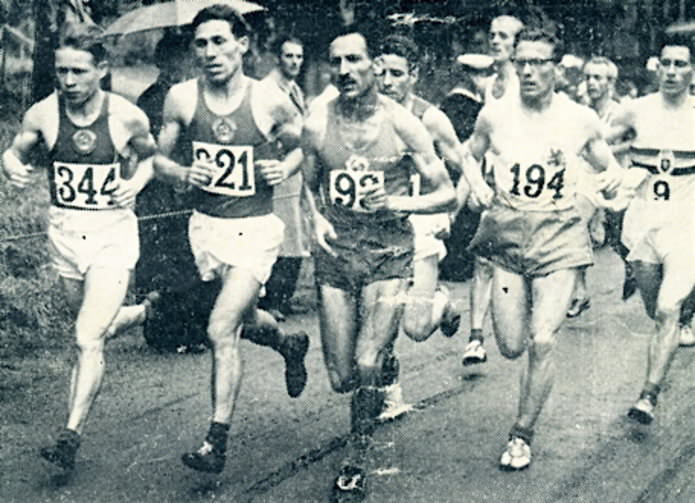 Popov (344), Filin and Mimoun lead the pack.
Mimoun now moved up to Popov and took the lead. They passed 20K together in 62:30 with Mihalic (62:57), Norris (63:25), Filin (63:29), Van de Briessche (63:39) and Wilkinson (63:48) in their wake.
Mimoun cracked around 25K, while Norris moved up to second. At 30K it was Popov (94:35) from Norris (95:40), Mimoun (96:43), Mihalic and Filin ((97:33). Soon after this, Mimoun abandoned the race. By 35K Popov had increased his lead over Norris (1:51:03 to 1:52.36). Filin (1:54:30) was almost 2:00 behind Norris, while Wilkinson (1:56:47) was moving well.
Popov continued to run very strongly, but Norris started to lose ground to Filin and Wilkinson. While Popov ran in to record a World Best, his compatriot Filin caught Norris on the steep hill just before entering the stadium to finish second, 5:40 behind Popov. Norris held on to take the bronze. He had been 65 seconds ahead of Filin with 5K to go.
So it was a 1-2 sweep for the Soviet Union. Popov had finished in a new World Best time of 2:15:17, surpassing Jim Peters' 2:17:40 World Best by 2:23. He achieved this on an out-and-back course—unlike Peters' point-to-point Chiswick course. The Times reported that Popov "went on like a machine and finished…looking comparatively fresh." (Aug. 25, 1958, p.4)
Result: 1. Sergei Popov URS 2:15:17.0; 2. Ivan Filin URS 2:20:56.6; 3. Fred Norris GBR 2:21:15.0; 4. Peter Wilkinson GBR 2:21:40.0; 5. Lothar Beckert GDR 2:22:11.2; 6. Veikko Karvonen FIN 2:22:45.8.

---