By John Cobley
12th May 2014
---
---
---
Otto Pelzer Profile
1900-1970
6ft 1/186cm 159lbs/72kg
Peltzer was a fierce and successful competitor, but he is now mainly remembered for his 800, 1,000 and 1,500 world records. His 1:51.6 broke James Meredith's 14-year-old 800 record by 0.3 of a second and lasted two years; his 2:25.8 broke Séra Martin's one-year old 1,000 record by exactly one second and lasted three years; and his 3:51.0 broke Nurmi's two-year-old 1,500 record by 1.6 seconds and lasted four years. (He also claimed a world record in the 500m (1:03.6), an event rarely run.)
Despite these world-record achievements, Peltzer should also be remembered for two great 1926 victories, in an 880 over Olympic champion Douglas Lowe and in a 1,500 over world-record-holder and Olympic champion Paavo Nurmi. Otto Peltzer of Germany was one of the great middle-distance runners in the late 1920s. His colourful life had all the ingredients for a novel. Much traveled (China, USA, Australia, India), often at odds with authorities (German Athletic Board, German legal system, Nazi government), and eccentric (intentional false starts in races, cold showers, nude bathing), Otto the Strange (Otto der Seltsame), as he was called, became a world-wide celebrity.
------------------------
Otto Peltzer was born into a prosperous North German family. He was a sickly child, suffering from heart problems, serious hip inflammation and poor immunity to infections. There are no reports of any significant sports achievements in his schooldays; in fact, his parents regarded him as lazy. But when he went to university in Munich, he began to focus on physical conditioning. Much of this conditioning was done indoors, but there were outdoor runs too. He also became involved in a national youth movement and led fitness groups.
Tennis was his sport at this time. Beside his regular courts, he would see runners training in the stadium, and one day went over to the track and asked to run in a time-trial. Thus began his conversion from tennis to running. He began to focus more on track in 1920 and won a 1,500 against a local star, Gerhard Volkmann, who later became the German 3,000 Steeplechase champion. His best times for 1920 were 53.0, 2:03.0 and 4:19.5 (for 400, 800 and 1,500).
In 1921 he joined the SC Preussen Stettin 1901 club. That summer he ran 1:58.4 in the inaugural ISTAF meet in Berlin, placing third. This was by far his best race of the year—an early indication that he was able to perform well in important races. At other distances he saw little or no improvement (53.0 and 4:18).
Getting Serious
The next year he moved to Berlin for his graduate studies. There, under the supervision of Martin Brustmann, he changed his diet and started serious running training. Results came quickly. That year he was national 1,500 champion, winning by 1.7 seconds in 4:03.8. He also competed regularly over 1,000, lowering his time from 2:45.7 to 2:37.0 and then to 2:32.2. Then late in September in Sweden he ran second to Sven Lundgren when the Swede broke the 1,000 WR with 2:28.6. Peltzer raced a lot in 1922 (at least 32 races, not including relays) and knocked 2.0 off his 400 with 51.0 and 1.4 off his 800 with 1:57.0. He also claimed his first German record with 1:05.7 for 500.
In 1923 he ran for the first time in a major international meet. In Gothenburg he was up against the talented Swede Edvin Wide in the 1,500. Placing an impressive second, he broke through the 4:00 barrier for the first time with 3:59.4, a German record. He went on to win two national titles, the 800 in 2:01.1 and the 1,500 in 4:07.9. That year he also reduced his 800 time substantially to 1:54.7. In his races over 800 and 1,500 he never finished lower than second.
Olympic Ban
The next year, 1924, was an Olympic year, but Germany was not allowed to compete in Paris because of its role in World War One. Peltzer worked himself into form for the German Championships and again took two titles, the 800 in 1:57.2 and the 1,500 in 4:06.8. His margins of victory were substantial: 2.2 and 4.7 seconds respectively. Late in the year, Peltzer competed for Germany against Switzerland. Up against the recent Olympic silver medalists Paul Martin (800) and Willy Schärer (1,500), he surprisingly beat them both over 800. (1:55.9)
His steady improvement continued in 1925, especially in the shorter distances. Obviously working on his speed, he raced 13 times over 400 and lowered his PB to 48.8. On the other hand, he ran the 1,500 only twice: 4:00.2 and 4:12. The 4:00.2 clocking earned him another German title, and he repeated his double with a 1:55.2 win in the 800. However, his best run of the year was a 1:52.8 victory over 800 in Stockholm. This 800 time was only 0.9 off James Meredith's 1912 WR.
Glory Year
These promising times prepared the way for his best season in 1926. After a fairly busy indoor season, he began his outdoor competition with two 400 races (51.6 and 50.1) and a brisk 800 in 1:58.6. Then on May 24 came a 1,500 victory with a 3:58.6 PB in Berlin. Two weeks later in Hungary he ran the unusual distance of 500 and set an unofficial WR with 1:03.6 (50.8 speed for 400).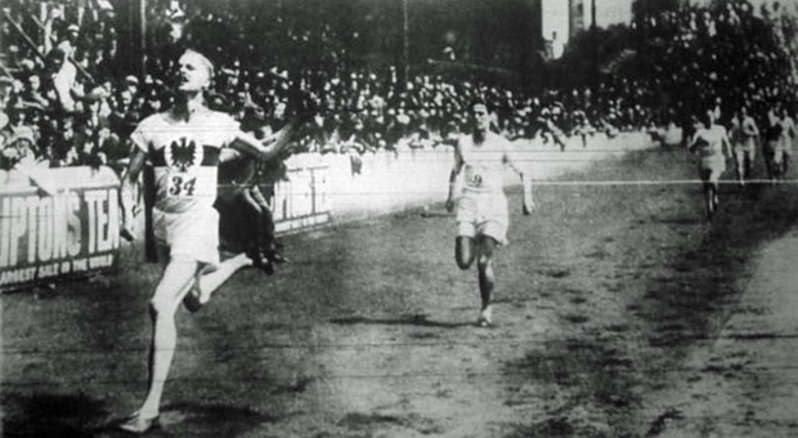 Peltzer sets the world record for 880 at Stamford Bridge, well
ahead of Olympic champion Douglas Lowe.
Next he went to London to run one of the greatest races of his life. He entered both the 440 and 880 in the AAA Championships. Running the 440 first, he ran 50.6 and 50.0 to qualify for the final. In that final he dipped below 50 for the first time in 1926, finishing second to John Rinkel in 49.9. A much better performance was to come in the 880.
Peltzer was up against the Olympic 800 Champion, Douglas Lowe, who had a huge reputation. Because of Peltzer's previous success at 400 and 500, Lowe planned a fast race in the hope of neutralizing the German's kick. There is a bizarre story about the pre-race. According to Edward Sears in Running Through the Ages, Peltzer, on approaching the start line, was informed that he could not start the race because his running shorts were too brief. He was forced to return to the dressing room but was unable to find a suitable replacement. So he put his shorts on back to front, pulled them down low and returned to the start. The starter was satisfied with the change.
Lowe, as planned, ran a fast first lap (54.7). Peltzer was right behind him as he led into the second lap. All down the back straight Peltzer challenged the Englishman. But he gave up trying to pass as they entered the last bend and waited until the final straight before attempting again. From about 40-60 yards from the tape they ran side by side until Peltzer's strength was too much for Lowe. Peltzer hit the tape in a new WR of 1:51.6. As well, Peltzer's 880 time was faster than Meredith's 800 record. (There were no watches arranged for an 800 time.) Douglas Lowe, whose brave pace had made the WR possible, may well have also broken the WR as he was only three yards back. But, according to The Times, "Unfortunately, the timekeepers were too overwhelmed by the occasion to take his time." (July 25, 1926) As for Peltzer, this wonderful win against the Olympic champion in WR time made him famous overnight in England.
Back in Germany Peltzer continued to work on his 400 speed, clocking 48.9 and 49.2 in consecutive meets. Then in a meet in Copenhagen just before the German championships, he won four races in three days. He began with a German record for 2,000 (5:32.3). The next day he won the 400 in 49.5 and the 1,500 in 4:01.3. On the final day he won the 800 in 1:57.4. This was great preparation for the German championships, where he was to tackle three events (with some heats) in two days. He won all three: 400 in 49.0, 400 Hurdles in 54.9 (a German record) and 1,500 in 4:09.2.
After some low-key races over the rest of August, Peltzer set another German record in an international meet in Dusseldorf. His time for the 1,000 was 2:29.3, only 2.5 seconds slower that Séra Martin's world record.
Nurmi's Scalp
Peltzer towers above Nurmi as they line up for the
Berlin 1,500. Wide is on the inside.
Having toppled the current giant of the 800, Peltzer went on to tackle an even greater giant, the dominant Paavo Nurmi. The great Finn currently held the world records for 1,500, 5,000 and 10,000. Nurmi had come to Berlin to race over 1,500. On first look, Nurmi did not need to worry about Peltzer. True, the German had speed and had run a 1:51.6 WR earlier in the summer. But his form over the longer 1,500 didn't stand up to Nurmi's. Peltzer's best of 3:58.6 looked pedestrian when compared with Nurmi's 3:52.6. Provided the race was fast, it would seem that Peltzer's famed finish would be negated. Also in the field was Edvin Wide. The 30-year-old Swede had been one of the world's best at 1,500 since 1919. In 1923 he had given Nurmi a good fight when the Finn ran a 4:10.4 WR for the Mile; the previous year he had been the world's fastest over 1,500 with 3:55.4.
The 1,500 race between these three great runners took place on oversized Charlottenburg track in Berlin on September 11, 1926. True to form, Peltzer caused two false starts before the race got underway. Wide led from Peltzer for 300 before Nurmi took over. The Finn passed 400 in 61.0 with Wide (61.2) and Peltzer (61.5) close on his heels. Nurmi made a move at 500 and opened a small gap, but at 800 (2:02.2), Wide (2:02.8) and Peltzer (2:03.2) were still in contact. The German crowd came alive when Peltzer moved into second ahead of Wide. Nurmi, still the leader, slowed a little to pass 1,000 in 2:34.8.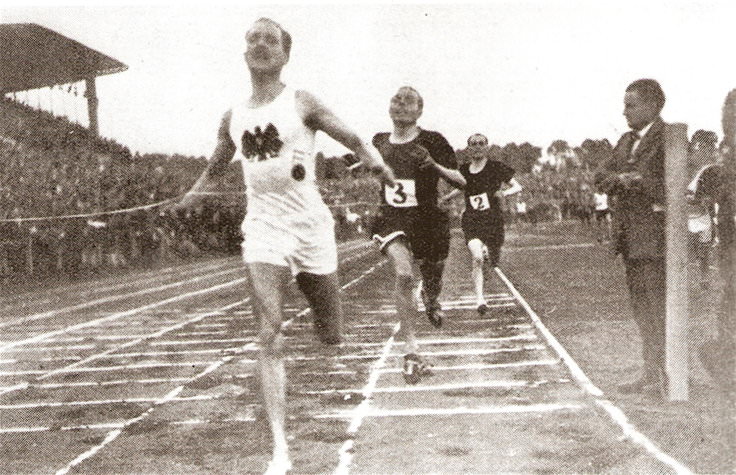 Peltzer sets a world record of 3:51.0 in front of WIde and Nurmi.
The German crowd was surprised just after the 1,000 mark when Wide re-passed Peltzer on the curve coming into the final straight with a lap to go. At 1,200 (3:05.6), Nurmi barely led Wide (3:05.8) and Peltzer (3:06.0). Soon after, Wide went into the lead for the first time, while Peltzer stayed behind Nurmi. The trio stayed close together round the final turn in the same order. Everyone was expecting Nurmi to retake the lead, but it was Peltzer from third who made a move. He quickly passed Nurmi, and at 60m out he caught Wide. However, Peltzer now seemed spent, and Wide's strength enable him to hold off the German for the next 20m. But then Peltzer, showing great competitiveness, found a little more and edged ahead to win. Result: 1. Peltzer 3:51.0; 2. Wide 3:51.8; 3. Nurmi 3:52.8. With a 45.0 last 300, Peltzer had not only beaten the great Nurmi, but he had also set a new world record, improving Nurmi's mark by 1.6 seconds. Wide, in pushing Nurmi into third place, was also inside the old mark. In fact Nurmi himself was only 0.2 outside his own WR. Roberto Quercetani has suggested that the race for first was closer than the time indicates, as photographic evidence suggests that Wide eased up considerably in the last few meters. (A World History of Track & Field Athletics, p. 101)
Needless to say, the German crown went wild with a 15-minute ovation. Nurmi's reputation was such that many considered him unbeatable. This was the first time he had been third in a race since September 20, 1919, almost seven years earlier. The era of Nurmi's dominance appeared over, and Otto Peltzer was the talk of the sporting world. In Germany he was suddenly the national sports hero. He told the press that he had never expected to beat Nurmi and the possibility of a world record hadn't entered his mind: "I would have been perfectly satisfied to have beaten Wide, and it wasn't until the last lap that I concluded I could win the race…. Nurmi appeared nervous and kept crowding the rail, but I believed he was reserving his strength for the finish. I tried him with a couple of spurts and found he had to extend himself. Then I concluded I would be able to beat him." (Globe & Mail, Sept. 14, 1926) As with his victory over Lowe, Peltzer had shown his great competitive ability, improving his 1,500 PB by seven seconds.
Doping Charge
Peltzer and Nurmi train together during
their 1928 encounter in Finland.
There is an interesting footnote to this race. Almost a year later, Nurmi publicly accused Peltzer of using drugs to beat him in the Berlin race. Nurmi told a Riga newspaper that Peltzer "doped himself": "Peltzer uses various medicines that 'pep' him up." (Globe & Mail, August 24, 1927) Peltzer replied that he had often been offered "dope" but that he had always refused. He went on to invite the Finn to a return match. Nurmi did not respond, but a year later he met Peltzer in Finland. A local newspaper reported on the encounter, and said that Nurmi admitted there had been an interview in Riga but that the interviewer had invented the drug charge.
Although Peltzer was said to have believed Nurmi's explanation, it is not easy to accept this explanation from today's perspective. Surely if the allegation had been fabricated by the Riga newspaper—although it seems unlikely that such an explosive accusation would have been fabricated--and had made headlines around the world, Nurmi would have made an effort at the time to assure Peltzer that he had not made this accusation. It is probable that had he not met Peltzer, Nurmi would never have denied the allegation. True, there was a lot of talk about the number of medications that Peltzer traveled with, but there is no evidence that any of these medications were illegal. (For an excellent paper on this Nurmi-Peltzer controversy, see Erkki Vettenniemi, "Runners, Rumors and Reams of Representations," Journal of Sport History, Fall 2010, pp. 415-30.
After his great Berlin victory and world record, Peltzer received offers to turn pro. American film agents offered him $50,000. He turned them down: "It would be treason to turn professional at this time when I have just won a world record for Germany. I never expect to have that much money, but it does not worry me. I shall do some teaching and perhaps some newspaper work." (Globe & Mail, Sept. 14, 1926)
His great 1926 season wasn't quite over. In Stockholm he won a 1,000 in the fast time of 2:29.9, and then in Hamburg he improved on that time with a national record of 2:27.4, just short of Séra Martin's 2:26.8 WR. With three world records and five national records, there's no doubt that 1926 was Peltzer's annus mirabilis.
Competing as the World Record Holder for 800 and 1,500
Not unexpectedly, 1927 was an anti-climax. Well, there was one world record (1,000) and one German record (400 Hurdles). Maybe part of the reason for a low-key season was that he had very little international competition, except with his old rival Séra Martin, who indeed pushed him to that 1,000 WR. After showing good form in February, running an indoor 1,000 in 2:31.7, Peltzer satisfied himself with German competition until September. He ran a lot of 400s, both flat and over hurdles. Over the flat he ran 50+ several times, while his hurdles times were 56.0 and 56.4. He was clearly aiming at a second German 400 Hurdles title, and he achieved it with a national record of 54.8---not far off the world record of 53.8. This was a remarkable performance for a 1,500 world-record-holder.
He ran his first 800 of the season at Colombes Stadium in a match against France at the end of August, losing out to both Martin and German team-mate Englehard in 1:54.8. Then he went back to the 400, running three races in the 49s. He returned to Colombes on September 18 for a 1,000 race. His opponents were Martin, who held the world record for this distance (2:26.8) and American Champion miler Ray Conger. This was just the kind of competition that brought out the best in Peltzer, and he came through with his best performance of the year, just holding off Martin in a new world record of 2:25.8. Martin, with 2:26.0, was also under his old world record time.
Clearly in top form, Peltzer followed up his world record with season's best times over 400 (48.8—again beating Martin) and 800 (1:53.6). Sadly, there was no more good competition available, and though he won his last six races of the year, the times were mediocre.
Across the Atlantic
At the end of the 1927 season, Peltzer announced he was going on a world tour that would primarily include the US and Australia. The German Athletic Board had other ideas and told him he couldn't compete in the US. Over the next months a major battle took place as Peltzer insisted on going. And he sailed in November, without permission to compete, but insisting he would compete anyway. Another board, the German Olympic Board also wanted him to stay home and prepare for the 1928 Olympics. He told them to mind their own business. On arriving in New York on December 6, he said he was coming merely to study, but negotiations were still going on with the German Athletic Board. Finally on January 20, 1928, the Board gave him permission to compete in three meets.
Soon after his arrival, he had attended a Brooklyn schools indoor meet, where 3,000 children were competing. This event was covered by the New York Times: "Peltzer strolled around, looking at the boys all afternoon until just before the close, when the urge to run was too great for him." (December, 1, 1927) Peltzer agreed to do a 440 demonstration provided no photos were taken. He started slowly and was running at full speed by the end. He was clocked in 57.0. The New York Times reporter described Peltzer's form: "Peltzer has a beautiful easy stride which eats up the distance effortlessly. He steps long, skimming over the ground, rather than pounding the boards." (December 21, 1927)
Finally on February 1, Peltzer lined up with a large field for the 1,000 yards in the Millrose Games. The Globe & Mail called his American debut "a sensational victory": "Dr. Peltzer demonstrated his prowess on unfamiliar ground by outracing the Illinois A.C. veteran Ray Dodge in a thrilling nip-and-tuck battle over the last three laps." (February 2, 1928) As in most of Peltzer's races, there was a false start, and when the field were finally away, he was at the back in seventh place. After two laps of elbows and shoulders, he had moved up into the middle of the pack: "These occurrences eventually annoyed Peltzer, for he came around on the next back stretch entirely outside of the field to take the lead." (New York Times, Feb. 3, 1928) At this point the struggle with Dodge began. Dodge held the lead for a lap, but then Peltzer came by with his arms swinging: "He thundered by Dodge and pushed him from the track. Gallantly Dodge, knocked off his stride, got back on the boards and set out for the German." (New York Times, Feb. 3, 1928) But Peltzer had a five-yard lead, and Dodge could only make up three of them before the tape.
Peltzer had fought hard with Dodge and immediately earned the appreciation of the New York crowd who were "on their feet yelling from start to finish," and "gave Dr. Peltzer a terrific ovation for his gameness." Just as he had done in London 18 months earlier, Peltzer managed to capture the hearts of a foreign crowd. But while the public loved him, the German administrators seemed to hate him, placing obstacles in his way whenever he wanted to compete.
His second race was over 1,000 meters. This time Ray Conger beat Peltzer by two seconds with a slow 2:37 on a soft dirt track in Chicago. Peltzer had set a slow pace. Then Conger took over and upped the pace. Peltzer went back into the lead and held off Conger until half a lap from the finish. He had no answer to Conger's finishing kick. The crowd again showed a lot of positive emotion towards Peltzer.
Peltzer's American tour ended with a defeat over a Mile at Madison Gardens in New York. Peltzer's popularity with the American public was evident in the record 20,000 attendance. He had only two competitors: Ray Conger, who had beaten him over 1,000 and Lloyd Hahn, who had run a fast Mile the previous winter when defeating Edvin Wide of Sweden with 4:12.2. Before the race, Peltzer played psychological games with his opponents. For several minutes the two Americans were kept waiting at the start before Peltzer appeared. He then stripped off his sweats to display a white vest with a red band and a black emblazoned eagle. He then proceeded to do a lap of the track while the two Americans had to wait. At the gun, Hahn went straight into the lead and was never headed. After a 60.8 lap he was soon on his own and was really running against the clock for the rest of the race. Behind him Conger finished 20 yards back, while Peltzer was over 50 yards back in 4:23. The race had been a procession from the start; there were no changes in position.
Before Peltzer sailed back to Europe, he was fêted at a farewell dinner. At this he spoke in English: "I came here to study, and I was very much surprised at what I found here. So surprised was I that I promptly changed my plans to go to Australia. Through the press many people got the mistaken idea that my intention in coming here was to show that I was a better runner than any you have here. I had no such idea. Even before I came I realized that it was impossible to show my best, what with board, indoors and in a strange country." (New York Times, March 8, 1928) Peltzer also expressed his gratitude for the treatment he had received in the US and hoped that Americans visiting Germany would receive similar treatment.
Setback Before the Olympics
Peltzer defeats his French rival Séra Martin.
The German authorities had been worried that Peltzer's American trip would harm his Olympic preparation. But damage was done more harshly on German soil soon after his return when he suffered an ankle injury playing his beloved handball. At first it was thought the ankle was broken; then the injury was diagnosed as torn ligaments. A few days after the accident, Peltzer told the press his chances of being in the Olympics were not good as he would have to keep off his damaged leg for a month.
He began competition in the middle of June: 52.6 for 400 4:30 for 1,500 and 1:59.2 for 800. On July 7, he was in England for the AAA Championships, but he was eliminated in the Mile heats. Clearly not fully recovered, he scratched from a meet in Dusseldorf a week later. At the German championships, he could only place fourth in the 800 (1:55.4). He was however, chosen for the Olympics in Amsterdam. On July 29 he won his 800 heat in 1:57.4. And the next day he was eliminated in the first semifinal, placing 5th in 1:56.3, while needing to get in the top three and run sub-1:56. The Times referred to him as "no longer the man he was." (July 31, 1928) Two days later he was eliminated in his 1,500 heat, placing 4th in 4:03.5 behind Conger, Keller and Wide.
An extraordinary gesture towards Peltzer was made by the British team after the Games. He was sent a letter "Congratulating him on his courage and commiserating with him upon his ill-fortune in the Games." (W. Hyett, Letter, Times, Sept. 1, 1928) Douglas Lowe, who had won the 800 title in Amsterdam, was thought to be the driving force behind the letter. Peltzer had been the first to congratulate Lowe after his 800 victory in Amsterdam.
Although not fully fit for the Games, Peltzer showed he was close to top form 18 days later in a race against the Olympic 800 champ Douglas Lowe. Running on the huge Berlin Grünewald track, which required only 1 1/3 laps for an 800, Peltzer managed to give the great English half-miler a good race. Watching the race was French champion Jules Ladoumègue, who was so struck by the race that he described the last part in his autobiography: "Suddenly meter by meter, Peltzer gains on the Englishman. He catches him…he passes!... The crowd goes crazy. Lowe keeps calm. Although troubled by the interminable finishing straight, he keeps his form. The German hasn't gained enough advantage; Lowe isn't beaten yet. He doesn't give up. In a final effort his passes his rival in the very last meters." (Dans ma foulée, p. 58) 1. Lowe 1:51.2; 2. Peltzer 1:52.2. Peltzer, the great competitor that he was, managed to run within 0.6 of his PB even though he was far from his top form. This race must be considered one of his greatest. And to cap it all, he also ran the 400 Hurdles the same day in 55.1 for third place.
He had some good competition late in the season from Italian Tavernari, who beat him over 800 and Beccali, whom he beat over 1,500 in 4:04.2. And late in the year in Finland Larva beat him over 800, Peltzer clocking 1:55.1.Tussles with Officialdom
Although admired by the English team, Peltzer continued to be at odds with German officialdom. A month after the Games, he complained to the press about his treatment at the Amsterdam Olympics: "[Peltzer] said he was not given the same facilities and attention that was accorded the other athletes, and as a case in point….it was only by sending a special messenger to the German HQ at midnight that he obtained his German Olympic running vest. " (Times Sept 5, 1929) The Globe & Mail also reported this incident as it affected Peltzer and his team-mate Franz Wichmann. The Canadian paper said he was "virtually ostracized" and "offered no encouragement." (August 23, 1928) The press in Germany attacked the German Board: "This treatment, the papers say, so unnerved the blond racer that he failed to show anything like the form that characterized his previous running." (Globe & Mail, Aug 23, 1928) More controversy followed when Peltzer was then suspended after withdrawing at the last minute from a match against France. He claimed he had sent a telegram at the last moment. So while being lauded in both the UK and England for improving international relations, he was persona non grata in his own country.
He provoked the German Athletic Board yet again in December when he announced that he had accepted an invitation from Australia despite the Board's refusal to give permission. This trip appears to have been postponed for a year.
1929 Season
Peltzer had his busiest indoor season in the first months of 1929. He raced mainly over 1,000 and posted some good times: 2:31.9, 2:33.2, 2:33.8. Then, following a two-month break from competition because of a broken nose suffered in handball game, he slowly got into racing shape for the outdoor season. But up to the Nationals on July 20-22, he had run only 51.2 and 1:56.9. This time he failed to win the German 800 title, finishing second in 1:53.8. In August he competed over 400 and 800 running as fast as 50.3 and 1:55.8. The latter time came with a win in Stockholm. He finally had some good competition on September 1 in a match against France. Perhaps because of his lack of top competition, he lost the 800. In a close race, he finished inches behind Keller (1:55.8) but ahead of Séra Martin.
In October he went to Japan with the German team, running 1:58.4 and 4:04.8 in Tokyo. From there he toured China, the Philippines and Australia, running very mediocre times. He arrived in Australia with a companion, a young sprinter who was to act as his masseur and possibly enter sprint races. Peltzer didn't impress the Aussies as he had the Americans and English. He was "vigorously hooted" by a Sydney crowd when he declined to race the Australian champion G. Golding because he felt unwell. (Sydney Morning Herald, January 20, 1930) A few days earlier Golding had beaten him over 440. The Sydney Morning Herald report also quoted H. Allison, Secretary of the New South Wales Athletic Association, who had said that Peltzer "had been a source of worry since his arrival." Allison described Peltzer as "extremely temperamental," and finding fault with all the arrangements for him.
Into the 1930s
Peltzer raced rarely in 1930. On July 6, he was third in the British AAAs 440. Then he raced Ladoumègue of France in Berlin and was soundly beaten 3:53.7 to 3:59.0. This time was his season's best and ranked him ninth for the year, but the margin he lost by indicated he was no longer in the top rank of 1,500 runners. In the fall he lost both his 1,000 and 1,500 records to Ladoumègue.
Peltzer continued to compete at international level. After another busy indoor season in 1931, racing mainly over 1,000, he kept in racing shape. As early as May he was running 50.0 and 1:54. Then in June he dropped his 400 time to 49.0 before crossing the Channel for the English AAA Championships. Despite his good form he was no match for Hampson over 880. After a false start, Peltzer stumbled and was last round the first bend. He managed to move up to fourth by the bell. Hampson made his move on the back straight and won easily in 1:54.8. Townsend was second, holding off Peltzer 1:56.4 to 1:56.7. The Times said the German looked "a tired man." (July 4, 1931)
Next, he ran his best race of the year against Ladoumègue over 1,000. Although he lost to the Frenchman, he ran a fine second, clocking 2:27.0 to Ladoumègue's 2:25.3. Perhaps he was still in the top rank after all. In early August he won the German 800 title with 1:58.9, but then came down with malaria and an injury. He had recovered enough in September to run for Germany against France, placing second to Keller in the 800. Although still competitive, some of the edge had gone from his running.
Another Olympic Year
800 finish in the 1932 Olympics. Peltzer finishes ninth
and last. He can be seen immediately to the left of
the finishing post. Hampson (left) is the winner.
Peltzer began 1932 with a busy indoor season, winning four fast 1,000 races: 2:31.4, 2:30.8, 2:33 and 2:31.9. Outdoors he began running much more slowly: 2:44.0, 2:44.0 and 2:43.4. Then he dropped his racing distance to 400/800, posting 50.0 and 1:55.7 before the German nationals at the start of July. He again became German 800 champion with 1:54.4 before moving to the Los Angeles Olympics three weeks later.
He qualified for the Olympic 800 final with a fine 1:53.2 third place. It was his best time since 1928 and clearly close to an all-out effort, for in the final he was 9th and last in 1:55.0. He was also entered for the 1,500, but he dropped out on the last turn when it was clear he wasn't going to qualify. He would have needed to run faster than 4:00 to qualify for the final. He came closest to an Olympic medal in the 4x400 relay. Running the anchor leg for the German team, he ran a 49.1 but finished fourth, 1.6 seconds behind the bronze medal team from Canada.
After the Games he ran an 880 in Chicago, finishing second behind Canadian Phil Edwards in 1:55.8. His finishing speed was still apparent to the New York Times reporter. After another second place in a Cleveland 880 (1:54.4) he returned to Europe for one more race, a 1,500 in the France-Germany international. At the end of a long season he could only manage 4:01.4 and third place.
Hanging On
Near the end of his career.
Although he was clearly in decline, Peltzer could still produce a first-class performance if the circumstances were right. Such a performance took place in 1933 when the USA team competed with Germany in Dusseldorf. In the 800 Peltzer was up against the great Glenn Cunningham, who was winning every race on his European tour. Representing his country in front of a German crowd brought out the best in Peltzer, and although he didn't beat Cunningham (1:51.4), he nevertheless ran a fine time of 1:53.8, only 0.6 below his Olympic run the previous year. It was his best run of 1933. In August he lost twice more to Cunningham over 800 and 1,000. After that he finished last in an 800 in Cologne.
Peltzer competed for one more season in 1934. He had two notable races in July. First, in Frankfurt on the 22nd, he did really well to defeat the American Gene Venzke by 2 yards in 3:58.1. Venzke had run 3:50.5 three weeks earlier in the American Championships behind Cunningham's WR 3:48.8. A week later Peltzer won the German 800 title for the sixth and last time in 1:54.
Jail, Exile and Concentration Camp
After being a national sports hero for many years, Peltzer now became a social outcast in a changing Germany under the Nazi Party. After the National Socialists came to power in 1933, he thought he might be able to develop his teaching career. He joined the Nazi party (NSDAP) and put his name down for SS membership. But the Reich sports head, Tschammer und Osten, didn't want free-thinkers like Peltzer and did his best to interfere with Peltzer's career. At the 1932 Olympics Peltzer came into conflict with the influential Carl Diem, a sports administrator and the main organizer of the Berlin Olympics. After World-War 2, Diem tried hard to prevent him from coaching.
Peltzer was a man of his times and fitted in well with a lot of the current Nazi party attitudes to youth and fitness. However, he was a known homosexual. And after the criminal code was strengthened against homosexuality, Peltzer was arrested and convicted in 1935 under paragraph 175. He was sentenced to 18 months in jail. Released early at the time of the Berlin Olympics, he was nevertheless banned from coaching in Germany and had to coach in secret. But he was soon caught. Arrested again, he was told to leave the country. So he moved to Scandinavia and when the war started, settled in Sweden.
For some reason he returned to Germany in 1941. Der Spiegel has suggested that he was ordered back home for military service with the threat that his family would suffer if he refused. ("Discussions with Jeremy," Der Spiegel, 35, 1948) On his return, he was arrested yet again and sent to the infamous Mauthausen concentration camp in Austria. It was a category III camp, the category for the most brutal conditions. It was a labour camp built strategically next to a quarry. Peltzer managed to survive the hard labour until the camp was liberated in 1945.
After the war Peltzer worked for German reunification and became known as a "peace-fighter sympathetic to the GDR." (E.A.R. Sheffer, Burned Bridge, 2011) For a few years Peltzer struggled to make a living in Germany as a coach and writer, but then he got involved in a charge of poaching an athlete from another club and soon all doors were closed to him. By 1956 he learned that the authorities were after him again for his homosexuality, and so he left West Germany. After attending the Melbourne Olympics as a journalist, he traveled the East trying to find a coaching job, eventually ending up in India.
The main reason that Peltzer had difficulties finding a job in the Middle-East and Asia was that the German authorities, especially Carl Diem, had written to several countries warning them about Peltzer's communist interests. Nevertheless, the outcast had found a home in India, although his first home has been described as a "shed kind of room." It was close to the Delhi stadium, where he held training sessions and made a bare living. His dedication to coaching was soon appreciated as his "Peltzer boys" found sporting success. Of course, he had conflicts with the Delhi authorities, but he became somewhat of a legend in India. His contributions to Indian sport are still remembered today, and his name lives on in such events as the annual Otto Peltzer Cross-Country Hill Race. There are still people alive who remember his conditioning methods: "Hot baths, pre-race rubdowns, hard post-run massages, freezing showers to close pores." (Sydney Morning Herald, October 13, 2010) Peltzer was also said to carry out nude sunbathing for circulation improvement and to be obsessive about diet and weight.
He lived in Delhi for eight years until a heart attack forced him to return to Germany for treatment. He lived and coached there for three more years before a heart attack took his life in 1970. He was said to have died with a stopwatch around his neck, apparently waiting in a car park for one of his athletes. In 1996, the Schleswig-Holstein cross-country championship race was routed to cross the spot where Peltzer had fallen. In 1999, Peltzer's reputation was rehabilitated by the German athletic authorities (Deutscher Leichtathletik Verband) with a new Otto Peltzer Medal that would be awarded to "athletes who have distinguished themselves through critical solidarity with German athletics, outstanding performances, and courageously responsible actions." (Tim Pears, "Otto the Strange: The Champion Who Defied the Nazis," Observer, 29 June, 2008)
Conclusion
Otto Peltzer should be remembered as an athlete who overcame physical handicaps to condition himself to become one of the foremost runners of his time. His three world records (800, 1,000 and 1,500) were major breakthroughs and two of them (800 and 1,500) were achieved in important races against great opponents. With his conditioning and competitive flair, he should have achieved Olympic success. But his three opportunities were thwarted by issues beyond his control—a ban on the German team in 1924, an injury in 1928 and aging in 1932.
Otto Peltzer should be remembered for his pioneering ideas on conditioning. At a time when over-training was generally deemed necessary to avoid, Peltzer pushed himself to the limit in training in the way Zatopek was to train thirty years later.
Otto Peltzer should be remembered for his strength of character. First it enabled him to train harder than almost anyone else. Second it enabled him to discipline his life, so that his health could be maintained to support his training load. True, this strength of character often led to conflict with authorities, but it also gained admiration from the British and Americans. I see the 1928 letter he received from British athletes as a significant indicator of his true character. Third, his strength of character enabled him to continue his coaching vocation, even under the most difficult conditions. Fourth, it enabled him to survive one of the most horrendous of the Nazi concentration camps.
Over the years, Otto Peltzer has received a lot of negative coverage—his strong competitiveness, charges of doping, his politics, his highly strung personality, his fanaticism, to name a few issues. And it is true that he was not an easy man to deal with. But beneath the mass of information, some of it clearly negative, there is a good, dedicated and conscientious man. He may have been dubbed "Otto the Strange," but that was because he was a strong individual.
---